The fashion reality TV show "Fashion Star", which debuted March 13, 2012 on NBC has drawn mixed reviews. Complicated logistics issue, a fashion reality show game changer, and biased, rather demeaning comparison to Project Runway reviews have been published for the past month. Even now, after 6 aired episodes, speculations whether the show will get another season still rage on.
The future looks very uncertain for the TV show. On the other hand, the show reveals a brilliant, effective business model. One that creates immediate attention, interest, and buying capability right after the show ends; something that wasn't introduced by other popular fashion reality show like "Project Runway". And yet this show is just a fragment of the newest nation-wide (or global?) "trend": Rise of the Unknowns in Fashion.
Before we analyze it further, let me mention a quick refresher on the difference of "Project Runway" and "Fashion Star". I'm sure a lot of you are familiar with Project Runway already, so I'll only say one thing. A jarring weakness of the show is that fans eager to buy something new from the show's winner would most likely be forced  to adhere by the traditional fashion calender (i.e. wait for several months) to see a new collection.
And for those of you who aren't familiar with how "Fashion Star" works, here's a summary. It starts with a reality TV staple: a competition amongst talented, emerging (read: lesser-known or unknown) designers to win a fabulous prize. The weekly challenges come from buyers of Saks Fifth Avenue, Macy's, and H&M, and there's elimination every week. But that's where the reality TV fluff aspect stops and the business part begins. These buyers can choose to buy pieces from the designers they like every week. A design can only be sold in one store, to maintain uniqueness of product offerings. Unlike Project Runway model, these pieces will be available online right after the show originally aired and in-stores the very next day.
And yes, while the first few weeks, sales had not been great, the gamble started to pay off once the show progressed more. From what I've heard and seen myself in H&M at least, these clothes sell. And get sold-out quickly, to boot!
And this is a Win-Win situation for both the stores and designers. On one side, the stores get more designs that fit their current trend/season offering, and they get new customers (who love the fashion they see on the show) as well as repeat customers, who show up every week at their stores to check out the weekly winners' designs as well as the store's overall product offerings. In H&M's case, who still doesn't have ecommerce presence in the US, it has the chance to "test the waters".
On the other side, the designers whose designs were bought get instant exposure without the usual fashion industry ladder drama and chances to create buzz in the media and fashion world. Afterall, these designers gain nation-wide recognition overnight and are poised to make the best out of it (longetivity in the cut-throat fashion industry is, as we know, a very difficult feat to pull off).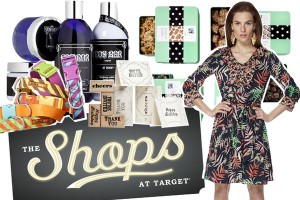 But how about emerging designers outside of Fashion Star TV Show? You might very well already adore local emerging designers in your area. They might not have nation-wide, mainstream recognition but you love coming to local boutiques once in a while to check out and buy their new designs. Well, don't be surprised if they arrive in stores near you soon. With Shops at Target program, Anthropologie collaborating with unexpected designers (hello, Rachel Rose!), to name a few, the rise of the unknown designers is just starting. Soon, the nation (and perhaps, the world) will be much more familiar with those "indie" designers.
And that's not even counting local efforts to promote fashion business. In San Francisco, how about that Macy's Fashion Incubator (featuring one of AIC-San Francisco graduates Justin Jamison), or entrepreneur & fashion show gala events from organizations such as Ahead of the Fashion? And for the diligent students of fashion, who don't want to get a chance to win The Fashion Fund?
Now not only we have the "big bosses" of fashion, the hi-lo collab frenzy that shows no sign of stopping (next up: Altuzarra for J. Crew), we also have blooming segment of emerging designers that literally pop on our fashion radar via TV shows, collabs, as well as local fashion business initiatives.
The fashion industry landscape has become so much richer nowadays, especially with the lesser-known / unknown designers joining the big bosses and everybody else in between. 2012 just might be the year of emerging designers. I surely hope so.
How exciting that will be,
Musank
0 comments on "
To Be A Fashion Star: Rise of the Unknowns in Fashion

"
Leave a Reply