After their first successful crowdfunding campaign for iPhone aluminum case last year, Craftwerk team is back on Kickstarter to launch Espelette Collection, the handcrafted leather bags and sleeves made with supple leather sourced directly from Remy Carriat, France (leather supplier to Hermès and Louis Vuitton) and durable Australian wool felt. The Craftwerk team of three have been working since 2012 to produce and launch this fashion-meets-function Espelette Collection bags, and they need $15,000 to meet their MOQ (Minimum Order Quantity) of 100 units for each products.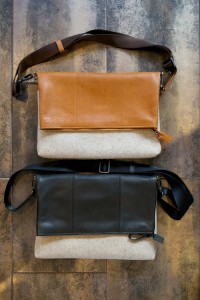 I really like the minimalist and sleek design of the messenger bags; I think they are great for those who regularly carry tech gadgets every day but want something a little more fashionable while maintaining the utilitarian function. I love that the bags can have two distinct looks: thhe picture above depicts the leather "body" with felt side of the flap down, whereas if you fold the flap to the other side, you'll get the reversed look (pictured right).
I love Craftwerk's Espelette Collection and hope some of you Fafafoomers will check out their Espelette Collection Kickstarter page and back their campaign (as of this moment of writing, the campaign has collected $4,087 with 15 days to go). To further support their cause, I had a chance to have a Q&A via email with Thomas Lin from Freeform3 (Craftwerk is a Freeform3 company). We touched on topics surrounding the Craftwerk brand, what makes Espelette Collection special, and fashion tech trend in general.
Fafafoom (F): I just have to get this out of the way because it intrigues me so much. Why the name Craftwerk? It's a cross between "craft" and "twerk", two words with highly different impressions for me. Would you explain what the brand stands for?
Thomas Lin (TL): Craftwerk was born out of Freeform3 because we wanted to focus our products on more craft orientated products such as premium bags made out of leather, canvas, and felt other timeless materials.
F: After your team had a successful Kickstarter campaign for the iPhone aluminum cases, how did you decide that Espelette Collection is next? Why does this particular project deeply resonates with Craftwerk team?
TL: We have always had a passion for bags and accessories. The bags and accessories for us was defiantly more fitting as our main product range because the cases are merely a supporting product.
F: What makes the Espelette Collection bags and sleeve special compared to other bags for tech gadgets currently in the market?
TL: We are special because we really go for the highest quality product for the tech enthusiast, mainly macbook users on the go. The bag can carry an array of the daily essentials to the bare minimum giving the users the versatility to go from the classroom to boardroom.
F: After the Kickstarter project is successfully funded (let's make it happen, people!), will you be offering limited quantity based on the number of reservations (no excess inventory), or will you be having more bags and sleeve produced?
TL: The actually quantity we are trying to raise isn't actually too much, it's only to get the product out there for us to gain traction to have the product spread by word of mouth through blogs and alternative marketing avenues.
F: Will you continue using crowdfunding platform like Kickstarter for future product rollouts? What does the team have cooking in the kitchen after Espelette Collection?
TL: I think Kickstarter is a great platform to showcase our product out there in front of millions of people that might be interested. Immediately following the campaign, we are looking to expand our product range and explore with different collections based on specific leathers from unique to individual tanneries around Europe.
F: How do you see Craftwerk evolve in the next year? Is there a particular target market or niche that you'd like to occupy and why?
TL: We see Craftwerk being able to have a full product range of at least 12 – 15 SKUs. We aren't going mass market as our price range wouldn't allow for it. We want to be one of the top premium leather brand focused tech. We find that many tech lovers aren't inclined to be associated with the LV, Gucci, and etc crowd as it is deemed mainstream and definitely not cool. The reality of it is, these brands truly use great materials and have excellent craftsmanship and this is what we want to deliver to the tech community.
F: There's this increasingly big interest in combining fashion and technology these days. In your opinion, will the trend continue and if so, why do people find it so fascinating?

TL: Fashion and tech will be here to stay as people become more and more dependent on their phones, computers, and tablets. From this you can see we have designed a bag that will allow for people to hold all 3 of these items because they have been necessities for the normal person.
We don't really want to follow trends because we want our products to be more timeless. We believe that minimal simple styling will always be in style.
So there you go, folks! Thank you Thomas Lin for the Q&A, and I wish the best for the Craftwerk team in reaching their Kickstarter goal for Espelette Collection and future projects. You can help them by going to their Kickstarter campaign page, learn more about the collection, and show your support!
Thank you for reading and Happy Earth Week,
Musank
Photos: Courtesy of Craftwerk by Freeform3