Think, Make, and Wear Betabrand San Francisco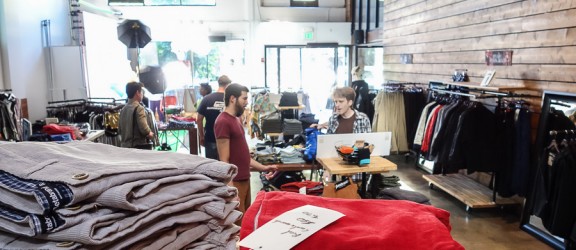 Betabrand makes executing the concept of making apparel that people want and get them talk about it seems easy. Its combination of limited quantity products, San Francisco manufacturing, and the "Think Tank" crowd-sourcing community form the gold formula for highly desirable, functional, and quirky Betabrand apparel brand. Naturally, I become interested in learning more about what makes Betabrand and San Francisco special.
Before I know anything about Betabrand San Francisco, Chris and I incidentally stumbled upon Betabrand's 780 Valencia flagship store during its opening weekend during one of our Mission district strolling. Then on the following week, during Third Wave Fashion's "Founders Tell All" San Francisco forum, I was listening to Betabrand CTO Colin Stuart providing the overview of the born-in-2005 company that is previously known as Cordarounds.com.
During the forum, Mr. Stuart explained that broader-than-previously-thought customer base is partly the cause of the flagship store opening. Of course, the fun, engaging, and always partying eCommerce store is still the core of Betabrand; the content commerce company wants to keep the the online site's excitement level on maximum dial to get people talking. Just check out the Betabrand disco hoodie or smoking jackets for example of the "fashion forwardable" Betabrand. Moreover, with Think Tank, the company sources ideas from the community of eager fans who want to create and see their ideas being made into the next Betabrand products.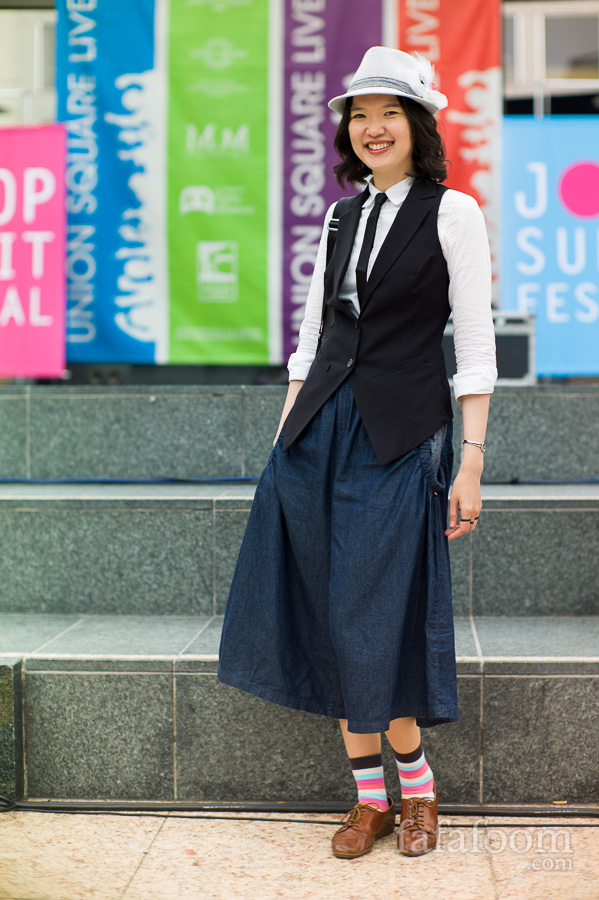 And how about self-expression platform? Betabrand keeps the conversation alive with "Model Citizen", featuring Betabrand-wearing instant superstars (and the discount doesn't hurt, either!). Hmm, maybe I should be a model citizen as well…afterall, I wore Betabrand colorful socks during JPop Summit Festival (pictured right). And by the way, those socks come with 1-year insurance (if you lose a sock, take a picture of yourself with the soulmate-less sock and Betabrand will send you a new pair :)

Earlier this summer, Impressed with Betabrand's concept and its local production, I arranged an on-site visit to Betabrand San Francisco flagship store that also doubles as their office. I met with Lana Hogue, Director of Product Development & Production at Betabrand, who has been active in the San Francisco Bay Area's garment industry for over 25 years, with extensive experience in production, quality control, and operations both in the U.S. and off shore including Asia, Mexico & Central America, South America, and Caribbean Basin (from Garment Industry 411). As a result of our conversation that afternoon, I gained more appreciation to Betabrand's production process flow as well as its known challenges and probable future.

The Think Tank
Betabrand strikes a pulse with its whimsy, goofy pseudoscience-kind of a brand. Its online customer base's desire to be funny, witty, original by owning and wearing limited batch products triumphs over the concern of not being able to examine the products up close.

And why not? The customers are involved as a R&D community with the idea of beta testing. Anyone can submit product ideas that Betabrand later turns to prototypes, then you can sign up and vote, and Betabrand will make what's popular in limited batch to control inventory cost. If the product launch is successful, then Betabrand will make more of them. All of these are happening and tracked online, and people are engaged with social, fun quality of this Betabrand "Think Tank" community.

And thanks to the product naming (i.e.: Two-Faced Britches and Japants, for starters), Betabrand products have that extra edge of being special. The CEO Chris Lindland's goofy and such-a-conversation-starter sense of humor attributes quite significantly to the product names and descriptions; their association with memes and relevant social topics attribute to the products' fresh and cool quality and what Betabrand is all about.
"We associate Betabrand products with memes to make people want to buy."

"You may have a lot of GAP clothes in your closet. But in the midst of GAP clothes in your closet, (we want you to) have a few BetaBrand pieces that are special," Ms. Hogue said.

And since many people love owning and wearing something special, the Model Citizen program is very effective for marketing, especially word-of-mouth. Considering how difficult it is to sell clothes online and strive, this is quite genius.

Made in San Francisco
The declining number of US manufacturing industry employment (check out some of the statistics) contributes to limitation of skills & resources in SF Bay Area. The raw materials are obtained from outside, but the cut and sew are done in San Francisco. Betabrand relies on sew shops around San Francisco, ordering approximately 40K+ items with 6-weeks turn-around.

Ms. Hogue emphasized that it's important to keep the manufacturing job here in San Francisco while also maintaining a certain standard of quality measures. There's only thin margins for these garment factories (they need to stay profitable within 3% – 4% margin), therefore it is crucial to get things right the 1st time around. This means no repair and no time to lose. Tech specifications are written clearly and communicated thoroughly to minimize mistake.

The Labor law ethics is also a priority for garment production: provide fair amount of production time, price them quickly (no haggle of price) and fairly (being open and honest if sew shops price too low or too high, pay in 4-5 days time). This practice tremendously help establishing good, dependable relationship between Betabrand and the factories.

However, the factories are facing the challenge of declining number of Chinese workers from Hong Kong. They have high work ethics and skills, high pride in workmanship, can do complex styles in smaller quantities, yet they are getting older and now retired. More and more of them stayed at home, taking care of their grandchildren. While we are happy for them, on the other hand, there is no successors in new generation of sewers of similar levels.

In addition to the Chinese workers, there are also the Central and Latin Americans that contribute to the cut and sew workforce. Still, there is language barrier challenge. According to Ms. Hogue, "Even if the owner speaks English, the floor supervisor might not…Some of the factories here have hired Latin American and Filipino sewing operators, and found a way to communicate."

While the local sewing factories are facing a decline in the older workers, the denim factories are attracting the younger talents, partly due to the resurgence of retro vintage looks in the past 5 years.

The Betabrand "collection" roll-out is unconventional. Instead of having all items in one collection rolled out at the same time, new styles are introduced as many as twice a week. You don't think of them as a collection because Betabrand is constantly in development and production cycles. On one hand, this benefits from continuous shipments and its fast paced turn-around. On the other hand, if the production cycles are not thought far ahead, the rolled-out pieces can seem disjointed.

In other words, "the challenge is to release a cohesive "collection" and release piece by piece," explained Ms. Hogue.

It is obvious that Betabrand has a majority of male fans and loyal followers. The company has traditionally focused on making pants. However, since men generally buy five times as many shirts as pants, Betabrand is shifting focus to incorporate a lot more shirts than before. That being said, it still offers more pants than any other product.  No matter what body type you're in, Betabrand has a pair of pants for you!

With further Think Tank showcase, Betabrand will crowd-source more great product ideas and get both internal team's and community feedback with great amount of details to have the products made.

What's Next for Betabrand
When asked for her thoughts for the near future landscape for Betabrand, Ms. Hogue was certain, "Demand for retro vintage domestically will continue to rise. On the other hand, the supply goes down due to resources, therefore price will go up." And because Betabrand is hardly the only one targetting the market, the landscape will become even more competitive.

And in the competitive landscape, Betabrand will continue to strive ahead, as expressed by Ms. Hogue.
"We are constantly thinking… are we offering good perceived value (in our products)? Are the added details expensive (to make) yet the customers are not able to appreciate? Or are the details expensive and add to the overall product? Or are the details not expensive but the customers easily notice and appreciate?"

There are also a great deal of effort coming from bigger apparel companies to connect with people. Target was credited a great deal for starting the high low collaboration trend, and you may have noticed collaboration marketing from local big apparel companies such as Levi's x Pendleton and Banana Republic with ThreadStitch….will Betabrand do similar kind of collaboration?

"Betabrand's approach has always been its collaboration with the community. We're pouring considerable resources into our Think Tank web development and staffing to facilitate community involvement. Collaboration with some other evil multinational corporation just pales in comparison!"

Indeed, as the company grow, there's even more effort to stay in touch with the community. The Betabrand production staff themselves are all pattern makers and makers who are equipped with the business skills of getting things done. When you visit the Betabrand San Francisco 780 Valencia flagship store, notice that there are sewing machines available near the office front window. They are used by Betabrand staff sample sewing operators to make prototypes. Qualified employees can ask for permission to use the machines for their personal projects on the weekends.

Moreover, Betabrand's production tasks are being fine-tuned, including how to standardize fit and shapes. Since the male customers are the bread and butter of the brand, the company is willing to take more risks with the garments. Just look at Chris, who bought the executive hoodie the day he laid eyes on them. He's such a fan, he forgot to take pictures at all that day because he was busy shopping. We had to come back to Betabrand San Francisco the week after to take pictures of the store!

But the female customers can rest assured that they are not being left behind. Being less forgiving with poor fit, Betabrand team worked really hard to release the first women's pants. The dresses came first (which frustrated some customers), but now Betabrand offers a few great women's pants to choose from (seriously girls, check out the two-faced britches!).

"We worked hard for the women's pants's fit…they are my favorite pants right now," Ms. Hogue smiled, her eyes twinkling.

"We want to have the best fit possible, and we need to communicate with them more to discover the right fit". Thankfully, the Think Tank is a great communication outlet for that now.

With the product conception to production cycle figured out, strong and engaged community base, and a growing team, what does Betabrand want to become next, at the end of the day?

"Profitable, ethical, fast," Lana Hogue said, determined. Driven. Focused.
And of course, Inspiring.


Thank you very much Colin Stuart and Lana Hogue for taking the time to arrange my on-site visit, and especially Lana Hogue for the insightful and very enjoyable conversation. We wish the best for Betabrand's continuing success, and you all should be checking out their garments frequently. So cool, deliciously goofy, and effortlessly functional at the same time. What's not to love?

Thank you for reading, until next time,
Musank