The fashion reality TV show "Fashion Star", which debuted March 13, 2012 on NBC has drawn mixed reviews. Complicated logistics issue, a fashion reality show game changer, and biased, rather demeaning comparison to Project Runway reviews have been published for the past month. Even now, after 6 aired episodes, speculations whether the show will get another season still rage on.
The future looks very uncertain for the TV show. On the other hand, the show reveals a brilliant, effective business model. One that creates immediate attention, interest, and buying capability right after the show ends; something that wasn't introduced by other popular fashion reality show like "Project Runway". And yet this show is just a fragment of the newest nation-wide (or global?) "trend": Rise of the Unknowns in Fashion.
Read More
Remember back in July when I wasn't quite sure if I can make it to LES Runway? Well, last weekend, my trip to NYC came true! Marc Maleh was very kind to invite us (my photographer Christian and I) to attend any one show in September, and I chose this Saturday, September 10 fashion show featuring Rachel Rose and Lumete Eyewear.
First off, forget the tent and drama. LES Runway is held at Grand Opening, 139 Norfolk Street, in a space that's approximately 15′ x 24′. Small, unpretentious space which has a wooden runway jutting out in angle to the small street in front of it. Beside the space is an apartment building; residents and passer-bys weaved their way through the crowd that began to gather around in front of the open space by 6:45 pm (for the 7:00 pm show).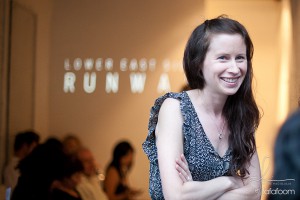 Cheryl (left) and Marc were busy putting everything in order, the models were finishing up their practice walk and confirming their marks, and the three photographers present (Chris included) were testing and refining their camera settings. As family, friends, and guests began to increase in number (there were about 20 guests total), Cheryl, Marc, and the crew interacted casually with the visitors. The atmosphere was focused but casual; there's a fashion show showcasing Rachel Rose's silk garments and Lumete sunglasses (which were solid, I must say), but the vibe never was too serious.
Read More