Remember back in July when I wasn't quite sure if I can make it to LES Runway? Well, last weekend, my trip to NYC came true! Marc Maleh was very kind to invite us (my photographer Christian and I) to attend any one show in September, and I chose this Saturday, September 10 fashion show featuring Rachel Rose and Lumete Eyewear.
First off, forget the tent and drama. LES Runway is held at Grand Opening, 139 Norfolk Street, in a space that's approximately 15′ x 24′. Small, unpretentious space which has a wooden runway jutting out in angle to the small street in front of it. Beside the space is an apartment building; residents and passer-bys weaved their way through the crowd that began to gather around in front of the open space by 6:45 pm (for the 7:00 pm show).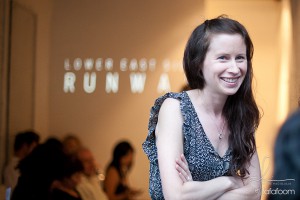 Cheryl (left) and Marc were busy putting everything in order, the models were finishing up their practice walk and confirming their marks, and the three photographers present (Chris included) were testing and refining their camera settings. As family, friends, and guests began to increase in number (there were about 20 guests total), Cheryl, Marc, and the crew interacted casually with the visitors. The atmosphere was focused but casual; there's a fashion show showcasing Rachel Rose's silk garments and Lumete sunglasses (which were solid, I must say), but the vibe never was too serious. Even when the show started, a few passer-bys stopped in front of Grand Opening and joined to observe the 17-piece collection that graced the humble runway. Some of them ignored the runway completely and sometimes walked right in front of the photographers, sometimes obscuring the trio's camera visions for mere mili-seconds.
The collections are solid: Rachel Rose's silk print dresses and billowy tops are lovely, easy-to-wear, and comfortable, whereas the Lumete sunglasses are feminine and bold. When one combines both, you get this sense of artsy, throw-back elegance that can be super attractive to many women out there. My favorite piece is the black-and-white geometric prints with teal side panels and gold rope belt, and I think the guests would agree with me, judging from their reactions when that came out.
I'm waiting for the days when a fashion show just suddenly materialize in narrow San Francisco street, just like how it was in LES Runway. Forget the tents and uber-produced drama; when you have a solid collection by talented designers, models, and onlookers to appreciate the work the designers put into each and every piece,  you can have fashion grace you with its presence, even if it's just 10 minutes or less.
© Photography by Christian Hadidjaja
Congratulations once again to Cheryl and Marc for their fabulous job in promoting emerging designers in NYC. For those of you who want to attend the LES Runway shows, come out and support the NYC fashion community. You'll find yourself in a humble space but fierce fashion talents.
Respect,
Musank