Dyeing my hair is something I'm very reluctant to do. From time to time, I have that desire to do so, but I never follow up with it. I'm afraid to damage my hair permanently and/or get disappointed with hair color that doesn't work for me. But I see some purple (or red) hair experiment in the near future, thanks to Loren Lankford's "DIY Dye" book. It gives you a comprehensive and organized view of at-home hair coloring. Picking the right dye, concocting original hues, adding highlights or getting an ombre, natural dyes, and hair health are several key things Loren goes over step-by-step in this must-have book for DIY hair enthusiasts of any level.
It's a delight that I have the chance to do an email interview with Loren Lankford (pictured above). The DIY Dye book author shared her DIY hair dyeing passion, her first dyeing experiment, and zoomed in on several hair dyeing methods you can try at home right now.
Fafafoom (F): It's clear that you are very passionate about hair dyeing. What is it about hair dyeing culture that captivates you so much and drives you to write this book?
Loren (L): What I enjoy about hair dyeing is how you can use it to express yourself in a semi-permanent or totally brief way. Say you have an exciting weekend coming up… maybe you'll use hair chalk to give you some pink streaks. It'll be over by the end of the weekend, so it's not a big commitment but it's a fun way to change up your look and experiment with a different image. I've always thought that changing your hair can really alter your look in a fun way, and how cool is it if you can do that yourself and not have to spend the money to go to a professional? I've always appreciated the DIY nature of any project. I hope my little book of experiments inspires other people to play around!
F: Would you tell us how your first ever hair dyeing experiment went? Did it go exactly as planned? Were you nervous?
L: I don't think I was that nervous, just because I had that beautiful, youthful temperament where I didn't really care if something went wrong or how it turned out. As you get older, it's natural to be a little more nervous that you might turn your hair purple the night before you have to go to work. I always "start small" so that if something doesn't turn out well, the usual issue is that I need to do more, not less. The first time I dyed my hair at home was with red kool aid over my natural blonde mane, but I didn't use enough and it was a really light red, almost pink. I actually like how it turned out, but for future dyes I went a bit darker. Very few experiments go "exactly as planned," but you learn a little each time you do something!
F: I am one of those people who have "virgin hair" (i.e.: never dyed my hair). I love experimenting with fashion, but dyeing my hair to a color that's not close to enhance the shade I naturally have is an activity that I think needs another level of bravery. Experimenting with clothing, accessories, or jewelry seems low-risk for me; take them off and you're ready to start playing dress up again. Dyeing hair seems to need a deeper commitment and a certain mind set. What do you think? How do you approach hair dyeing so it's not intimidating?
L: Well, you're definitely right that dyeing your hair, even in a really easy-to-wash-out way, is definitely more permanent than trying on a dress and then deciding you don't like it and simply taking it off. But as someone who is covered in piercings and tattoos, I also see hair dye as being much less permanent than many things you could chose to do to your body. I have friends who have virgin hair and have no plans to ever touch it, which I admire and can see the positivity in, the same way I feel about people who never get inked and have beautiful, empty skin. It takes all kinds, right? My suggestion to someone with virgin hair who wants to experiment with their hair but is nervous is to try something really temporary like hair chalk, which generally washes out in 1-2 washes and won't even effect your virgin hair status. It's when you get to bleaching and real hair dye that you eliminate your virgin status. And if you love the color that your hair naturally is and aren't interested in changing it, it's not like I'm going to try and change your mind — some people are lucky enough to love their hair exactly the way it is!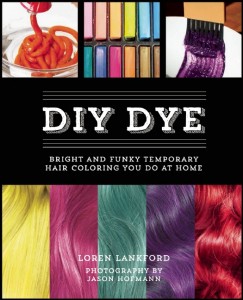 F: In the book "DIY DYE", you share many different ways we can dye our hair at home. Why does doing it yourself make more sense than getting a professional dyes your hair for you?
L: It depends on what I want done. There are things I totally think you should rely on a professional for, especially if you're new to the hair game. Like bleaching – I wrote several times in the book that I don't suggest rookies try that move at home, especially if they have dark strands. But because I believe in living an all natural life free, as much as possible, from chemicals and possibly harmful ingredients, I enjoy using safe alternatives like henna, kool aid, chalk and tea to try things out on my hair. It's also much cheaper… not as much of a concern now that I'm older, but when I was young and was experimenting with my hair, I couldn't have afforded to go to a salon for a $100+ color change.
F: Which DIY Dye style would you recommend for "virgin hair" people like me?
L: As I said above, I'd definitely start with something really temporary like hair chalk or tea staining. This way you can easily wash it out if you aren't happy and you don't have to worry about breaking or damaging your super healthy hair in any way.
F: Which DIY Dye style would you recommend for people who have previously dyed their hair at-home, but want to try a different, fresh style for spring?
L: It totally depends on what you're starting with (color and type of hair) and what you might be looking to achieve. I LOVE Kool Aid if you're into red and henna is also great for wannabe red heads or brunettes who want to darken their strands. I also think hair chalk is a fun way to add highlights, streaks or just a strand of a fun color for a pop on a fun night out.
F: Any more advice / words of encouragements for DIY Dye readers out there?
L: Well, firstly, thank you so much for checking out the book and being interested in the first place! You can feel safe knowing that the book includes plenty of different ways to do your hair from really temporary to semi-permanent and in any shade under the sun. You don't have to only be the kind of person who wants hot pink hair in order to check the book out! I tend to always have funky hair, but my mom simply uses at-home techniques to cover up her grey's, and the methods laid out in the book work well for both of us.
Thank you Loren, you make me feel more at ease about coloring my hair with several different techniques. Hair coloring can be really fun and I'm excited to finally try it out! For DIY hair coloring enthusiasts out there, pick up Loren Lankford's "DIY DYE" book and have fun experimenting!
Until next time,
Musank