"Childlike fun" is the mood I feel when I'm viewing Ivana Helsinki Fall / Winter 2013 collection for New York Fashion Week. The Finnish fashion brand designed by Paola Suhonen offers clean lines of dresses and coats splashed with colorfully elegant patterns and prints. Ivana Helsinki's runway show was held on February 7 at Studio 450 (450 West 31st Street).
The "Rotterdam" title is inspired from the Rotterdam pinup girls in the 1960s, vibrantly enjoying life and drinking whiskey at dimly lit, dusty bars while winter freezes outside. The red, blue, and yellow pops in Ms. Suhonen's signature prints of circular geometric patterns, which are clearly front and center in the feminine and romantic silhouettes.
Before this, I was not familiar with this 13-year-old Scandinavian fashion, art, and cinema brand, but judging from Ivana Helsinki's About page excerpt –  "…Ivana Helsinki…[is] a way of living…My world is for the ones whom love moonlit fields, pirates, dark forests, crummy motels, champagne states of drunkenness, fragile butterflies, passionate relationships, cowboys and guardian angels. " – this collection definitely is consistent with Ms. Suhonen's aesthetics.
In addition to the gorgeous prints that I especially love on the outerwear, the subtle nautical stripes and color blocking feel very romantic on the dresses. Nostalgic yet modern, I can totally see these pieces rocking on the streets of San Francisco Bay Area. Fall / Winter season does not need to be all black, serious, and grey all the time, after all. I should keep that in mind for planning my fall wardrobe this year. I hope I can do top knots hairstyle sometime this year, too :)
My favorite looks from Ivana Helsinki Fall/Winter 2013 "Rotterdam" collection can be viewed below:

IVANA HELSINKI
FALL/WINTER 2013 RUNWAY SHOW
"ROTTERDAM"
HEAD DESIGNER: Paola Suhonen
STYLIST: Jukka Puljujärvi
IVANA HELSINKI PRODUCER: Marta Valtonen
PRODUCTION: SISTER TRIBES
HAIR: Matthew Curtis for TRESemmé with products by T3
MAKEUP: John Jones lead artist for Face Stockholm
SHOES: Sorel
PRESS: SISTER TRIBES
SALES: [édité]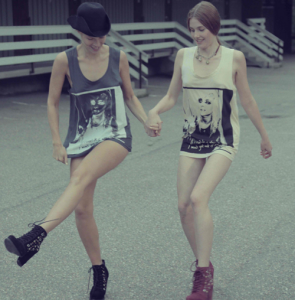 But how about Spring/Summer 2013 for Ivana Helsinki? Well, I particularly like the collaboration with Swedish singer Maja Ivarsson. Made of organic cotton, the ever-essential layering tanks feature hand-designed prints  evoke that classic European air of moodier type or romance (which I highly prefer to the bubbly kind anyway).
In contrast to Ivana Helsinki's floral prints, the Ivana Helsinki x Maja Ivarsson is edgier, emulating the gritty and apocalyptic feel of the solar eclipse which inspired the collection.
I'm happy to have this Finnish brand on my radar now. I'm looking forward to see more offerings from the only Scandinavian womenswear brand to be accepted into the official Paris Fashion Week "IN" Show calendar.
Until next time,
Musank