Fresh off of Unveiled San Francisco 2013 bridal event, I received news of the "Ninth Annual Toilet Paper Wedding Dress Winners". I know the popular toilet paper wedding dress game during bridal showers (that usually results in rather silly half-or-quarter questionable "outfits" that fell apart mid-way), but I have no idea this has been an annual contest since 2005 that have been attracting skilled, highly talented designers from all around the country. Cheap-Chic-Weddings.com asked their readers to create wedding gowns using toilet paper, tape and/or glue. Entrants were allowed to sew as well.
Looking at Cheap Chic Weddings' Toilet Paper Wedding Dress 2013 Contest semifinalists and the previous years' contests (I love the Toilet Paper Wedding Dress 2010 contest submissions the most, in case you want to know), I have to bow down to these designers. Making wedding dresses from Charmin toilet papers is a daunting task in itself, but making BEAUTIFUL wedding dresses from Charmin is on a league of its own. Just WOW, amazing.
On June 6, Cheap-Chic-Weddings.com announced the winners of their Ninth Annual Toilet Paper Wedding Dress contest sponsored by Charmin, as well as new sponsors Idoweddingrunners.com and Womengettingfit.com. Celebrity judge Kate Pankoke, bridal designer and season 11 Project Runway contestant, helped with the final judging which took place at RK Bridal New York City, NY. Dresses were judged on creativity, originality, beauty and the use of toilet paper.
Grand Prize Winner: Mimoza Haska
Mimoza Haska is an Albanian born hairdresser and designer living in Surfside Beach, SC. She calls her dress "Beautiful Swan", which features a cutaway bustier, hi-lo skirt, lilies and a crown style headpiece. She used 16 Rolls of Charmin Ultra Soft, glitter glue, glow in the dark glitter glue, Elmer's glue, paper tape, needle and thread.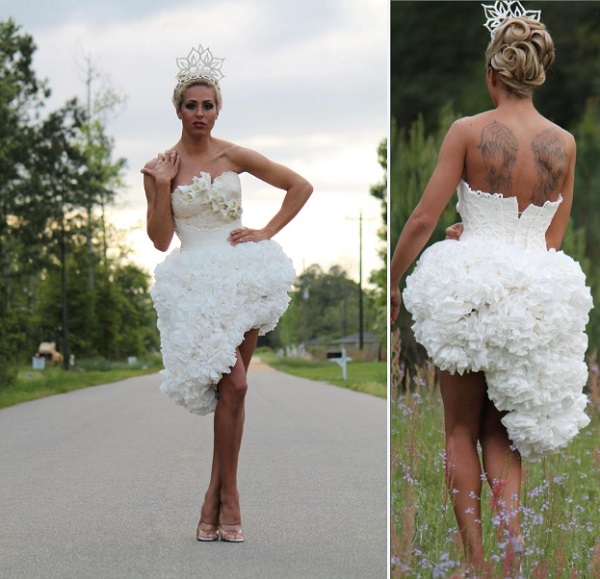 2nd Place Winner: Susan Brennan
Susan Brennan, a designer, professional cheerleader for the Detroit Pistons and yoga enthusiast from Orchard Lake, MI. She was the grand prize winner in 2011 and 2012.
Her dress is named "City in Bloom"; a chic, yet whimsical piece with an interesting balance of hard and soft. The dress features large roses on a removable skirt with a halter style top and is convertible (!) to a short party dress. She used 11 rolls of Charmin Ultra Soft, packing tape, scotch tape, hot glue, needle and thread.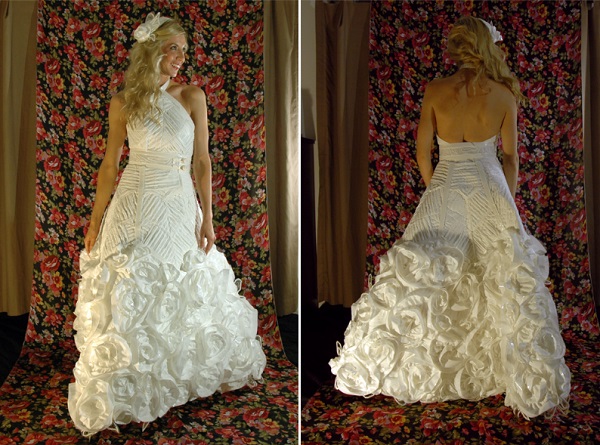 3rd Place Winner: Carol Touchstone
Carol Touchstone is the owner and creative force behind Bohemian Style, an upscale consignment boutique in Ft. Lauderdale, FL. She is an interior designer and fashion stylist as well as a published author.
Her dress is named "Coastal Wave"; drawing inspiration from her love of the ocean. Her dress features a support hoop under the dress, asymmetrical accordion pleats and appliques. (I have to say that the back of the dress is so breath-taking and modern…it's simply amazing.)
She used 30 total rolls of Charmin including Charmin Basic, Charmin Ultra Soft, vintage pink Charmin from etsy.com, Mod Podge glue, scotch tape, clear packing tape, double-sided tape, white glue and needle and thread.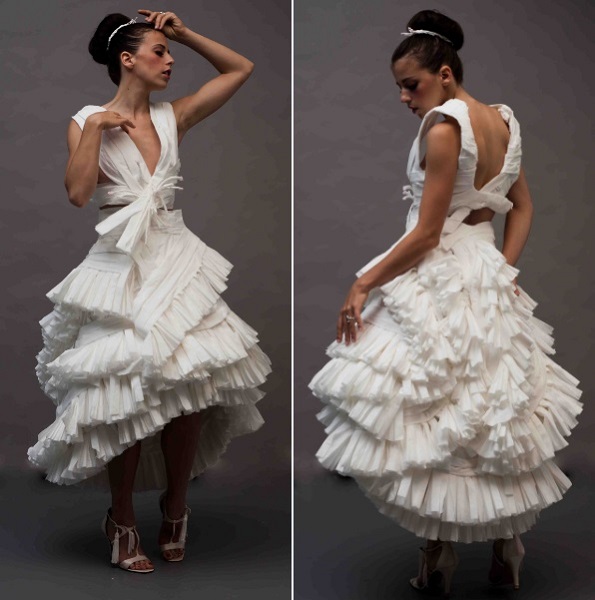 If you want to see all 10 semifinalists dresses (I highly recommend it), go to Cheap Chic Wedding for your viewing pleasure.
Laura Gawne, Susan Bain and Roxie Radford are the contest founders and creators of Cheap Chic Weddings, which is dedicated to help brides save money on weddings.
Thank you ladies for such a great money-saving tips and this beautiful contest! And congratulations for all the winners and contest submitters; they personally inspire me to get off my lazy ass more and do those piling unfinished DIY projects, dammit!
Until next time,
Musank
All photos provided by Cheap-Chic-Weddings.com