Once again, Academy of Art 2013 Graduation Fashion Show packed serious heat of emerging talents last Thursday, May 9 at The Palace of Fine Arts Theater. When I first found out about the venue, I was half-hoping the runway would be outdoor. Wouldn't that be gorgeous? But then I returned from my fantasy thinking when I realized just how complicated it would be to set up an outdoor show :) That being said, this year's production is the largest the university has ever made. Still clutching to its grip as the "ground zero" of SF Bay Area fashion talent generator, Academy of Art's newest graduates showed their teeth in diverse range of fabrics and outfits. Compared to last year's, I saw more varieties (more menswear!) and personal favorites overall.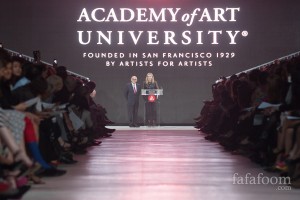 This year, the Academy of Art University Honorary Doctorates title are awarded to Maz Azria and Lubov Azria from BCBG Max Azria Group (pictured right). H.R.H. Pricess Reema Bandar Al-Saud's Saudi Project also returned this year; the stunning results were featured as the show opener.
Thank you my husband Chris for all the wonderful pictures. Perhaps it's worth almost being kicked off by the burly security people. Please click on the picture once and wait a moment in order to bring up the selected designer's complete looks presented during the Academy of Art 2013 Graduation Fashion Show. Without further ado, these are the collections presented on Academy of Art 2013 Graduation Fashion Show.
Design Collaboration for Harvey Nichols in Riyadh, Saudi Arabia
This Fashion Design, Technical Design, and Textile Design collaboration is commissioned by H.R.H. Pricess Reema Bandar Al-Saud for Harvey Nichols in Riyadh, Saudi Arabia. The participating designers are Blake Conaway, Esther Kim, Eulalia Hegner, Amanda Tran, Alex Lunt, Grace Malla, and Lorenette Haynes. One of Fashion Week 2013's Top 10 Newcomers model Maria Borges opened the show in a stunning metallic number, covered from neck to toe.
Although all floor-length dresses are stunning and modern, my favorites are the 8th and 9th looks. The former look very whimsical rock n' roll, while the latter is bold yet feminine. The chosen fabrics for this collection is superb, I must say.

Feijing Song & Erica Kim
The bold vibrant colors and movements from these outfits bring out some kind of sophisticated bubbly vibe. The last outfit of soft blue, overlapping panel dress and coat is so gorgeous…I want that coat.

Shumpei Okamoto & Andrea Nieto
From the first look to the last, Shumpei's neoprene collection got the audience talking. All of the garments are done with all-in-one-piece pattern, his way of addressing "fast fashion" with less time and people involved in the production. Combine Shumpei's "Neo Fast Fashion" concept in Andrea's prints, and you get a very cheeky and rather genius collection.

Candy Hsin Yu Chu
I'm ready to travel in style! If I want to do some serious back-pack hiking / camping while squeezing some outdoor photoshoot in the trip, I'd wear Candy's travel-ready fashion toughness. Still have to watch out for raccoons, though.

Didvik Kuang
I like the relaxed clean slate from Didvik's outfits. The coat on the 3rd look is especially gorgeous, as is the men's long sleeveless blazer and the last look's coat.

Claudia Simoes & Alicia Karynn Teixeira
I LOVE this collection. The gorgeous fabric, sunglasses, styling…they all come together perfectly. I want to wear everything in this collection. Whether I can or have the money for it, that's another story :)

Ryan Morar & Melissa Avalos
The whole concept of rugged, splashed-with-paint handsomeness somehow worked, even though the 2nd and 3rd looks seem out of place compared to the rest of the pieces. The last model's gender sparked a mini-debate amongst some front-row VIPs. Pretty boy, indeed.

Lili Pham, Kaitlin Anne Perkins, and Ashley Lagasse
Another one of my favorites. The oversize peplum work on the first look, the mysterious glamor chic that encompasses all six looks are so amazing. What a gorgeous collaboration!

Phoebe Naiqing Wang
I like how Phoebe use patent leather as effective accents in her collection that is inspired by uniforms of oil workers. The light-handed use of it allow the rest of the chosen fabrics (mesh, silk organza, wool, cotton) and constructions to unfold cleanly with feminine toughness.

Youngjin Shin & Hsin Lee
It's great seeing many menswear collections on Academy of Art 2013 Graduation Fashion Show, but this collection is my favorite, hands down. It's clean, precise, modern yet classic. The fabrics fall neatly, and the ombre effect is just gorgeous.

Kittiya Punprapun
I'm partial to all-white outfits, however I respect people who do all-white collection cleanly because there's just nowhere to hide. The construction quality of this collection is commendable, and it shows how much work is poured whole-heartedly into these six looks.

Cindy Quach
This is another one of my favorite collections of the night. The cut-outs on the grey coat look amazing; the lines and shapes are just so clean and spot-on gorgeous. Love, love love!

Marine Rongrong Wei
Marine's collection is so cool, yet relaxed. I love the textures and the featured elastic waistband pants, however the ones that draw the most attention (I think) were the shoes. Even Chris said he likes the shoes right after the runway was over :)

Pipatchara Kaeojinda & Emma Mengchen Yang
The brown leather outfits throw me off a little bit, however the rest of the collection looks great. I'm always a fan of long-sleeve, ankle-length cardigan, so the 2nd look is naturally something I visualize myself in. So cozy!

Fay Xinzhou Liu
Fay's all-silk, Claude-Montana-inspired collection makes me think of futuristic android ladies' work wear. Their arms seem detachable and remind me of Tachikomas in the great Ghost in the Shell series. I love that it's futuristic and dramatic, yet clean and simple at the same time.

Andrea Torija
The levels of shine in Andrea's chosen fabrics are so controlled they are so luxurious. The folded details form vase-like shapes that elevate her work a little bit more towards wearable art.

Leslie Dilloway
I like the textures of the Turkish prints (even the uh, fanny packs…they just work!) with the almost snobbish, grungy feel of Lelie's creations. It's casual, it's cool, and the last look is the coolest.

Cangyu Zhang
The second look is my favorite, however the whole collection gives the luxe chic with a tint dose of childlike innocence (yeah, it's probably the backpacks).

Ran Bi & Alexander Toy
What a collaboration; this is the deserving collection to be the one closing the show. Ran's mixed material of wood, vinyl, leather, and mohair infuse modern, futuristic yet down-to-earth excitement in the tailored sporty menswear garments. Moreover, the wood accessories based on common office supplies from Alexander also drew great applause, especially the sculpted suitcase (which reminds me of the Orishiki suitcase).
This collaboration is so cohesive that they looked as if they're coming from the same person. Hm, perhaps Ran and Alexander need to continue this collaboration in long term basis!

Congratulations once again to Academy of Art San Francisco for the amazing Academy of Art 2013 Graduation Fashion Show. And special thanks to Ian Mackintosh for inviting us again this year; we cannot wait to see the show next year!
Until next time,
Musank