It's easy to get lost in the glitz and glamour when one talks about fashion. But in EVO 3 Fashion Show, fashion gets reminded of its humanity factor; it celebrates life, courage, and beauty of inspiring cancer patients and survivors who never give up.
The bi-yearly Evolution of Fashion EVO 3 fashion show was hosted by Gail Shrive, Project manager of "The Hub" by Georgiou Studio and CEO of GB Shrive Designs. The theme was "1930s Old Hollywood, Made In 2012" and her non-profit partner of choice is Heaven's Door, a cancer non-profit started by her friend Daphne Evans. At St. Mary's Cathedral Event Center, 1111 Gough St., the ballroom was slowly turned into a 1930's night affair, with models and (some) guests outfitted in 1930's inspired fashion. When we arrived around 6:30pm, Ava Byrd of the ByrdSong Production was walking around the room, scanning the overall atmosphere of preparation and readiness like a hawk, Charleston Pierce was still mentoring the models (some of them walked the runway for the first time that night), Zoë Hong was telling the models where to stop when approaching the runway's edges, and Ken Chen was helping out seemingly everywhere at once and ushering guests.
Models strutted along in their high heels (or not!), boasting makeup work from an excellent team that arrived at 1pm that day (MUA Director: Arlene Coleman; MUA Leads: Kenya (Ruby Envy) and Lien DeLong; MUAs: Amy Galibut, Destynie Ellis and Andrew Jacob) and hair by GlamBox (Hair Director: Joe Escobedo; Hair Stylist: Elisa Aguilera). Two of them were wearing IV wrap on their upper arm, and later on we found out that they're cancer patients. Their hair and makeup were by Josette Vigil-Jelveh, Rudisha McNeal (Bobby Brown) and Daidra Senoren (MAC).
When Daphne took the stage at 8pm, she narrated her inspiring story as an ovarian cancer, breast cancer and recently spinal cancer survivor.
Her struggles with three different types of cancer, how she came to the resolution of never giving up, how she started Heaven's Door to help those in cancer treatments and provide support in cancer community…she commanded the room's attention and spoke with such warmth and confidence that touched souls.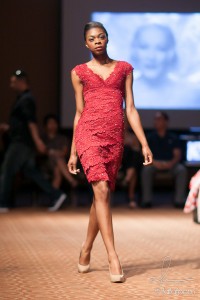 She said, "If you know someone suffering from cancer who's ready to give up…point them my way."
What a fitting scene, listening to her story at a cathedral. I was so moved.
Several more exchanged pleasantries, DJ music, and a song performance by Marielle Mulligan (she's also a cancer survivor and a friend of Daphne's), the fashion show began at 8:45pm (15 minutes earlier than originally announced). Georgiou Studio was first. Easy-to-wear pieces for a nice night-out or special occasions (reasonable prices, too!).
My favorite was the lace red dress (pictured left). Fierce and versatile for all seasons, I believe it's a good staple dress to have (especially if you have enough of LBDs :)
Up next was Kate Knulvelder, whose jewelry designs were fashion statement makers:

Rj Rivera's designs were lively and entertaining, especially the last two men's swim trunks that elicited interesting reactions from the audience (how about you?):

Crisanta Malig's dresses were nicely complimented by the 1930s styling, and I love the flow of the last dress:

Gail Shrive's collection concluded the fashion show portion of the night, and it was amazing. The gowns were gorgeous, strong, edgy yet still very much feminine:

When we left (we were starving and hadn't eaten dinner), the celebration continued in full swing. People lining up to take pictures in MannequinSF booth (or anywhere in front of cameras), music and conversations buzzing, people's laughter rang. It was a great continual celebration of life, perseverance, and fashion. And we left feeling humbled with our own humanity.
God bless,
Musank