The 9th annual Fashion On The Square charity fund raising runway show was held on August 18, 2013, 7pm at the Intercontinental Hotel, 888 Howard Street, San Francisco. This year, Fashion On The Square 2013 (FOTS 2013) celebrated San Francisco native designer Colleen Quen's 15 years of fashion. FOTS 2013 benefited FOTS+TheArts, a non-profit organization formed in 2012 that gives grants and scholarships to students in the fashion industry who blend fashion and the arts in their work on the runway or in visual representations.
Shortly after 7pm, in Intercontinental Hotel's Grand Ballroom, Fashion On the Square 2013 started with FOTS+TheArts opening presentation of young singer Alyssa Alves accompanied by Alonzo King LINES Ballet's ballerina Caroline Rocher. This was Ms. Rocher's second, highly-anticipated-return performance at Fashion On The Square after having first graced the runway at FOTS 2009.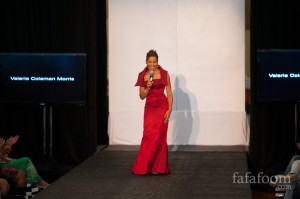 Immediately after, FOTS 2013 hostess Valerie Coleman Morris (pictured left) emerged to the runway, wearing the stunning Colleen Quen's signature dress in red. Not only the night was to celebrate Colleen Quen and her 15 years in fashion, but it is also to reintroduce Colleen Quen Couture into the public. The night would then feature designers B Michael (his work was first featured by FOTS in 2009), Ricky Lee's Roc Rio, as well as the work of student designers in a segment called the Fresh Faces of FOTS.
B Michael
The first runway show of the night belong to New York Couture and Ready-to-Wear designer and CFDA member B Michael, who showed his b michael AMERICA RED for Macy's collection as well as several of his couture pieces. Later during the night, he was presented with Guest Designer of the Year honorary award by FOTS Founder and Creative Director Y'Anad Burrell. B Michael is the 'only' designer in the United States who has 100% of his collections made in America.
During the short b michael video presentation before the first model walked down the runway, B Michael explained his collection is about "confident, modern women" who "has an agenda". Use of color, mix-and-match patterns give way to clean, sophisticated yet not contrived looks. And I agree with those assessment; the looks were clean and crisp, beautifully made and fit the models really well. It's no wonder Mr. Michael has shown his collections worldwide (including Beijing, China, Korea and Shanghai) and has had his designs worn by Beyoncé, Halle Berry, Cate Blanchett and Cicely Tyson, among others. And it's so energizing to see the full-house crowd clapped to every single look that came down the runway!
The stunning Caroline Rocher twirling in b michael:

The b michael couture presentation, finale walk, and Guest Designer of the Year honor presentation:

Ricky Lee's Roc Rio
It was Bay Area fashion designer Ricky Lee's turn, showing his Roc Rio men's collection. If buff men with badass attitudes walking down the runway were not tough enough, their black smeared face makeup certainly made the presentation just that much more intimidating.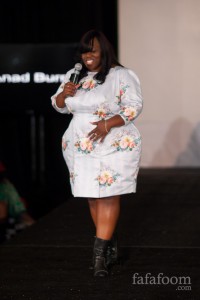 Y'Anad Burrell (pictured right) emerged to the stage next, confirming that Fashion On The Square 2013 has the largest crowd ever in the history of FOTS (thunderous claps from the audience instantly followed).
After a relatively quick runway presentation featuring Sean John, Y'Anad introduced the next segment: Fresh Faces of FOTS. Scouring student designers across the country, each selected designers were asked to show one look down the runway. However, one submitted two, and one submitted 9 looks :)
First up was the work of Ali Thornton from Salt Lake City, Utah:

Next up (and my personal favorite) was two shiny gowns from Cindy Quach from San Francisco, California:

Daisy Dickerson from College of Alameda presented her look. Honestly, I'm more thrilled to see what the designer herself was wearing:

Also from College of Alameda, Tasa Gleason presented the "tree on your shoulder" gown:

And lastly, the crowd favorite Lauren Barisic presented her nine-look collection, which was a built up from her AIC San Francisco 2013 Style Wow fashion show. From the moment the white pooch was carried by the model wearing the first look, the audience just melted. Awws and cellphone pictures everywhere!

The always gorgeous Elena Slivnyak took the stage shortly after. Hilariously complaining about "spanx too tight", the Project Runway alumni (whose avant-garde creations have wowed me even before she made national headlines, delivering one of the strongest Project Runway decoy collection at NYFW) said that she wants to keep doing her fashion in San Francisco and that she decided to be a costume designer due to her avant-garde nature. She frankly said she's not sure if she's going to be happy being a RTW designer. And of course, she wants to "stay in San Francisco until I die". Aww Elena, I love her :)
Talking about keeping fashion here in San Francisco Bay Area, she offered one of the Fresh Faces an internship! Lucky Cindy Quach was genuinely surprised and so happy (of course, she just won an amazing mentor). And last but not least, Y'Anad presented Elena the Avant-Garde Designer of the Year award.
From 110 youths that auditioned, only 40 was selected to participate in the JC Penney runway segment. This was then followed by Gap's Athleta segment.
Michelle Byrnes from Saga Swimwear presentation to the beat of Robin Thicke's "Blurred Lines" (a perfect song for this segment, I think) followed. It's amusing to see some female audience members, who were not looking as engaged when the female models walked by, suddenly whipped out their cellphones out of nowhere to snap pictures of the male models in their swim trunks.

Colleen Quen Couture
Finally, the featured runway of the evening Colleen Quen Couture, arrived. Valerie once again took the stage, walking up-and-down the runway this time. She was refinedly excited. She explained that the Colleen Quen Couture runway show would be a retrospect of 15 years of the designer's work, as well as a "re-entry". For those who missed Colleen's presence for the last two years, Colleen was battling cancer….and winning! All of Colleen's collections are like "family affair" for her…they are to look back as well as look into the future of her work.
Colleen's designs are inspired by nature's motifs and manifested into "enchanting dreams". Her work has appeared inFlair, WWD, International Herald Tribune, Vogue.fr and "America's Next Top Model", as well as the internationally famed Alonzo King's LINES Ballet Company. She will be teaching Fashion Design at College of California Arts, San Francisco this fall semester.
Get ready to see the many, many gorgeous looks from Colleen Quen couture!
And for the big flourish of the Colleen Quen runway conclusion:

Divine and so amazing, I have to say!
Thank you Y'Anad Burrell and Fashion On The Square (an UnSung Diva! Production) for an amazing night. Despite being a little over 30 minutes late, Fashion On The Square 2013 program progressed much smoother compared to Fashion On The Square 2012. I also appreciated how FOTS 2013 volunteer Lisett Mendoza was presented with $500 scholarship and went to NYC for school the day after the show! Now that's whole-hearted commitment; good luck to you and your study, young lady!
This year's raffles winners picking (which included donations from Personality Hotels, Ghirardelli Chocolates, The Fairmont Hotel, The Kabuki Hotel, The Donatello Hotel, Mary Frances Handbags, and a one-of a kind hand watercolor painting by couture designer Colleen Quen) segments were also very effective, quick, and engaging. Congratulations again to FOTS 2013 and Colleen Quen, and we're looking forward to next year's show!
Thank you for reading and have a great weekend, everybody,
Musank