It's only fitting to celebrate Brease Cancer Awareness Month with the amazing, genuine, and generous cancer survivor diva Daphne Evans. I got to know Daphne back in June during EVO 3 fashion show. She's a very inspiring woman; partly because she's a survivor for three types of cancer (ovarian, breast, and spinal), but mostly because she has tremendous love to help people around her and she never gives up. Even when she's close to giving up, she's blessed with family members and friends who help her stand up again and fight. I'm encouraging the fighters out there, if you need an inspiration to keep you going, you go to Daphne. She will take care of you. Because her love is a wonderful thing.
Alright now, before we go deeper towards the emotional trail, let's roll back :) On Friday, October 12, Daphne held Once Upon A Time Fashion Event and Trunk Show Benefiting Heaven's Door Cancer Foundation at Concordia-Argonaut Club. This elegant yet relaxed event was produced by Rj Rivera and back-stage managed by Ava Byrd of ByrdSong Production (also an amazing woman, I must say) and featured works from designers Rj Rivera, Zoë Hong, and Ken Chen. People were encouraged to wear a pick accessory celebrating Daphne's 7th anniversary surviving breast cancer.
After bites of h'ors d'oeuvres, sips of wines, and chats with several friends (hi Maria from Sacramento Fashion Week!), Daphne started the show by telling her inspiring story of love, hardships, strength, survival, and faith. I'm not going to try paraphrasing it; you need to know and talk to this lady and she will inspire you. I guarantee it :) She then told the story of Rj Rivera, the first designer presenting for the night, and his presentation of the night glided through the runway. Simple and mostly black, the outfits have subtle edge and a whole lot of urban attitude.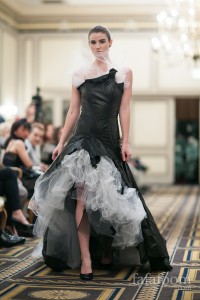 Zoë Hong had a "booth" that night for her trunk show. In addition, she also showed sketches of her current collaboration with The Factory for a couture collection. It's really exciting to see the gowns in concept, and prospective customers are encouraged to make an appointment with her to discuss the garment details to make each gown a one-of-a-kind creation. You can see the whole sketches as well as an interview piece at Boutiika blog.
Zoë had one gown going down the runway that night, made of leather and tulle. It's dramatic, it's edgy, and the bustier part at the front looked fantastic. The back, however, looked a little bit distracting with all the tulle puffed up underneath the thin shiny black leather. I think I would have loved this gown in its entirety if the leather used was a little bit thicker.
After Zoë's model vanished through the backstage door, the unthinkable happened. (I still have a hard time believing it, actually.) The DJ at the front of the room "made a public announcement" that he could not play Ken Chen's chosen sound track for his runway portion. And that he's sorry. And then silence. What? A murmuring, nervous mood swept the audience, with one even shouted back to the DJ "Then play something great!"
Several minutes of uncomfortable unrest passed by, and after some back-stage to front-of-the-room communication, a piece of music boomed through the speakers. Everybody relaxed, and Ken Chen's tailored, meticulous, and lust-worthy pieces emerged. The last piece, a long wool coat with black and blue color blocks proved to be VERY popular for a lots of women in attendance. Ken Chen told us afterwards that the materials can be customized….so, custom-order Ken Chen piece, anyone? You know you want it :)
For the finale, Rj Rivera sent out his edgy gowns and creations, each looks are styled to fit "Once Upon A Time" storybook characters. Can you guess all of the characters?
Congratulations for all the designers, as well as Daphne, Rj, and Ava for job well done. It was a warm evening full with lovely people that celebrate fashion, life, and joy in the continuing fights against cancer. Thank you again Daphne for inviting us! And by the way, observing from all the talks in the women's lounge, you might want to consider another music entertainer next time :)
Until next time,
Musank