Melange's vision was all about celebrating diversity through fashion, music, dance, and theather. On Saturday, August 4, 2012, this concept was manifested once again in a lively evening affair of Melange 2012 Fashion Show at Regency Ballroom Hotel, San Francisco. This 2nd annual fashion show production attracted a great, diverse crowd of both local and international fashion enthusiasts, as well as online viewers who watch its live broadcast via VenMundi.
Reaching audience farther and wider this time, Members of Melange's Executive Board Members Nick Navarro, Talia Romano, Lani Wyche (who was not present that night), and Patrisha Bailey, along with Creative Director / Executive Producer Cristina Ribeiro, Producer Ava Byrd, and Model Coach Bernice Johnson (among others) were giving their all to go beyond last year's celebration.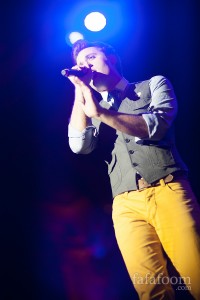 Melange's vision was immediately solidified from the get-go, starting with the fashion show's "prologue". Preceding the 1-hour fashion show, the audience was presented with a short Q&A with a 10-year-old Diego, awards-giving to outstanding individuals in fashion & music industry, and 5-song-set performance by YouTube sensation Nick Pitera (pictured right). He was especially excellent singing his own original song, titled "Better Days" that night :)
Later, after sponsors were thanked and the "mosh pit" at the center of the square-shaped runway was filled MTV-VMA-style, emerging local and international designers took center stage. They came in orders representing different periods of history, narrated to pay tribute to Human Rights Movement in the United States (a result of Melange's collaboration with the United Nations Educational Cultural and Scientific Organization). Collections after collections graced the stage, weaved together with visual performance artists and singers.
Fafafoom.com's Melange 2012 Awards and Performances Highlight album can be seen here.
Now, without further ado, let's review all of the collections presented at Melange 2012 Fashion Show.
As always, photos are by Christian Hadidjaja. Please click on the cover pictures to expand the albums.
Joui
First of all, the opera singing at the beginning of the presentation (wearing a costume from Western Ballet) was FANTASTIC. Great way to set the tone immediately to the 1800s period. Joui's "Varda's Women" gown collection has the classic bell-shaped or S-shaped silhouettes while introducing modern colors and details, as well as strong commitment to eco-fashion aesthetic (over 90% was created from reclaimed material). And those gravity-defying hair? On point.
Chona Pike
This was my second time seeing Chona Pike's creations, which were different than the ones she presented at BAZAR last month. Her pieces were gorgeous; presenting the exotic and romantic looks from Asian influences. The royal blue mermaid-style gown (modeled by Rebecca Case) was undoubtedly a stunner, but her collection is very, very strong. Congratulations, Chona! Way to go representing Asia :)
Bossini Boutique
Bossini is a luxury retailer based in Santa Clara, carrying designer labels such as Versace, Thierry Mugler, Zanella, among others. The presentation was cute (men and women walking from opposite corners from backstage, coming down to meet at the center) and the clothes are sharp. But I was far more curious to see what the models did after they meet at the center. Did they leave together? Just passing each other? Pretending not to care? Does it matter? Absolutely not. But I couldn't help being curious now, could I?
Electronic Sheep
Swimwear presentation (especially when male models are involved) always caused a stir in the audience, no matter what. So when the models walked down the stage in their swimsuits, the increasing numbers of flash lights and rising murmurs of excitement were VERY apparent. Afterwards, they emerged one more time, this time doning the graphically patterned knitwear from Electronic Sheep. I got it then, the swimsuits were the blank canvases, whereas the knitwear pictures were the knitted pictures. And what lovely pictures Electronic Sheep made!
Varignia Garcia
Varignia's collection is "made with alpaca craft yarn and natural dyes produced in communities in Peru, using ancient Inca techniques". Sounds amazing, and the presentation was breath-taking too. It's glamorous knitwear filled with meticulous details and visual effect, presented in full glory when the models walked and swayed through the runway.
Tuan Tran
First of all, congratulations to Tuan Tran for the Bay Area Fashion Award! Having been to Tuan Tran's fashion receptions twice already, we are no stranger to Tuan's creative recycled-telephone-wires WireWear collection, or his newest OriWear collection. So this time, it's all about presentation. Stomping, dancing, and (mostly) smiling to the beats of mash-up of Lady Gaga's "Born This Way" and Madonna's "Express Yourself", the models got serious attitudes, especially Cristina Ribeiro herself, who "walked" (read: Brazilian samba danced…no, schooled) the runway first.
Faizan Dar
I hadn't mentioned that Patrisha Bailey (pictured right, with Nick Navarro) looked gorgeous in Faizan Dar's dress. Unfortunately, I believe that dress should've walked the runway because it's the strongest. Not only the light-the-models'-faces-from-beneath-with-flash-lights presentation for the black Faizan Dar's pieces looked rather distracting, but that particular presentation also made it hard for photographers to take good pictures — I had to delete several photos from this collection just because they were unfortunately not usable for fafafoom.com. The more colorful creations that followed afterwards also were not enough to lift the suddenly low mood. I'm sure that his creations are great (he's the recipient of the Student Fashion Award earlier that evening), so I hope to see his collection in more favorable lights (literally!) next time.
Marzio Fiorini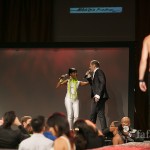 The star of the night and the rightful recipient of Fashion Ambassador Award. Marzio's collection started strong and to-the-point; models strongly walking down the runway in all-black and accessorized with Rubber Jewelry. Marzio's collection is crisp, constructed well, and well, for the lack of better word, stunning. The Rubber Jewelry also is very bold and modern; I'll perhaps start hunting for them at MOMA San Francisco!
This very effective and impactful presentation was soon topped by duet singing performance by Cristina Ribeiro and Marzio Fiorini himself!!! They sounded great, confidence and passion pouring way beyond the runway (stage). They both commanded so much attention, so much so that some models felt they're being ignored :)
And as soon as the excitement peaked, it's the finale with Bhangra Empire to close out the show. Designers and models walked down the runway in celebration, as well as Larisa LaVladi who once again outfitted all of the models with her accessories. Melange 2012 Fashion Show showcased some models that really stood out for me, so here's a model highlights for them. Job well done!
In retrospect, Melange 2012 Fashion Show was a tremendous success for attracting a great crowd while delivering the positive message of celebrating diversity. It is also a much better format compared to last year's close-to-3-hours evening program. However, I believe the production needs to thread a finer line between the different aspects of the fashion, concert, or performance aspects. I personally found the Electronic Sheep's and Marzio Fiorini's presentations very thrilling and stayed the truest to what Melange is all about, while the 1-hour prologue before the fashion show seemed dragging. Plus, with a show that attracted such large numbers of photographers like this, it's better if the photographers were given a riser instead of crowding amongst themselves (and sometimes the audience) to get good pictures.
All that being said, producing a show like this is no easy feat, and kudos for all of the Melange team for making this happen. Melange fashion shows are not for the fashion show no-nonsense purists, but they presented great fashion designers whose talents, passions, and POVs are deserved to be celebrated, indeed. And who doesn't love the unifying positive message of celebrating diversity?
So go ahead and celebrate it. Thank you for reading, until next time,
Musank