It was a surreal moment. Mélange Fashion Show 2011, held at San Francisco Design Center on August 6 was a beautiful event filled with an entertaining blend of fashion, music, dance, and theater.
Before I go any further, uber kudos to the dancers and performers that kept the energy going all night long. Even though the actual runway show started late (close to 10 PM and ended around 12:30 AM), they were the ones keeping the positive mood floating. And Larisa LaVladi, who's working hard to accessorize almost all of the looks that walked down the runway.
Big congratulations to the choreographers Cristina Ribeiro (who also presented a collection and was modeling for several collections throughout the night as well), Luis Paul Canales, and Chewy Jang.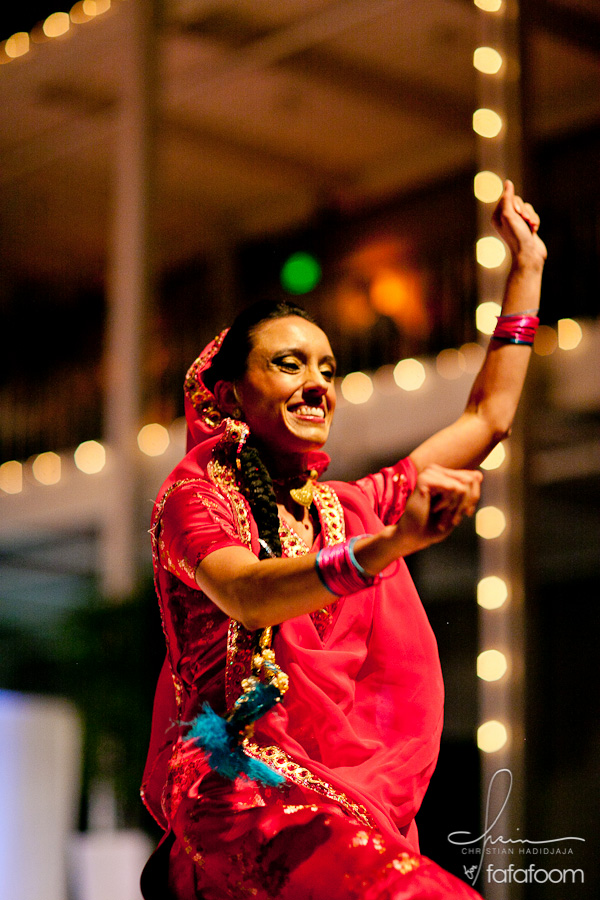 All the dancing, singing, and acting were mostly on point throughout the night, even when the volunteer models sometimes didn't quite deliver. At frequent points during the show, they also walk v.e.r.y. slowly…. It was perhaps an artistic interpretation / accompaniment to the main story of the show (that's divided into 3 parts), but wow, my patience was growing thin around 11:30 PM or so. But overall, I think it was a successful production with a great pool of amazing talents and garments, coupled with beautiful presentations. The award ceremony at the beginning rightfully gave recognitions to student designers Carmen Chen Wu, Hayley Lai, and Grace Lilian Lee, as well as fashion ambassadors Suzaan Heyns, Igor Galas, and Alexia Ulibarri.
My only wish is for the show to start earlier next time (perhaps 2 hours earlier) so that more people would be more inclined to check out the Mélange boutique afterwards. Nevertheless, congratulations to Nick Navarro, Talia Romano, and Lani Wyche for job well done :)
As usual, photography by Christian Hadidjaja.
So, without further ado, here are the designers of the night:

Act I: Genesis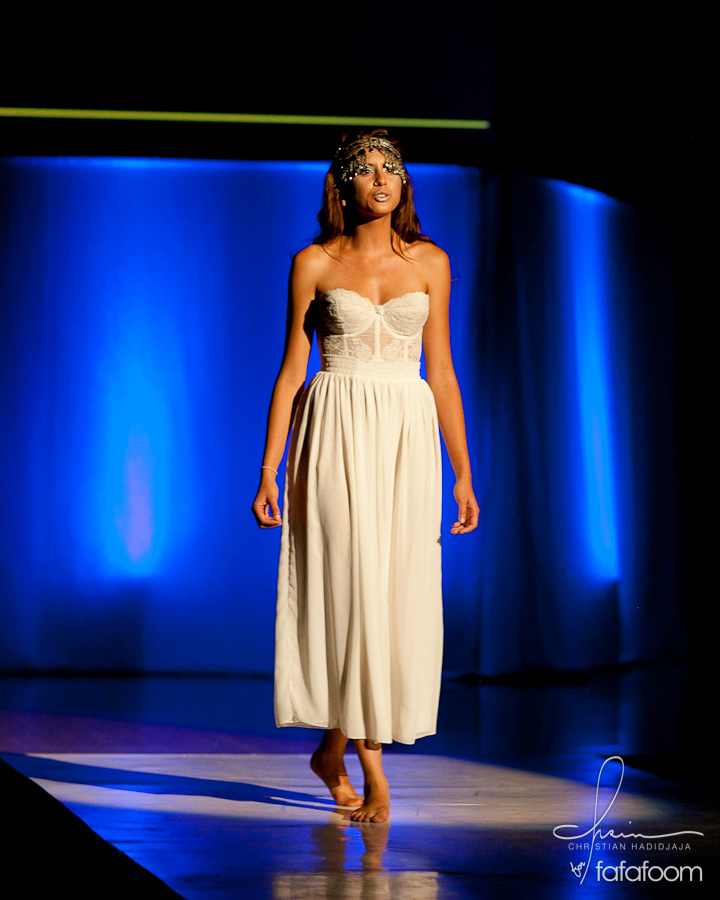 The story starts with the beginning. Birth, purity, and love. It introduces beautiful singing by Ella Cooley (narrator) and two amazing dancers playing Soledad (Vanessa Hernandez), the first creature to experience love, and Angelica (Andrea Furtado), a creature who doesn't understand emotion. And so a turbulent romantic story begins…
Carmen Chen Wu (New York)
The first collection of the night that is also my favorite of the night. As amazing as I imagined it to be. Great design, play of color and texture, as well as impeccable styling. Love every single garment that graced the runway. This girl is definitely one to watch.
Avni Studio (Boston)
This was when the deliberate slow walk started :( My favorite of this eco-friendly collection is the striped dyed pants. I want them! On the other hand, some of the models' shoe fit were rather off and some of them wobbled on the stage. I wished that didn't happen so I could focus more on this otherwise solid collection.
Alley Collection (San Francisco)
This fun urban collection is cool and has that invisible "San Francisco!" stamp in it. Great pieces for work and play, and the models sure have fun showing off the garments on the runway.
Alexia Ulibarri (Mexico)
When I checked out her website, I instantly fell in love. And to see the fun, flirty, but sophisticated collection on the runway, it truly brought a smile to my face. Love the energy this collection brought forth. My second favorite of the night :)
Be That Kid (Brazil)
For Cristina Ribeiro to design this collection, co-choreograph the dance numbers, as well as stomping her fierceness on the catwalk, it's truly inspiring. Her boundless energy radiates through the bold colors of this collection.
Amelia Walsh (Arizona)
Her pieces show a wide range of feminine dresses that are both pretty and comfortable (yes, please!). Some of the bust fittings weren't necessarily perfect, but overall I like the silhouettes and color combinations.
Act II: Annihilation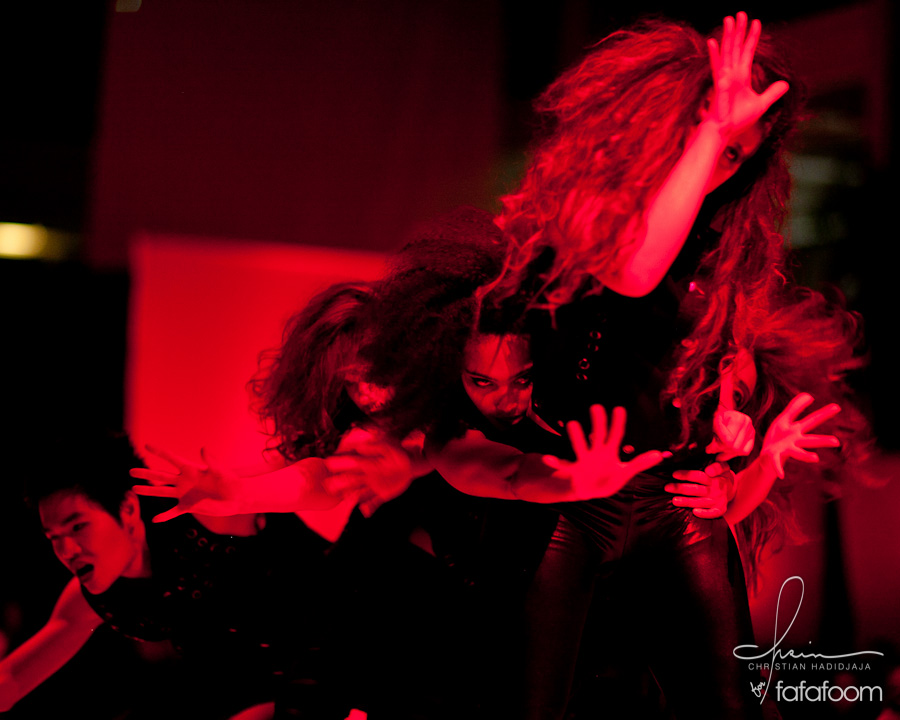 The confrontation couldn't be avoided and it's time for war. Both ladies formed their army and started to battle. Death and resurrection was involved, and by the end of this second act, both ladies fought one-on-one.
As the theme suggests, this second group of designers show powerful pieces, starting with:
Sherise Eways (San Francisco)
I LOVE the first three looks; so femme fatale! Dramatic design but overall great construction, this collection is the perfect choice to open up the second act.
Dahae Elyse Kim (San Francisco / South Korea)
Out of the three menswear collections of the night, this is my top pick. Bold, super cool, a bit gothic, rebellious designs with great construction, this collection is presented clearly with the chosen slim tall models.
Rock Chiq (San Francisco / India)
This collection presented two knock-outs, red cocktail dress and the wedding gown (although the neck hair adornment looked a little bit weird for me).
Lorian Lindsay (San Francisco)
I was hoping that I could've enjoyed this collection better, but the cross-walk manner that the models did on the runway just didn't help. Not to mention that several models ended up pushing each other, cut each other's way, or just looked plain unprofessional on the runway. It's too bad :(
Igor Galas (Croatia)
After all the catwalk drama during the previous collection, this is when the show almost halted to a complete stop. Why? Because the models walked their slowest here. Oh my God. I like this winter-oriented collection, especially the leg warmers, but I have a slight thing to pick on the last garment. How many more sleeping-bag inspired coat-dresses do we need to see? Seriously, Norma Kamali just brought it best in that regards.
Hayley Lai (London)
I like how edgy and unafraid this collection is. My slight problem with it is that the cutout plastic boards (at least that's what it looked like from the side), while giving interesting shape and textures, ended up looking like a cheap prototype of the actual sensational accents. In my impression, its connection to the garment accents is comparable to that of a muslin to an actual finished garment. I hope that makes sense.
Act III: Resurrection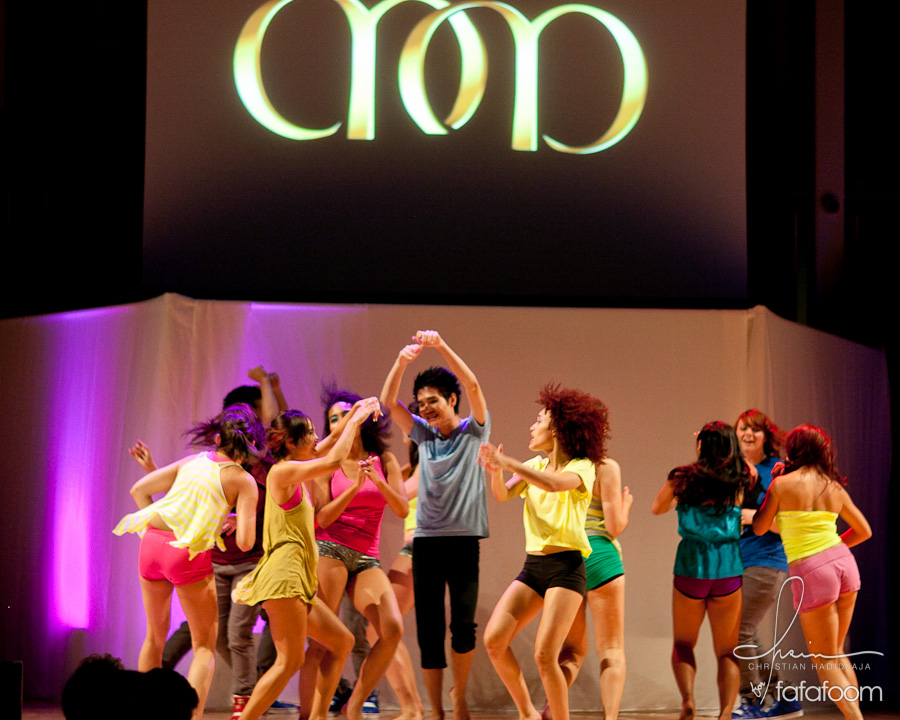 The climax. Finally both Angelica and Soledad combined their energies and brought forth a "new age of multidimensional love". When this final part started, the night has progressed quite significantly that many people had already left. That's too bad since this last group of designers presented some of the strongest of the night (too bad Prajje 1983 of New York couldn't attend. My prayers go to him). And of course, Nicole Miller's collection :)
Suzaan Heyns (South Africa)
The first piece is so strong; too bad the bottom of the avant-garde skirt already started to unravel. I especially love the 3rd piece, but… at this point of the show, I didn't (still don't) understand why the models have to walk so slow! Oh, and I LOVE the camel cape and palazzo pants. Amazing.
Debbie Nghiem (San Francisco)
This collection presented two knock-outs for me, the navy halter gown (I want it) and the red rose gown.
Kajan Padraig (San Francisco)
The first piece's back is so lovely and interesting; it adds a bit of edgy in an otherwise elegant gown. The 2nd piece reminded me of my spring pollen allergy, the 3rd piece was cool….and the lime green dress was the starting point where I got lost. Somewhere along the line, somehow I could see different parts of this collection be available in K-Mart, JC Penney, and Nordstrom. Huh?
Grace Lilian Lee (Australia)
My third favorite of the night. The color palette and design gave off that mystical, royal and elegant aura. The draping was great and it really brought the runway show on track after all that mental confusion from the last collection. I especially love the first dress and the 6th look. J'adore!
Nicole Miller
The closing collection of the night was strong, timeless, and chic. As a stand-alone collection, there's nothing wrong with it. But as a closing collection after a long night, it felt like the show ended with a soft careless whisper than a bang. The metallic dress was great, but I ended up wishing for more.
Wow, that's a long post. Once again, congratulations to all the parties involved in this fabulous event.
I'm looking forward to the next one!
Have a great weekend,
Musank