When I met Cristina Ribeiro during Tuan Tran's casting call last Sunday, she invited me to this P.A.R.T.I Program's Casino Night Fashion Show and Charity Event, held at Marianni's Hotel & Restaurant, 2500 El Camino Real, Santa Clara.
It was a rather intimate, but consistently lively evening with guest host Terry Ellis (of En Vogue), Pandora from Step Up 3 (who showed us serious popping and tutting skillz!!), as well as live entertainment such as Urs Truly (pictured below) and fashion show featuring Cristina Ribeiro's line and Bloomingdale's fashion. The casino games, silent auctions, and raffles throughout the night served as a fund raising effort by P.A.R.T.I. (Positive Alternative Recreation Team-building Impact) Program, that  has been serving under-privileged youth in mentorship, leadership, civic engagement, and recreation activities.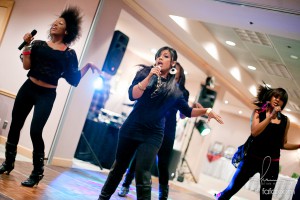 Unlike my usual fashion show attendance, I spent perhaps a little bit more time backstage and helped out the fashion show preparations a little bit. I'm honestly not a huge fan of casino games or drinks, and I really enjoyed the company of Cristina, her Be That Kid models (budding young talents of 11-15 years old who walked the runway for the first time!), Melange models (Ella, Eric, Carlos, and Nav) who helped out with this event, as well as makeup artist Arlene Coleman and Diverse Salon's hair dressers Maria Repetto and Ashley Reardon. The fact that all the fashion show segments went down smoothly were all because of their hard work and dedication to see things through to the end.
And I have to say that the Be That Kid models did a great job walking one of their first runways. Professionalism is something we all learn with time, but if they want to make a career out of modeling, I think they're off to a good start.
Thank you again for Christian Hadidjaja for the gorgeous pictures, and here are the fashion that graced the runway that night:
Cristina Ribeiro
A lot more refined and edited down from the last time I saw the first half of her collection on Melange Fashion Show. The fun, bright colors are now accompanied with more sophisticated floral-accented night cocktail dresses on the second half of the collection.
Bloomingdale's / BCBG (Part I)
My favorite piece of this segment is the printed peg pants (and sure, I love the fur vest….but I WANT the pants!). Overall, these are great picks from Bloomingdale's that can appeal to wide range of people. Great selection!
At this point, we hit an interlude where the models get to pose with Terry Ellis. Here are some of the highlights that my photographer, Christian Hadidjaja got to snap. Oh, special thanks to Marven Masihi (P.A.R.T.I.'s Student Representative) who helped with directing the models' poses :)
Bloomingdale's / BCBG (Part II)
A much shorter fashion segment featuring pretty tight-fitting white mini dresses. At this point, perhaps some people were too drunk to care, to be honest with you :)
And here's the Be That Kid models who are also part of P.A.R.T.I. Program, along with Executive Director Winston Ashby. Can't believe these girls are barely teenagers….they did an excellent job!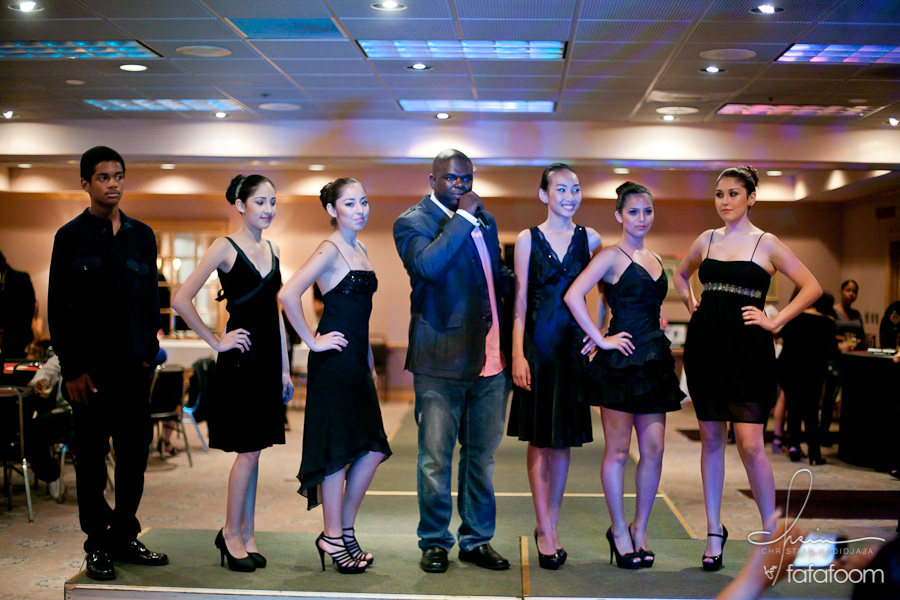 And while we're waiting for the grand finale, there's this situation at the back room where we're wondering who stole the 6-pack of beers and left his pants on the floor. Just kidding.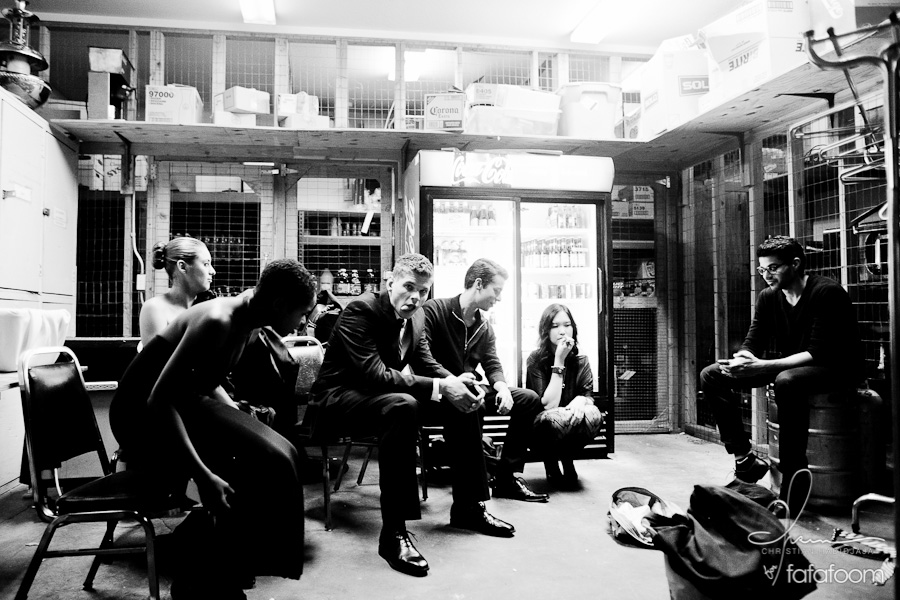 Grand Finale by Cristina Ribeiro and Debbie Nghiem
What a clean closure for the long night. An all-black finale featuring outfits from Cristina and Debbie's train dress to close the night. Fabulous!
Thank you again to Cristina for inviting us, we had a great time! Until next time,
Musank