Fun, sugary, quirky summer rompers and dresses are the main entrees for Summer 2012. Shai White and Danielle Pettee worked together to produce a full-house fashion show at Sugar Cafe, 679 Sutter St. on Wednesday, June 27, 2012.
Before going any further though, it's important to know that Shai White is a well-known model in San Francisco fashion scene. I first got to know this charming, hard-working woman by "tagging along" the Angel Ministries photo shoot project, that's produced by her production house. She's also Danielle Pettee's muse, and both of them have been working together. But this time, the muse-designer relationship becomes a student-teacher collaboration. Inspired by Danielle, Shai started working on her own line a mere two months ago. That's right, two months ago.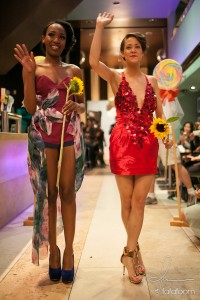 Both Shai White and Danielle Pettee each showcased full Summer 2012 collection in the lollipop-themed setting; Shai went first with her rompers collection, and Danielle followed with her flirty, quirky dresses. And while it's not fair to "judge" Shai's rompers on the same level as Danielle's, her creativity, exuberance, and vision were conveyed playfully and effectively in her creations.
Clearly, having Danielle as her teacher has shown great results and more potentials. Producing these many complete garments in a mere two months is a commendable feat, even more so with the range of this rompers. Yes, some of the cut veers into the "dangerous" side (i.e.: showing half of your butt cheeks), but hey, if you're going for that, great! But for the most part, the high-waisted rompers are creative, fun, and cute! My favorites are the pastel-colored ones; they will be great for a vintage-inspired editorial.
See Shai White's debut collection below:
After a short break, the teacher's designs took the stage. Just like Danielle herself needs no further introduction, her collection also poses no question of the designer's identity. All of her dresses scream "Danielle the Dressmaker"; not only they are all cute, girly, and flirty, they also have clean silhouettes and are well-made. My favorites are the dresses with oversized cherry prints; flirty, sexy with the right dose of childlike fun.
See Danielle Pettee's Summer 2012 collection below: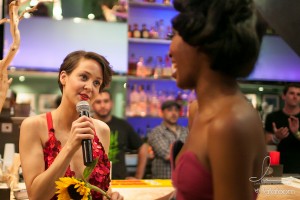 At the end of the show, both of them walked down the runway, eyes beaming happily with joy. Danielle, clearly proud of Shai and her accomplishments for the past two months, expressed her gratitude and love once again to her muse/student.
What a successful collaboration for both of them; Shai especially is an inspiration for fashion enthusiasts who just pick up a sewing kit and start make some outfits!
Where do they go from here? Time will tell, but ou can bet it's going to be gorgeous no matter what. Why? Because these two form a darn solid team with lots of creative juice. And because when the muse becomes the student, wonderful things happen.
Congratulations to both Shai and Danielle! And as always, my eternal gratitude to my husband photographer Christian Hadidjaja for the lovely pics!
Have a happy summer, everyone,
Musank