The lively and vibrant atmosphere inside British Bankers Club, Menlo Park defied the soggy, drab rain that poured outside. Stepping into the historical bar/dining hall (depending on who you ask), we (my photographer Christian Hadidjaja and I) were immediately greeted with busy restaurant atmosphere coupled with live piano & clarinet music that reminded me of French Quarter at New Orleans. Marvelous ambiance. On that Saturday night, a charity fashion show showcasing Vasily Vein's New Fall 2011 Women's Collection and benefiting Kids on The Move America was held.
Talking to some of the models before the show revealed the elaborate walking pattern that's especially designed to maneuver around the bustling dining hall. But that's to be expected for a Charleston Pierce Production. Throughout the night, the audience (including the restaurant goers) were treated to live entertainment and great fashion. More on that in just a little bit.
But first, I have to do a shout-out to the duo that furiously, soulfully played their piano and clarinet into oblivion to entertain our ears while we were waiting for the fashion show to start. The name is John Brothers Piano Company, and yes they're good! Outstanding entertainment from these duo, really transformed me in time. I would love to see them perform again.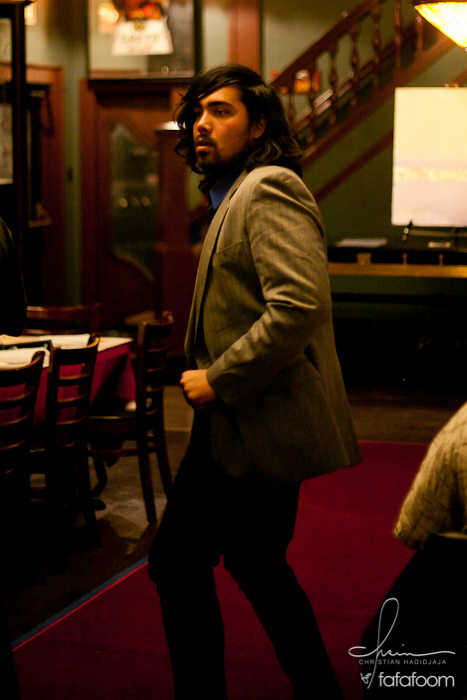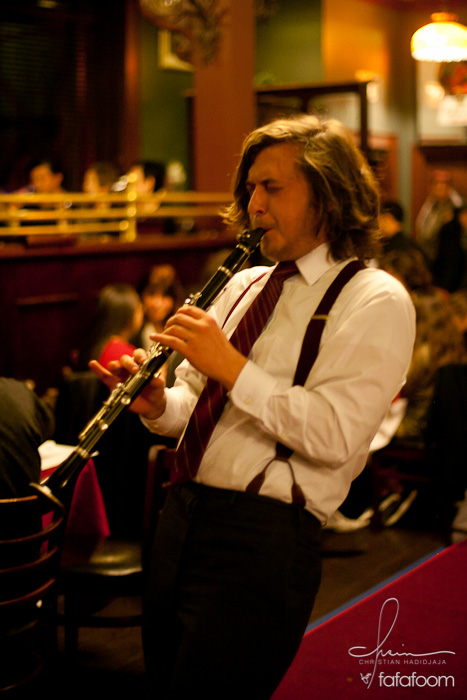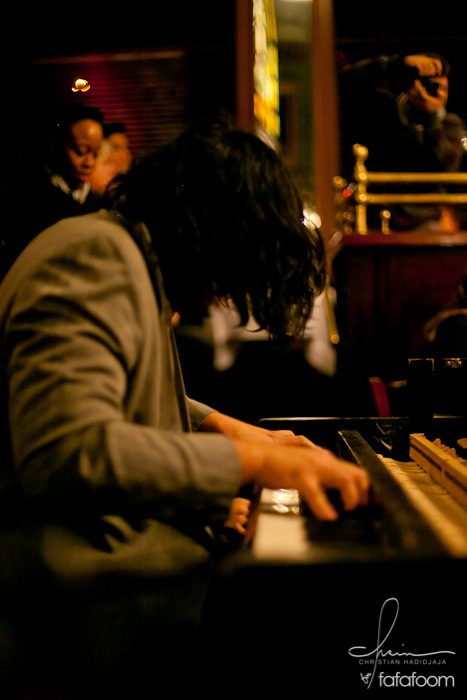 The show started out with (mostly) men's collection from Crisanta Malig & Nara Camicie. Crisanta's transparent shirts with loose and boxy fit were not my cup of tea, but they're not bad either:
On the other hand, Nara Camicie's collection (women's and menswear) is solid overall; the plaid men's shirts worked the best in terms of fit and silhouette. My favorite, surprisingly enough, is the lone sweater piece presented in this collection. Simple crew neck with dual-tone stripe pattern that's divided diagonally at the front is very chic. I can see a lot of men rocking this look. Super easy to wear. See Nara's solid collection below:
After a short break, the first segment of Vasily Vein's Women's Collection was presented. I was not that crazy about the opening piece, but the collection grew stronger with each piece, even though I could do without the grey gown at the end. The dress shirt with strong, stacked shoulders was my favorite, as well as the high-waisted wool pants with sheer black top. Sexy and in control. In fact, that's the whole feel of this collection. Strong and sexy without being overly masculine. The execution is superb: the details, fit, and construction all made this a very strong, marketable collection.
Vasily Vein's second segment is dedicated to outerwear and two show-stopping black-tie affair gowns. I am so IN LOVE with the jackets, especially the first, second, and fourth look. The first one features a warm, wool jacket wide cowl neck collar that doubles as a hoodie and a chic off-center zipper. The second one (modeled by the beautiful Shai White) is a structured, burgundy jacket with slightly pointy shoulders and fitted silhouette. And the fourth one seems to be the favorite of the models, with the oversized knit ribbed collar and bat wing silhouette. Wow. And speaking of wow, the two gowns were truly the stars of the show. The sparkly sequined gown with asymmetrical sleeves were flowy and lighter than it looks. It packs a healthy dose of glamour without trying too hard. The maroon halter dress with oversized flower that followed afterwards is also a very editorial piece. Elegant and sexy supported with great construction, fit, and details. Very Vasily. See both segments below:
The show closed with a "surprise" collection that featured women in their 30s to their 80s. The everyday women that rocked Vasily Vein's ensemble. And what a joy! They clearly had fun walking the runway, I noticed even the most serious faced photographers at the end of the runway cracking a smile. It's really great seeing this "surprise" collection because it brought the Vasily Vein collection forward to its target audience, especially right before the chance to buy Vasily Vein's collection is opened afterwards. Brilliant move!
I truly enjoy Vasily Vein's collection, and I hope to see more from this designer in the future. It's sincerely great to have such talented designer in the Bay Area. And once again, shout outs to Charleston Pierce, the models, Sasha Gerling, John Brothers Piano Company, Dancers from the Richmond Rockets, and JD Charisma for job well done!
Until next time,
Musank