Ladies and gentlemen, it's that time of the year again. Next weekend on July 19 – 20, San Francisco's J-Pop Summit Festival 2014 is here! Extending from last year's theme, 2014's theme is "POP is Our Tradition". And a fair word of warning folks, if you plan on going (I'm sure many of you do), be extra prepared. Because on top of the typical hyperbolic, out of this world, cuteness overload extravaganza that's commonly expected with each annual celebration of J-Pop Summit, there's guaranteed to be a whole different set of visitors thanks to the first ever Ramen Street (SF Ramen Festival). I have friends who will come next weekend just for the ramen, so I'm sure the same situation applies for many of you J-Pop Summit Festival 2014 goers. And knowing that last year's event attracted more than 80,000 people, this year's number will most likely be higher.
From 11am to 6pm, Japantown will be so hectic with celebration of Japanese pop culture, music, fashion, film, and food all weekend long. The complete schedule is here, and the event is mostly free. Top Japanese pop / rock artists and models will grace the SF Japantown and Union Square, including Tomomi Itano (former AKB48), Tokyo Girls' Style, and May'n; Harajuku fashion model and designer Ayumi Seto, Una, Akira, and Misa Kimura, among many others. So let's preview what we're about to experience next week, shall we?
Fashion
This year's "KAWAii!!" themed fashion shows, contests and live performances will showcase more variety of Japan fashion's sub-cultures, most notably the edgy new sides of Japanese pop style. Japan's "cute" culture is ever-evolving and expands beyond the iconic Harajuku styles. For those who want to have a quick refresher of Japan's fashion styles and sub-cultures, go to Star Bright Dreams for your quick lesson. The KAWAii!! events are supported by Consulate General of Japan in San Francisco and presented by MOSHI MOSHI NIPPON, a new initiative by ASOBI SYSTEM (that is widely known for managing Kyary Pamyu Pamyu, the guest of honor of and headliner of J-Pop Summit Festival 2013) whose goal is to promote a wider range of Japanese pop culture on an even bigger, more global level.
Just look at the four Japanese fashion icons presented this year: Ayumi Seto (yay, welcome back Ayumi-chan!), whose Americana pop rock line "Aymmy in the batty girls" is present at NEW PEOPLE store, Una with her edgy style, Akira (yes, that's a girl) with her gothic-androgynous style, and Misa Kimura with her sweet style. All four girls have very distinctly different styles, so it's going to be very exciting to see what they're wearing on both days!
The top highlight of the KAWAii!! events is going to be on Saturday, July 19th, 1pm at Japantown's Pagoda Main Stage. There are several layers of fashion programming happening on the stage. First is the KAWAii!! fashion contest in which contestants show off their fashion style and get feedback from the four model judges for a chance of winning KAWAii!! an assortment of premiums, including "Aymmy in the batty girls' products. Naturally, there's also the "Aymmy in the batty girls" fashion show showcasing the colorful summer collection, featuring Ayumi, Una, Akira, and Misa Kimura along with local Bay Area models. Many of the outfits shown will be avaiable for purchase at KAWAii!! pop-up shop inside NEW PEOPLE (mezzanine level).
During the event, Akira will also perform in a special solo live set. I'm definitely looking forward to see her perform since her debut single "Aoki Tsuki Michite" is featured as the ending theme of one of my favorite anime series Kuroshitsuji (Black Butler) – Book of Circus.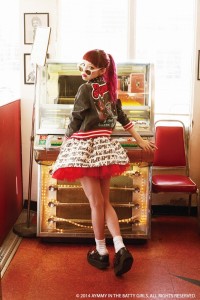 In addition to the Saturday main event, Ayumi is going to hold a special autograph/photo session on both Saturday and Sunday at NEW PEOPLE. Therefore, don't forget to visit the KAWAii!! pop-up shop to see her and shop exclusive lines of fashion apparel, designs and accessories imported directly from Tokyo.
Furthermore, you can gather and meet with other KAWAii!! fans, get info for latest trends, new merch, and perhaps form awesome girl fashion groups at the KAWAii!! tent on Post Street. Go to J-Pop.com for more complete information about KAWAii!! fashion program.
For those who love the kuro-gyaru street fashion style, the Black Diamond (pictured below) is going to be at J-Pop Summit as well, showing us their unique fashion sense and performing on Sunday, noon at Japantown's Peace Plaza. If you want to know more about them, I found this Tokyo Fashion post a very compelling read.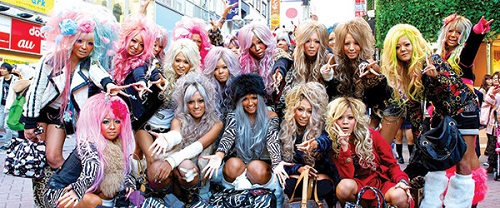 Music
In J-Pop Summit Feestivals, fashion is always very closely tied to music, which is the main attraction. Like last year, the Union Square concert is back on Saturday evening starting at 6:30pm, now aptly titled "J-Pop Live at Union Square". The main headliner is pop music superstar Tomomi Itano (pictured below), a former member of AKB48 (pictured below) who makes her first US appearance.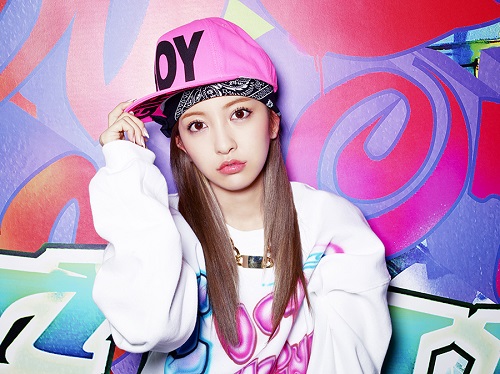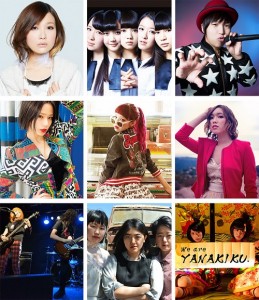 She's going to have a great company in girl group Tokyo Girls' Style, the always entertaining beatboxer Daichi (nice to see him back again!), the model and J-Pop singer Una, kimono cosplay duo Yanakiku, J-rock band Pinky Doodle Poodle, punk rock trio The Akabane Vulgars on Strong Bypass, and our very own Japanese pop singer Kylee. Go here for full details.
There's also Japanese superstar May'n (she performed the singing voice of Diva of the Galaxy, Sheryl Nome, in the TV anime Macross Frontier — she's really excellent in it!) who's going to have a special solo show on Sunday at Sims as part of the closing event of J-Pop Summit Festival 2014.
Film
The J-Pop Summit also means the 2014 Japan Film Festival of San Francisco (JFFSF) is back! It opens on Saturday, July 19th and runs thru Sunday, July 27th. Screenings take place at the NEW PEOPLE Cinema (inside the NEW PEOPLE building). The guest of honor is actor Yuki Furukawa, who will help mark the U.S. theatrical premiere of his new short film, "wo ai ni" in TOKYO and do in-person appearance during the J-Pop Summit Festival. DirectorMitsutoshi Tanaka will also appear to celebrate the Bay Area premiere of his laster work Ask This of Rikyu.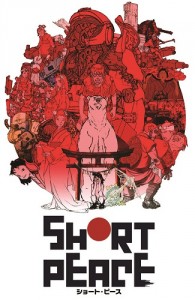 The film premieres include the inspiring anime omnibus SHORT PEACE, and J-POP Splash! 2014, a music video collection presented by the Consulate General of Japan in San Francisco, featuring the hottest J-Pop artists, along with TOKYO SHORT SHORTS: A New Generation Of 5 Short Films which takes place in Tokyo and other parts of Japan and was directed by a innovative new generation of young filmmakers.
The Japanese dance and vocal group Tokyo Girls' Style is also featured in leading roles in COUNT FIVE TO DREAM OF YOU and KOTODAMA: SPIRITUAL CURSE. Both are premiered during the J-Pop Summit Festival and the group will host an audience Q&A following the film screenings.
Both films star the members of Tokyo Girls' Style in leading roles. The group will host a special audience Q&A immediately following the film screenings.
Food
The Pop Gourmet Food Festival returns for its second consecutive year, featuring the much-hyped Ramen Street (see menu below), sake tasting, and Japanese Beverage and Bites & Snacks Area, along with an array of the Bay Area's most unique mobile eateries and food trucks. Ramen Street is a brand new attraction presented for the very first time at J-Pop Summit. It's organized and co-presented in cooperation with the Ramen Yokocho Association.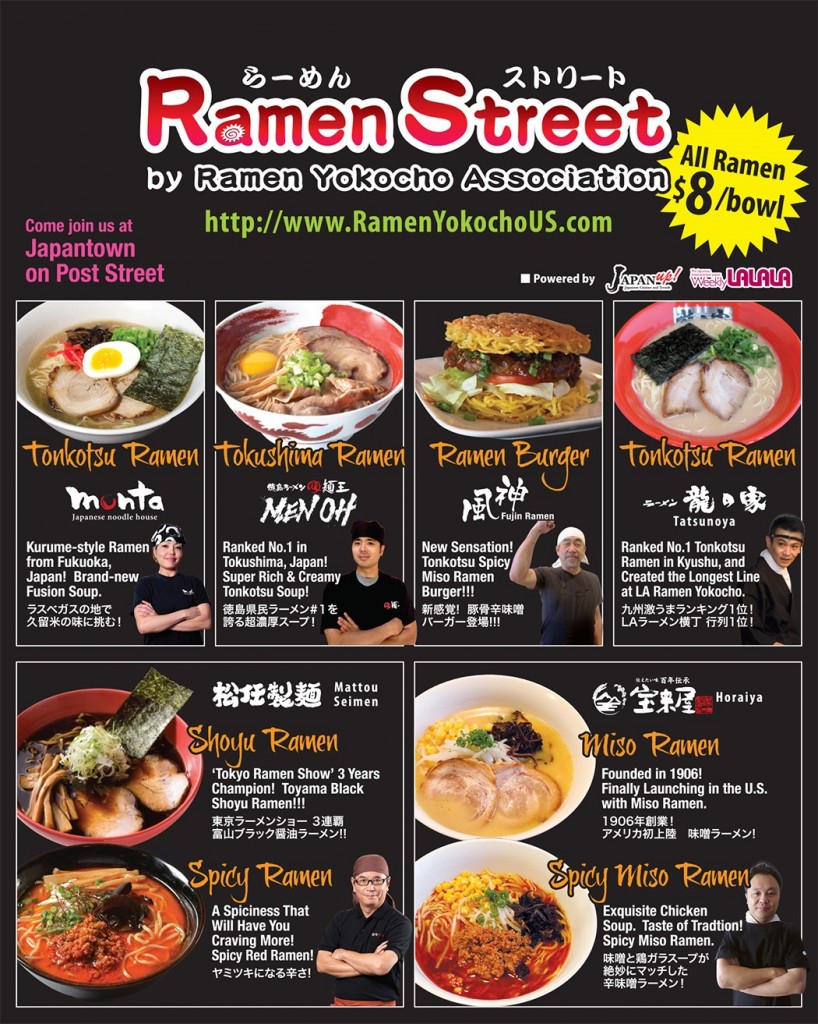 More J-Pop Goodness
Hmm, so you want more. You'll get more! One thing I'm particularly excited about is the Japan Discovery Stage: Presented by Biken International. You will be able to experience authentic Japanese culture with a wide assortment of traditional Japanese dance, calligraphy performances by Japanese famous calligrapher Rio Haruki, mini concerts, and more.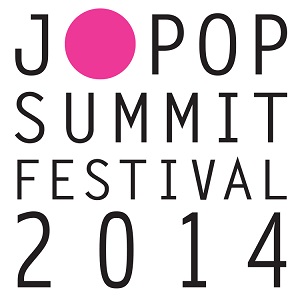 There's also the Real Escape Game: 1000 Treasure Hunters 2014, which some of my friends are interested in going. It's a brand new outdoor treasure hunt/puzzle solving attraction from the creators of the Real Escape Game that will take place throughout the weekend. It has the potential to become Bay Area's biggest simultaneous scavenger hunt and search for dozens of clues and puzzles ingeniously hidden throughout Japantown.
Hatsune Miku's illustrator KEI is also coming to J-POP SUMMIT Festival to hold an autograph session on 1pm (both Saturday and Sunday) at Kikokuniya/SEGA booth. You can also check out Hatsune Miku merchandise and brand new game "Hatsune Miku Project Diva F 2nd" as part of the SF premier trial at the booth.
So…yes, I told you it's going to be massive next weekend. You better get ready. I highly recommend checking out the J-Pop Summit Festival 2014 schedule and do your game plan accordingly. So see you next weekend, and have fun!
Until next time,
Musank
*All pictures are provided by J-Pop Summit Festival 2014 Media Committee.