Yes, 2013 hasn't even ended yet. However, it's rather hard not to get excited when the JPop Summit Festival 2014 dates were out. San Francisco's NEW PEOPLE and the J-Pop Summit Festival Committee has announced that JPop Summit Festival 2014 is to be held on the weekend of Saturday and Sunday, July 19th and 20th, 2014. Much more details are still being developed and will be announced at J-Pop.com.
JPop Summit Festival 2013 attracted approximately 80,000 visitors who enjoyed Japanese pop culture celebration, featuring a variety of live bands and artists, pop culture panel discussions, film premieres, fashion shows, DJ dance events, interactive games, celebrity appearances, and much more. Most of the attractions were free to attend.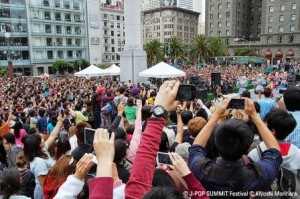 The popular J-Pop concert in Union Square (Kyary Pamyu Pamyu headlined the 2013 Union Square concert along with Kylee, Daichi, and LoVendoЯ to the audience of nearly 10,000 people) will also return.
Moreover, the second annual Japan Film Festival of San Francisco, the only full-fledged Japanese film festival held in the Bay Area will return. The week-long series of live-action and anime film theatrical premieres will run Saturday, July 19th through Sunday, July 27th at the NEW PEOPLE Cinema and will be highlighted by red carpet events featuring appearances by prominent Japanese directors and actors (we got to see Director Shinsuke Sato at Library Wars screening), as well as several lecture presentations, workshops, autograph sessions, and film industry networking opportunities. Additional information will be available at www.JFFSF.org.
This is going to be fun!
Musank
Photos in this post are courtesy of J-Pop Summit Festival committee.