There's a new Japanese fashion brand in town! Warm welcome to Liz Lisa, a Shibuya fashion brand that made its debut at J-Pop Summit Festival 2012. This increasingly popular fashion brand started small in 1999, but it quickly reinvent itself in 2000 with the nostalgic "Liz" combined with the modern "Lisa" that results in girly, youthful fashion brand. This is Liz Lisa's first foray in the US (we're honored to have you here in San Francisco!) and head designer Aino Owada was interviewed by Style Wylde recently.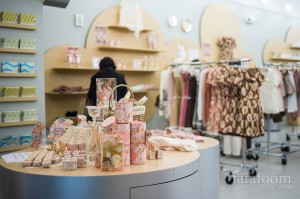 Not only Liz Lisa open a pop-up store at the second floor of New People in Japantown (pictured right), it also hosts a Liz Lisa Fashion Contest at the Pagoda Plaza on Saturday, August 25.
The contest's theme is flowery, dreamy, girly, and sweet; the contestants do not need to wear Liz Lisa, but must portray the Liz Lisa theme in their own way. The judges are Liz Lisa representatives and singer Kylee, all of whom emphasize individual personality as well as the meaning of "cute" as something that is based not solely on the dress, but the full coordination with hair, shoes, socks, and other accessories.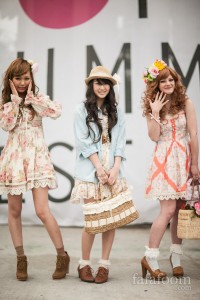 Nine flowery, dreamy, girly, and sweet contestants are chosen as finalists. I like how each contestants bring their own unique take on outfits that frankly look quite similar (as it is the case for Shibuya fashion style). I like how creative some contestants are in choosing the main focus and build the outfit around it. It's clear that these girls have great taste and know how to dress themselves in conveying a "cute" mood!
My personal favorite (even though she does not win) is Manatsu, who coordinates a denim shirt into her Liz Lisa outfit (pictured center). Jovi (pictured right) wins second place, and it was Meimi (pictured left) who wins the grand prize of Liz Lisa bath mat, mug, and roll-up flowery keyboard with USB plug =D
Oh, and the honorable mention from Kylee goes to Sophia, who wears a blue striped seafoam-ish blue dress with giant red flowers on her hair (I love her too!) See her look, as well as all other contestants' outfits in the album below (thank you Christian Hadidjaja for the gorgeous pictures!). Click once on the image below to expand the whole Liz Lisa fashion contest album. Enjoy!
Once again, warm welcome to Liz Lisa and congratulations to all the Liz Lisa fashion contest for great outfits!
Are you flowery, dreamy, girly, and sweet?
Musank