After watching A Man's Story screening at Academy of Art University on Friday, November 2, 2012, there is no doubt in my mind that Ozwald Boateng is a very accomplished British menswear designer armed with impeccable sense of style, masterful classic tailoring technique, and relentless drive to get him from one point of his life to the next. On top of it, he has a very charming and witty personality, intelligence, and confidence that radiates to people around him.
However, his life is not without serious challenges; from his failed first marriage (which the documentary dabbed just barely at the beginning), Autumn/Winter 1999 fashion show disaster coupled with overnight robbery of the whole collection, and gradual turmoil with his second marriage to Russian model Gyunel that ended in 2009. Through it all, A Man's Story plowed through various chapters in 12 years of Boateng's life, from 1998 to 2010. You get a glimpse of his rises and falls: his "rebuild" in the early 2000s, his directorial debut for a short film shown at his Milan fashion show in 2004, his Creative Director at Givenchy years in 2004 – 2007, the African Union show at Accra, Ghana in 2007, interview with Giorgio Armani in 2009, as well as the glitz and glamour of outfitting Hollywood's A-list celebrities such as Will Smith, Forest Whitaker, and Jamie Foxx. Unfortunately for this documentary, that's what they remain: just glimpses.
If you're looking for an in-depth view of who Ozwald Boateng is, A Man's Story is not going to fit that bill. Throughout the 12-year-span documentary, you see collages of Boateng's life screenshots. But aside from several life insights, the documentary does not dig deeper to the "meat" of the matters. Gyunel plays a great part in this chapter of Boateng's life, but her feminine and supposedly intimate influence to Boateng gets lost in the flurry of never ending work and opportunities that come his way. Yes, this man is very talented and he does travel a great deal, but I was expecting a more focused, to-know-you-more view of this amazing designer.
See the trailer of A Man's Story below:

But then again, perhaps I should have adopted the philosophy that Boateng imparts near the end of A Man's Story, "You are not supposed to worry about anything, because it's all about the experience."
Oh how I want to know more about this person!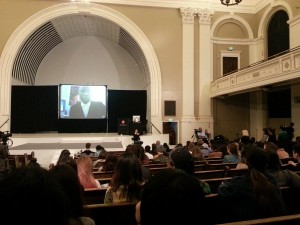 What redeems this screening at Academy of Art University is the Q&A session between Ozwald Boateng himself (via Skype from Los Angeles) with the students. Watching the subject of the documentary suddenly pops into view via the laptop's camera definitely solicit cheerful gasps and smiles from the audience.
One thing I realize from watching the interaction between Boateng and the students is that he is very much the same man he is on screen as he is off of it. Genuine, personable, intelligent, and passionate, he tackles questions ranging from Savile Row topics to his perceived greatest competitor in the US (answer: Tom Ford).
Thank you again Academy of Art University for inviting me to this screening. It certainly is time well spent, as I find myself wanting to know more about this man and see his immaculate work. Here's for more Ozwald Boateng…in San Francisco please?
Until next time,
Musank