Chatting with Japanese actor and comedian Rome Kanda at J-Pop Summit Festival 2012 was one of those random opportunities that I can't help feeling truly blessed and humbled. I was passing through in front of New People building trying to get something to eat in between one event to the next when the opportunity to interview Rome Kanda arrived.
And having watched "I Survived a Japanese Game Show" on Hulu.com (Kanda-san is the host of the game show "Majide!?" in that Reality TV series) several weeks prior to the announcement of J-Pop Summit Festival 2012 program, I'm very grateful for the opportunity to talk to him in person. Thank you J-Pop Summit Festival 2012's Erik Jansen for making it happen!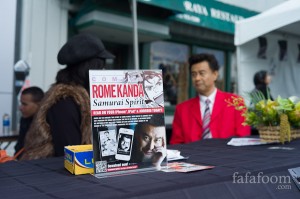 For those not familiar with Rome Kanda, checking out Anime News Network, Wikipedia, and watching his TEDx Tokyo session will be very helpful. Conversing with him personally only reinforces his warm personality. A very nice guy with humble personality, who is very interested in learning about people while continue honing his craft in acting. He came off as a genuine person who is enthusiastic and inspiring, someone who you'd want to know better. A quite rare thing to be found in a celebrity, I must say!
On Saturday, August 25, 2012, Rome Kanda's digital manga biography "Samurai Spirit: The Story of Rome Kanda" was released and is now available on iPhone, iPad, and Android.
Originally, he made a book called "Samurai Spirit" detailing his own tales of going to the United States to pursue his dreams. Then the "infamous comic producer" Ryo Kurashina came to Rome Kanda, wanting to make "Samurai Spirit" in the form of digital manga in Japan. "Nobody has said that [idea] to me before!" Kanda-san said to me. Full with excitement, the idea became reality and the digital manga is a huge hit in Japan. Fans from other countries soon heard about the news and began to demand the digital manga to be released in their respective language. Hence the first international edition of "Samurai Spirit: The Story of Rome Kanda" is released in English.
In addition to his digital manga release, we also talked about his current and future plans. Rome Kanda currently lives in Los Angeles to teach comedy improvisation and samurai sword fighting, a life-long art form that he has been learning for over 20 years. That fact is probably no news for his fans, but I was surprised when he got up and started demonstrating a Bali warrior dance! He apparently went to Bali for several months and learned it.
"I'm physically capable," he said, smiling as he sat back on his chair.
His fans are all over the world, with the biggest pockets being East Europe, North Europe, and South America (in addition to the United States). Next year, he is going to Romania to film a reality TV show (the guy loves reality TV!) about contestants learning various Japanese cultures from karate to tea ceremony and beyond; the reality twist is that they need to learn each theme in a day. So Romania fans, Rome Kanda is coming to you soon!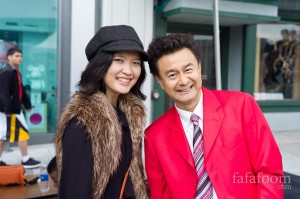 "What are your dreams?" I asked.
A cliche question, but from his responses flowed a genuinely sincere feeling.
He looked at me in the eyes and said, "I want to produce a movie about Japan. The country, the people….I want to get people interested in coming and learning about Japan." He mentioned Ken Watanabe, a famed Japanese actor that opened the doors for people like him to be successful overseas while promoting Japanese cultures.
"And what is your ultimate dream?"
He closed his eyes for a moment…
and when he opened his eyes, he clasped his hands in front of him and said,
"Love and Peace."
And how serene those three words felt.
The Samurai Spirit lives on.
Until next time,
Musank