The charity fashion show Fashion On The Square has started last weekend, but the celebration is far from over. 2014 marks the 10th anniversary of Fashion on The Square, and it's a week-long celebration you don't want to miss. Having covered the event for the past two years, we saw beloved local designers Joseph Domingo and Colleen Quen (pictured above) honored during the event. This year, the pinnacle of the week-long celebration on July 27th will honor Wilkes Bashford and feature Cindy Quach, Rachel Riot, Christina Morgan Cree, Candice Cuoco, and many more.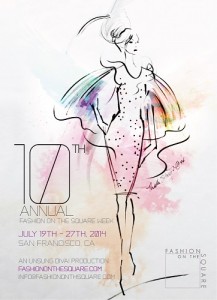 To mark this joyful week-long occasion, we reached out to Fashion On The Square Founder and Creative Director Y'Anad Burrell for Q&A over email. Read it below to learn more about her motivation in starting Fashion On The Square, her take on local Bay Area talents, and what we can expect for this 10th Fashion On The Square anniversary!
First of all, congratulations for the 10th anniversary of Fashion On The Square (FOTS). It started as a one-day outdoor show at Union Square, then later became an annual indoor fashion show at Intercontinental Hotel at SF Downtown until last year. 2014 is the first time FOTS becomes a week-long event. You must be so proud! Would you let us know the motivation(s) behind starting out a charity fashion show 10 years ago, as well as the decisions behind the changing FOTS format over the years?
Y'Anad Burrell: My inspiration behind the show was to create an atmosphere in fashion that was non-traditional, where designers and models who were 'not seen necessarily' by industry standards as a good fit could have exposure in grand style. I knew that talent, creativity and more importantly culture and diversity could move the dial in this industry what it was brought to the platform.
How does your drive to run FOTS evolve from 10 years ago until now? In other words, is your motivation then (10 years ago when FOTS first started) is exactly the same as your motivation now?
Y'Anad Burrell: It absolutely is! There was one year we did not have FOTS and that was a strategic move given the economy. We were bombarded with so many inquiries from people looking for and anticipating the show that I knew we were doing something right. I can't really say the motivation has grown over the years, but I will say the thinking behind the production, media, relationships has and the growth of the show has dictated that to happen.
This 10th year anniversary calls for a special kind of celebration. What can the FOTS attendees expect this year for the week-long event?
Y'Anad Burrell: The fact that it is a week-long event is something attendees can delve into. This year we designed FOTS where various audiences could have a more intimate experiences under a different roof that spoke to their passions. July 20th: FOTS+TheArts Awards & Fashion Show at Imagine Affairs, Oakland, CA; July 23rd: VIP Sponsor & Supporter Reception at Jenkins Johnson Gallery; July 24th: W Inspire Series w/Caity Shreve; July 25th: Fresh Faces in Fashion, W San Francisco; July 26th: Children/Teens & Adult runway fashion show; and July 27th: event to children and teens rock'n the runway to the grand finale event on July 27th.
FOTS also features student talents on the runway. What do you think about the level of design talents of SF student designers and how do you select the ones to feature on FOTS?
Y'Anad Burrell: The level of design that the students from the various fashion schools has really elevated over the years. When FOTS first started I would only look to the Academy of Art University for student designers, but now California College of the Arts, San Francisco State University, The Art Institute of San Francisco and even Alameda College have students who are doing amazing work. Each year I attend the various school fashion shows and that is where I find/select/invite students to be a part of FOTS. I am always looking for the WOW factor and/or cohesiveness in the students' presentations.
Let's talk a little bit about FOTS+The Arts. It's a non-profit organization established in 2012, which "gives grants and scholarships to students in the fashion industry who blend fashion and the arts in their work, whether it's on the runway or in a visual representation" (from FOTS About page). Last year marked the first time it started giving student scholarships. What makes FOTS+The Arts so important in supporting and fostering artistic talents and how do you plan to grow the organization in the future?
Y'Anad Burrell: National studies have shown that when children are engaged in the arts (i.e. visual, performing, etc.), it enhances their learning capacity and creativity. Many times people think of 'fashion' as clothes and the design around fabrics, etc. Adding an artistic component to fashion, for instance, a fashion designer and visual artist collaborating to create possibly a fabric that is inspired by paintings or drawings by that artist and then presenting it on the runway where the backdrop is the artist's print and the clothes being worn are the fabrics made from that collaboration. It's not a new concept, but definitely not an intentional effort on a regular basis. FOTS+TheArts moving forward will focus on both creating those collaborations and pitching programs to design schools to include it in their curriculum. We will continue to grow out Board and expand the voice of our organization through media and other channels. There is so much more that will happen and we will share those things in the near future.
Looking back to the history of FOTS and FOTS+TheArts, what are the hardest obstacles / challenges to overcome? Are there any unexpected challenges you encounter along the way?
Y'Anad Burrell: As the saying goes, there is nothing new under the sun or that someone has not experienced. One of the most interesting challenges in producing FOTS is explaining to designers the importance of exposure through the vehicle of a fashion show. There has been so much stigma around what is happening in terms of fashion in the Bay Area investment into a show becomes diluted. Most designers continue to believe that if they are not in one of the larger fashion week shows then doing anything else is not worth the investment. Definitely to the contrary. FOTS is very unique and our level of production competes with nationally known shows and as a publicist, with more than 9 years experience in that area, the most fun I have in working the show is pitching media. This year we have a national network WE TV on board and that does not happen with local shows. There are hardly any unexpected encounters and if they did arise I have become so numb to most the challenges, I just keep it moving.
You have seen many, many splendid fashion design works from local and international talents on FOTS runway. In your opinion, can San Francisco (Bay Area) establish itself as its own kind of a fashion capital, with unique set of characteristics?
Y'Anad Burrell: I believe the beauty of San Francisco (Bay Area) is that you cannot identify what will come from the city. The design talent including fashion, design, visual and more, will keep us surprised and engaged all the time. Certainly our unique characteristic from a fashion design perspective is the passion and intentional effort around sustainability and being eco friendly when it comes to our fashion design work. Producing an eco line can be costly, but there are designers, collaborations and organization that focus in this area from a very intentional space which is unique to the city. Also, tech fashion is building quickly and the SF/Bay Area can/will definitely own that sooner than later.
Who are your favorite local San Francisco designers?
Y'Anad Burrell: Victor Tung, Colleen Quen, Rachel Riot and Rickie Lee.
Can you share some of your favorite FOTS moments with us?
Y'Anad Burrell: Now that would take up about 10 pages of text, LOL. Honestly, and not being simple, but every moment is memorable. Everyone who has helped on the team are memorable. Most of the time I am having an out-of-body experience when it's show time so I hear 'what happened' the next day and that certainly is memorable conversation.
How would you like to see FOTS become, 5 years from now?
Y'Anad Burrell: FOTS 5 years from now will be full blown FOTS+TheArts where every effort, every show, every presentation will have an artistic component.
Last but not least, anything else you'd like to share with Fafafoom readers?
Y'Anad Burrell: You've covered it all. LOL.
Thank you very much Y'Anad, for setting aside some of your time for this insightful Q&A. We wish you and the rest of the FOTS team the best for many, many more years to come. Cheers to celebrating Bay Area fashion designers! For those who are interested in what Fashion On The Square is all about, get your tickets here! It's going to be awesome, so make sure you don't miss out.
Thank you for reading, see you on FOTS, and until next time,
Musank