Scott Ian McFarland was a formally trained sculptor when he took fashion as an elective for his graduate study at Academy of Art University in 2005. Two years later, he made a complete "switch" as a knitwear designer, and started showing his creations in New York since 2009.
Now, he is about to show his latest Fall 2012 collection at San Francisco Fashion Week 2012. He's part of the last runway presentation on Sunday, September 30 along with 5 other local designers. A Scott Ian McFarland preview party held on Monday, September 24 gave a sneak peek on what he is going to present on Sunday.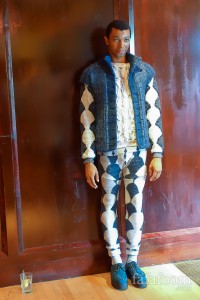 As a knitwear designer, Scott wants to extend knitwear to its limit. Using larger stitches that open a new dimension of design possibilities as well as make some smaller stitches technique obsolete, he strives to make great quality, colors-blending garments that are made locally.
His design process seems more intuitive, less excessive planning: he drafts the pattern before making the garment. Hand-sewn. That's right, there's a great deal of high quality hand stitching happening for each garment! When making a collection, he wants to at least create one dress, one coat, and one "hooded vest thing" (his own words). On average, it takes him about a week for a finished garment to materialize. However, his wearable art can take two weeks, or even one month based on their material selections and details. He work on every single garment himself right now, but he's looking forward to have more demands and use a factory in Oakland.
His Fall 2012 collection emphasizes on androgyny, therefore all of his pieces can be worn regardless of gender (guys, if you can rock the dresses, then work it!). It's also 1920's inspired, and if you ask him enough, you'll see inspirations from his own life experience reflected in those garments. Look out for the pink sweater, cardigan with lace, and cardigan with ribbons on Sunday; those are his favorites.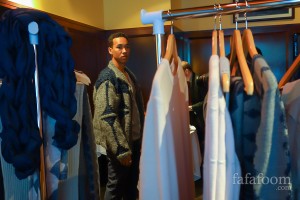 He seemed a little bit weary on that preview day, and for good reasons. He's quite burned out from the design weeks and after SFFW 2012, he just wants to sit and design, hopefully to catch up for the New York Fashion Week in February 2013.
But his path is not going to be easy. Being a full-time knitwear design teacher in Academy of Art does not free up much time to design for his knitwear line. Nevertheless, Scott is determined. Despite his fatigue that day, there were glints of fire behind his eyes when he stated his determination of success: "to support myself doing knitwear design".
His success definition may seem modest for some, but his aspiration is nothing small. He wants Scott Ian McFardland knitwear to be available at high-end stores such as Barneys New York or Saks Fifth Avenue, and take off (not unlike how Alexander McQueen brand takes off).
I certainly wish Scott the very best of luck, and I'm sure a lot of you feel the same way, especially if you're coming to his runway presentation on Sunday. Thank you once again to Andrea Plell who invited me to the preview party, and I'm looking forward to see the brand develop more in the future!
Until next time,
Musank