It's no secret that I admire Handbago.com's presentation at Ahead of the Fashion event in San Francisco last May, so I reached out to Handbago.com's President Kristina Moreno to know a little bit more about this exciting venture launched in 2009. Photos courtesy of Handbago.
Handbago.com is indeed, like its tagline, all things handbags. It's aiming to build not only a specialized handbag marketplace, but also an enthusiastic and loyal community of designers, fashionistas, and anyone who loves handbags. Total handbags galore…so obviously desirable (women can never have enough handbags) and a promising target market to be hyper-focused on.
Kristina (carrying a bag by Christiane Barbagallo in the featured picture of this blog post) was really kind in sparing some of her time to answer my questions, and I'm excited to share with fafafoom.com readers about the interview that touched the origin of Handbago.com and what Kristina sees from Handbago.com in the future.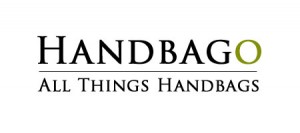 fafafoom (F): How did Handbago.com get started?
Kristina (K): I had just gotten a new little puppy and was in search for a designer dog carrier and after spending hours online searching the net and not finding any great options, I complained to my husband that I wished there was one place I could go online to find all the bags in the world, hence Handbago was born.
F: How do you build a stellar roster of designers on Handbago.com? Which designer(s) are your favorites?
K: I think my greatest talent in life is being able to connect with people and that has helped me make great relationships with all the designers on the site. I also have a background in footwear and accessory production, development, PR and sales so I had a list of contacts before I started Handbago. But really, the key to my relationships is that I'm genuinely interested, actually, obsessed in learning about each and every designers' story, collection and business aspirations.
A few of my favorite new emerging designers include Jacki Easlick, her handbags are chic, sophisticated and speak of casual luxury. Costella Handbags, a new trend driven brand on the market. I love their use of hardware and funky silhouettes. And Joanna Maxham, she's new on the scene as well and has created thee perfect beach tote that I own in purple and absolutely adore.There are 100s of new brands that we are working with that I'm obsessed with and am so excited to watch grow.
Some of Kristina's favorites are featured below. From left to right: Angel Jackson Super Hero Satchel, gorjana Mott Fold Neon Over Clutch, Jacki Easlick Black Tote, and Jessica Jensen Catherine Carryall:
F: From Handbago.com's conception until now, what was the biggest obstacle that you encountered and how did you overcome it?
K: In one word? Money. My competitors have millions and millions of dollars at their disposal and it makes it a tough market to compete in. As well as I think like so many, we are experiencing the hardships of starting a small business in this economy. But not to worry, we make up for it by being quick and nimble, we are able to pivot so quickly. I also have the most amazing team of people working for me who are passionate about what Handbago is all about, I couldn't do this without them.
F: What's your goal for Handbago.com this year and where do you want it to be in the next 3 – 5 years?
K: I'd like to be partnered with at least a 1,000 designers by the end of this year. My big picture goal is to continue building and developing our site to incorporate more customized shopping experiences for our Bagistas…we have some fun things in the works, so stay tuned!
F: For fashion industry entrepreneurs out there, what advice would you like to share with them?
K: It sounds cliche, but dream big and go for it, don't be afraid to fail and be willing to work harder than you've ever worked before. Also, be realistic, it takes money, time, and sacrifice to make a new business succeed. With that said, it's the greatest feeling on the planet to create something out of blood, sweat and tears and totally worth every minute spent.
Once again, thank you so much Kristina for the interview, and please check out Handbago.com to consume all things handbags!
Thank you for reading and have a great day,
Musank
Photos courtesy of Handbago.