Chatting briefly with Emily Dang over the lively crowd at Fashion+Tech Expo & Social Media Panel during San Francisco Fashion Week was a pleasant experience. She's very smart, charming, and passionate about her business SNOBSWAP, the new online marketplace for luxury consignment bartering and purchasing. SNOBSWAP invites fashionistas to swap, sell, send counter offers, or purchase its listed items in order to "refresh" their wardrobe without continuously piling out stuff.
The marketplace movement has become more popular nowadays, so I am curious to know why Emily decides to start her business with her sister. After our chat, it becomes absolutely clear that I need to feature Emily and SNOBSWAP on fafafoom. So please enjoy our short Q&A below, with topics ranging from the SNOBSWAP origin to Emily's shoes addiction. Oh, and warm welcome to Emily to San Francisco Bay Area! I hope you love it here and stay for a long time :)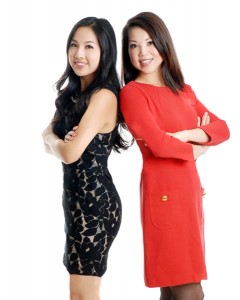 Fafafoom (F): How did SNOBSWAP get started?
Emily Dang (ED): Elise, my sister (pictured here with Emily on the left) and SNOBSWAP Co-Founder, was on a hunt for a pre-loved CHANEL bag and wished there was a website where members could swap or sell their designer items. Elise approached me with this new idea and I was immediately on board, especially since like most women, I had the perpetual problem: a closet full of clothes and nothing to wear. We built SNOBSWAP from the ground-up, from design to it's official launch. We've loved every minute of it.
F: When you launched SNOBSWAP in April 2012, what are your preparations to make sure there are enough supply (the goods in the marketplace) and demand (the buyers / swappers) to hit the ground running from the get-go?
ED: We quietly soft-launched a few months before, announcing to only our friends and family. As word of mouth spread, so did the number of items listed! Luckily there were plenty of people looking to clean out their closets to meet the growing demand for designer items.
F: What are your strategies to make SNOBSWAP successful in the long-run?
ED: Listening and learning from our customers is the most important step to building our success. Continuously improving to better serve our customers from providing the best customer experience to always looking to innovate and be better.
F: We have seen more forward movements toward marketplace for shopping (instead of retail shopping), especially in the SF Bay Area. Why do you think this is really appealing to a lot of people?
ED: Online retail is a growing space, especially this marketplace for pre-loved items. It's appealing to people, especially in the Bay area, for many reasons. In San Francisco, we love fashion and designer items, we have small apartments so are always looking to clean out our closets to make space for the new , and we love to recycle. SNOBSWAP is all three-in-one! And we take recycling to another level, where else can you swap your designer handbag for a pair of Louboutins you've been eyeing?
F: From SNOBSWAP marketplace, which item(s) are your favorites?
ED: I am obsessed with these Azzedine Alaïa black patent boots. These are amazing and gorgeous and unfortunately, not my size. Whoever grabs this pair is so lucky!
I'm also in love this beautiful Chanel quilted bag. It's both classic and edgy, and the calfskin letter is buttery soft to touch.
F: If you have to choose between a bag or a pair of shoes, which one would you pick?
ED: Shoes, hands-down. I am a shoe addict at heart. A gorgeous pair of shoes can instantly transform and empower you. Shoes are a form of self-expression from a classic pair of Loubs to something more fun like a pair of rockin' Charlotte Olympias to the avant garde and genius of Alexander McQueen's armadillo shoes.
F: Do you have any advice for fashionistas who aspire to be business owners / entrepreneurs out there?
ED: If I had one piece of advice, it would be to try and then try again. There is this Japanese proverb that I love and has always stays with me: "Fall down seven times. Get up eight." There will be ups and downs, but if you find something you really love and are passionate about, keep trying.
I love Emily, and I wish her and Elise the best in growing SNOBSWAP. Go check the site up if you haven't; go purchase or swap or sell your fashionable items! And by the way, check out SNOBSWAP blog section, you might see me there :)
Until next time,
Musank