"I'm sorry for asking such a complicated question, but one does not get this kind of chance very often…"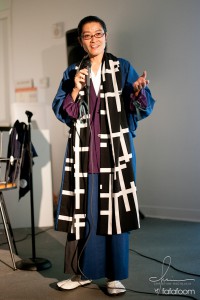 This was uttered by one audience member during Q&A session with Kyoto designer Takeshi Wakabayashi (pictured left) of Sou Sou Lecture at New People 3F Frog Gallery, Japan Town, San Francisco at J-Pop Summit Festival 2011 on Saturday, August 27.
And from that moment, I completely realized that I was blessed to be at the right place at the right time. And I vowed to myself right there and then, that I will make a reflection piece about my experience in J-Pop Summit Festival 2011 at San Francisco (thank you for being such an awesome company, Cynthia from StyleWylde!) no matter how "late" it might be. Because just like the audience member said, one does not get this kind of chance of being humbly inspired very often.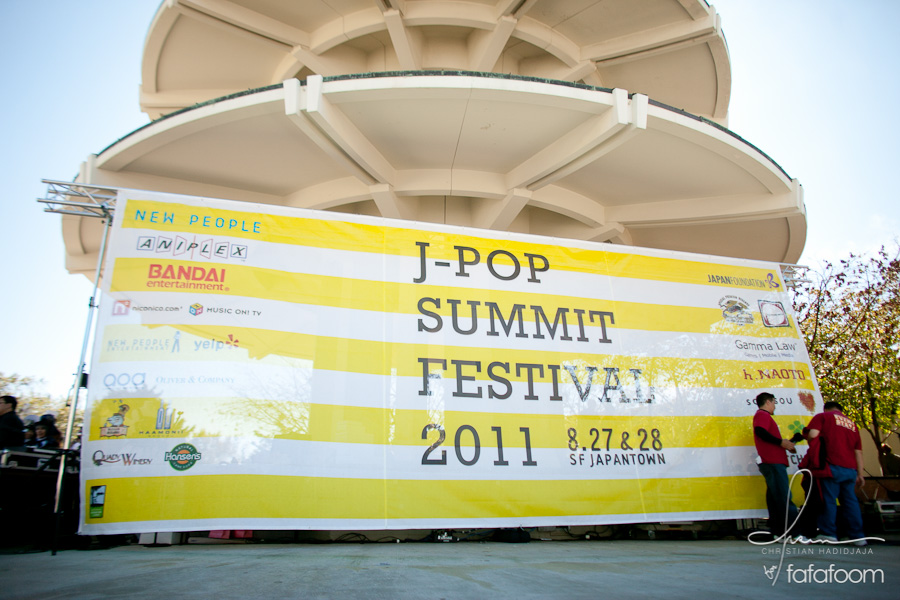 The term "J-Pop Summit Festival" may generally mean outlandish cosplay, anime-related festivities, contests, and such that usually highlight the growing sub-cultures of Japan and the celebration of youth. But I am so proud that this year's festival in San Francisco also brings out something else: a humble yet noble inspiration.
I went to J-Pop Summit Festival with an initial goal of "just" covering h. Naoto fashion show on Saturday, August 27. And yes, h. Naoto really delivered, and he was really passionate about letting the guests know about the story behind each look. A straight-forward avant-garde fashion show from a really talented yet humble, charming designer. Love this guy!
This is him pictured below with Mai, his translator, who's going to be the store manager when h. Naoto's first ever USA store opens on October 7th at New People!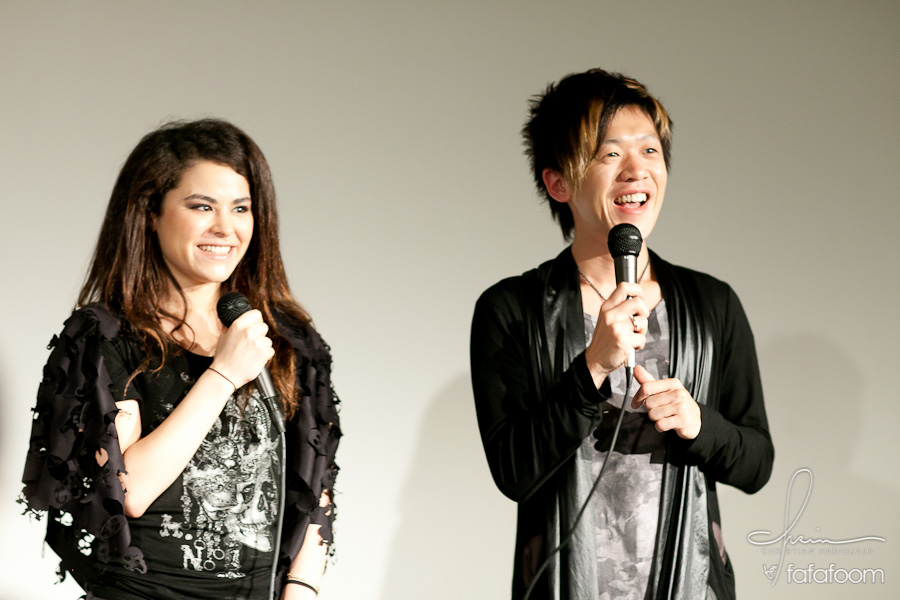 After the show, Cynthia and I immediately went over to Pagoda Peace Plaza where Baby The Stars Shine Bright lolita dress competition was about to start. And yes, there were over-the-top lolita fashion gracing the stage, but what struck me the most is the contestants' bravery in expressing their individuality and creative instinct in building their outfit, making poems, acting, and creating back stories to make them be (sorry for the cliche word) "a whole package". Because being a lolita attracts attention (some of it unwanted), and not all of these girls are what you'd call extroverts. But yet each of them have the inner intensity to give meaningful substance to the outward expression of cute, modern Victorian dresses. Amazing.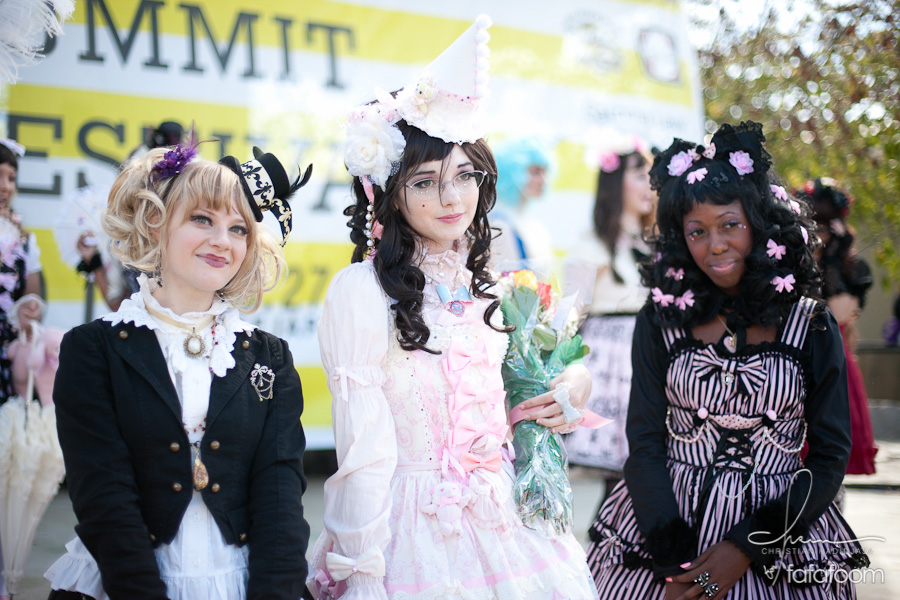 Then there's the Sou Sou lecture "Old Meets New in Kyoto" with designer Takeshi Wakabayashi right after that. Apparently it took quite a lot of effort to bring Wakabayashi-sensei here, especially considering he was not interested in having his Sou Sou line available in the USA at first. But yet Sou Sou has been a New People staple ever since the building opened two years ago.
There's a great deal to be said about Takeshi Wakabayashi and Sou Sou at that day. A great deal of substance and philosophy about Sou Sou. And one thing that really stuck with me was that Wakabayashi-sensei's goal is to create a new Japanese culture since the old traditions are dying out amongst the younger generation.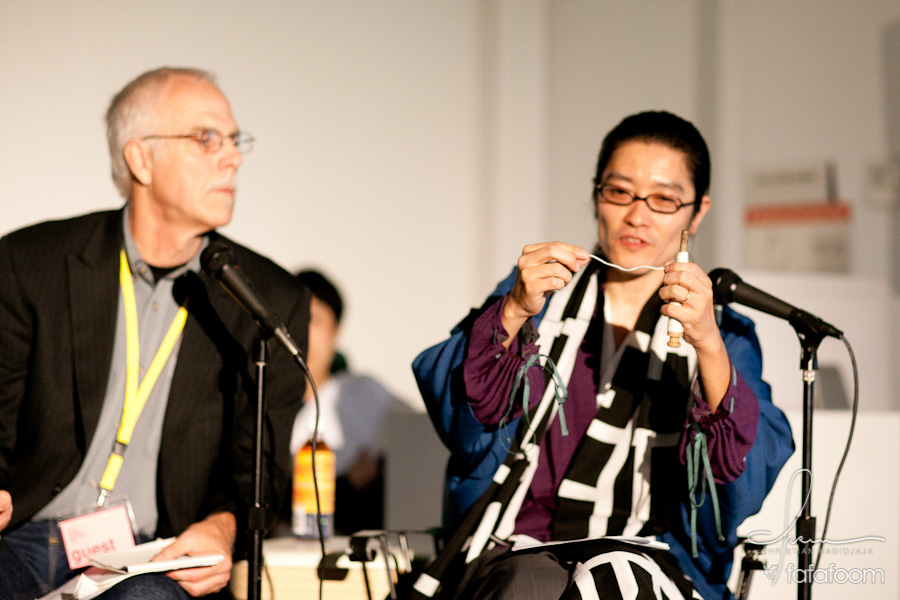 He wants to create  a new Japanese fabric that fits modern life, using tried-and-true traditional techniques that have been around for 100+ years. Ultimately, he wants to find a way to preserve tradition in Japan. He presented traditional textile designs that are used as inspirations for modern Sou Sou designs, his famous jika tabi shoes that won national and international awards, the manufacturing process using ise cotton (pictured above), his design school at Aoyama, Tokyo, and even exciting projects such as creating authentic Japanese snacks / confections with Sou Sou design aesthetics.
I was blown away. Such deep love for tradition, yet such passion to move forward so eagerly to create and preserve the Japanese culture at the same time. What a formidable person. His design school also prepares young talents to keep his passion alive; some of the graduates are involved in creating new Sou Sou designs and/or become teachers in the school.
Moreover, he wants to make the designs accessible for all. He's not interested in high-end designs such as yuzen, kimono, or intricate obi designs. Instead, he's more interested in things people use in daily life. Simple design with good quality, incorporating Kyoto colors, that can be sold to a lot more people, so that ordinary people (even grandfathers and older folks) can wear and look cool. :) Wakabayashi-sensei, I'm with you. And if this tiny fafafoom blog post can ignite some fire in some of you readers, I'd be so happy.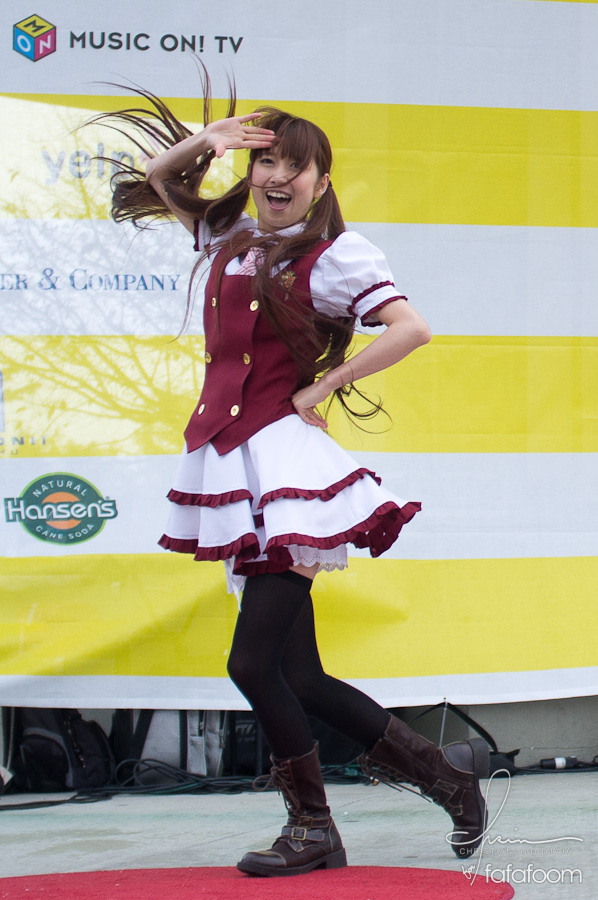 Last but not least, is the Vocaloid contest on Sunday, August 28. Contestants were lip-syncing to Danceroid tracks such as First Love or Luka Luka Night Fever while doing rather intricate dance steps. The judges were none other than Danceroid's Kozue and I-Ku-Ra (pictured above). The winner, Tiffany was so excited to dance with the two of them as a grand finale. The competition was fun and hilarious at times, but again I have to commend these girls (and one guy) for doing their best in this competition. I'd say many more people should get into this Danceroid steps. Really fun exercise and only then, maybe we can get our fat ass under control :)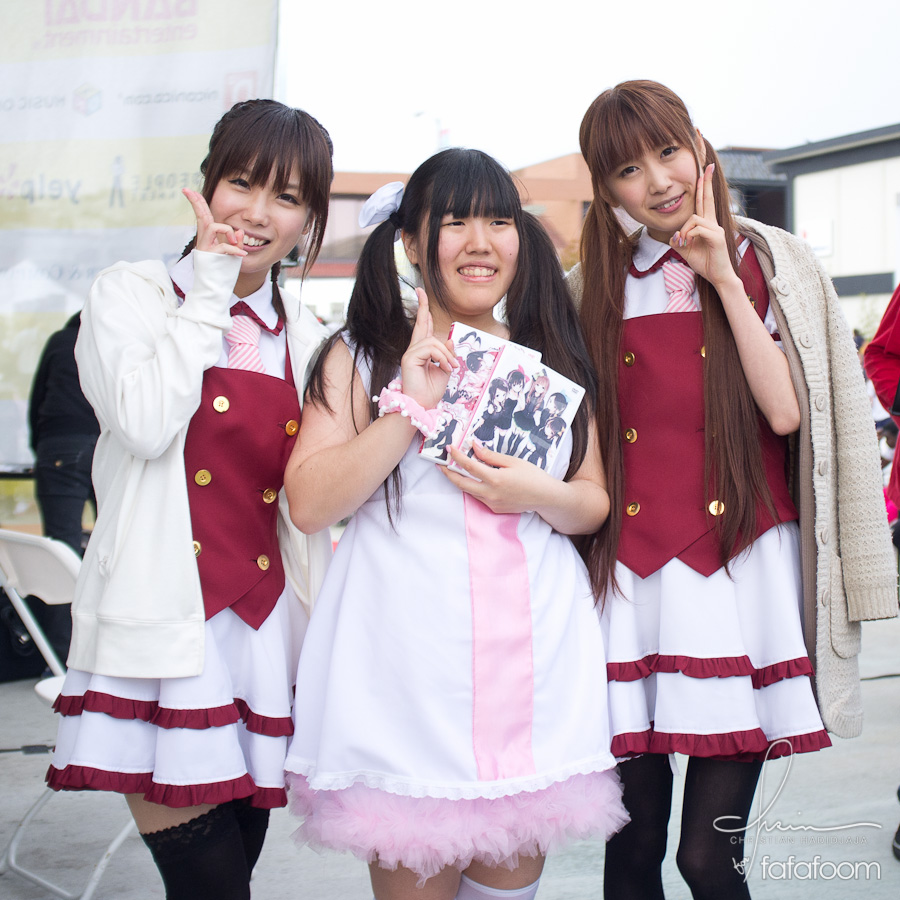 So in essence, this year's J-Pop Summit Festival offered the usual fanfare of popular Japanese sub-cultures that perhaps are only relevant to a segmented niche of overall Americans.
But if you get past the outward expression that are sometimes outlandish and extravagant, you may find a great deal of soul and passion that we all can relate to and learn from. And by that time you come to that sliver of understanding, you'll realize that we are all not so different after all.
Stay inspired,
Musank