Yup, the Holiday Season is rapidly building up to a full swing. You might be preparing for Thanksgiving or shopping for Christmas gifts for A LOT of people. So let me offer several gift ideas to help you budding fashionistas and/or emerging designers. You can win a San Francisco's Marinel Sun dress, a fashion illustration introductory book "Fashion Design Studio" by Chris Hart, or get an all-access one-year subscriptions to University of Fashion for reduced price!
Why: Win your favorite Marinel Sun dress!
Ends at: November 29, 2013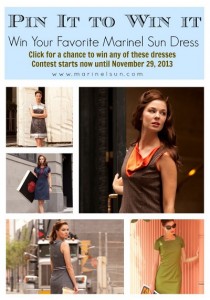 If you are still looking for dresses that can multi-task as work wear and beyond, then San Francisco's own Marinel Sun can help you. The dresses are elegant and have that subtle glint of glamor that can take you far from morning to night time. And now, as a pre-inaugural offering, you have a chance to win your favorite Marinel Sun dress!
Go to Marinel Sun Pinterest Contest for the details. The designer is giving away one of each of the five dress designs from its 2013 Fall-Winter collection, through a Pin-it-to-Win-it Pinterest contest. The dresses, all made in the San Francisco Bay Area, are versatile wardrobe pieces that are suitable for both work and social functions. Select a favorite Marinel Sun dress from the 2013 collection and create a Pinterest inspiration board around it. Entries are accepted until November 29, 2013.
On the first week of December, Marinel Sun will select the best entries and Diane Dorrans Saeks, author and writer of interior design, fashion and style will pick one winner for each of the 5 dress designs.
[hr]
FIRST FAFAFOOM GIVEAWAY: Fashion Design Studio Book by Chris Hart
Why: You're a budding fashionista / emerging designer that sucks at drawing dynamic fashion figures :)
Ends at: December 1, 2013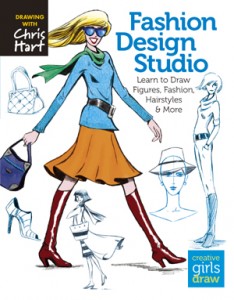 Perhaps you're like me…I have many design ideas in my head, however without any fashion illustration skills, it's really hard to bring the design concepts anywhere. Unlike some people I know (really well), I suck at drawing. No matter what I do, my sketches are full of stiff, uptight figures…how do I draw dynamic, fun-looking figures?
Well one day, I received a free copy of Fashion Design Studio, and I am now very optimistic that I can share my sketches soon, especially for my DIY projects! So excited!
I'm sure there's someone else like me out there that can benefit from his straight-forward drawing fundamentals. I spent about 3 days with this book now, and I am so pleased with the progress I'm making. Therefore as a Fafafoom first, I will have a copy of Fashion Design Studio book sent to ONE Fafafoom reader who lives in the Continental US as a giveaway!
It's easy:
1. Like Fafafoom on Facebook or add Fafafoom Google Page in your Google circle. If you already did, you are automatically entered in this giveaway. Or if you're on Pinterest, just repin or like this pin.
2. I'll select ONE winner from either Facebook or Google+ page or Pinterest on December 2 and announce it on all three channels.
3. I'll ask the winner for the mailing address (remember, you must live in the Continental US), and Sterling Publishing will send a brand new copy of Chris Hart's Fashion Design Studio to the winner.
Thank you Sterling Publishing for making this possible. A little bit of information about this book is below.
In Fashion Design Studio (Sixth & Spring Books, November 2013), bestselling art instructor Chris Hart gives step-by-step instructions on drawing the fashion figure from many points of view and in varying poses. He explains the tricks of the trade, such as how to "dress" your figure, render color, texture, and print, and create accessories, hairstyles, and makeup looks.
Renowned for his friendly, accessible teaching style, Chris Hart is the world's bestselling author of drawing, manga, and cartooning books – which have sold more than 3.5 million copies in English and been translated into more than 20 languages.
UPDATE: The winner for this Chris Hart's Fashion Design Studio book is Joseph B.! Joseph's entry was picked by the random number generator over at Random.org. Congrats, Joseph, I have contacted you via Google+ for your mailing address. As soon as I get it, I will have Sterling Publishing send a brand new copy of the book to you. And thanks again to everyone who entered and for reading my blog!
[hr]
Special Yearly Membership Rate of $145 (originally $195) from University of Fashion
Why: You are looking for the perfect gift to inspire the fashion-lover, emerging designer or fashion design student on your list this holiday season. Offer ends on: December 31, 2013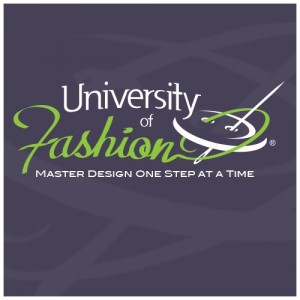 Let's say you are ready to get to the nitty-gritty of fashion design. Fashion illustration? It's child's play for you…you'are already amazing in doing it. You're ready for the real stuff, but you want the option of learning online.
Well, first-of-its-kind Online Fashion Design Video Library™ from University of Fashion is now offering gift memberships for the 2013 Holiday season. Regular Annual Membership $195 is now reduced to $145 from November 11 to December 31, 2013. This is all-access subscription to their online instructional videos, transcripts and lesson guides. All of their lessons are taught by fashion industry insiders and professors from leading fashion design schools.
Through the University of Fashion's online fashion design video library™, you will experience fashion lectures and take virtual fashion tours, as well as receive top notch instruction in the five core fashion design disciplines: Sewing, Draping, Fashion Art, Pattern Making, and Product Development.
Francesca Sterlacci, founder of The University of Fashion (U of F), is a designer, author, former professor and department head at the Fashion Institute of Technology (FIT) in New York City and a former instructor at the Academy of Art University. Through the U of F, she has created a space where the fashion curious can be inspired and educated through the convenient and versatile platform of independent, online learning. Lessons are designed to cater to the needs of beginner as well as advanced learners, making the U of F a place where all members can 'Master Design One Step at a Time.'
So how about it? Whether you want to get a Marinel Sun dress, a Fashion Design Studio book, or get yourself (or an aspirational fashion designer on your list) a one-year subscription to University of Fashion, I don't think you will definitely make a good decision.
Have fun!
Musank