Indonesia has its share of very, very talented jazz musicians. Thankfully, this group of selected few continually cultivate jazz musical talents to the next generation(s), which in turn increases jazz appreciation and inspiration among general public and musicians of all skills. Events like JakJazz or Java Jazz Festivals have been very well-received, featuring both local jazz musicians and those famous names from abroad.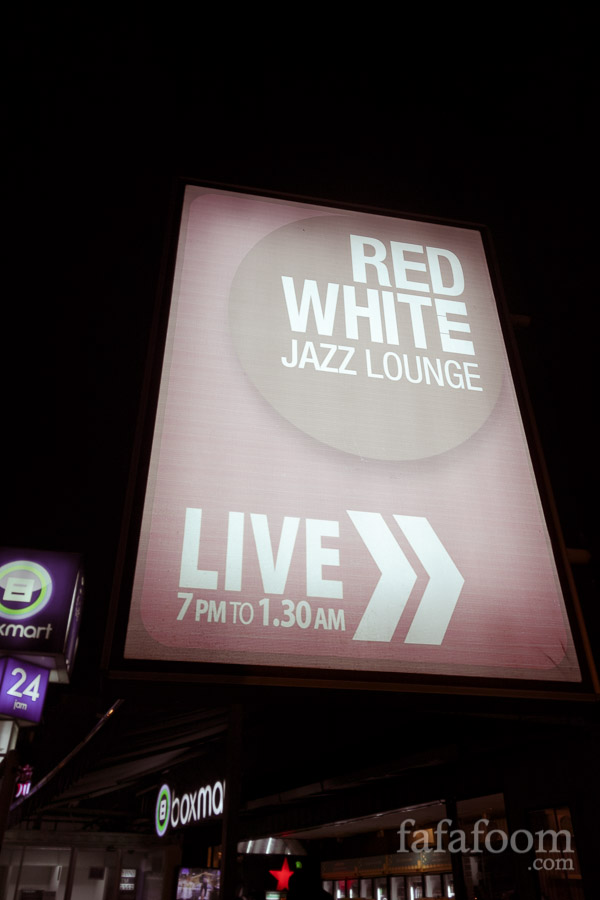 I wanted to have a taste of live jazz when we were in Jakarta, however naturally our short time did not allow us to attend such jazz festivities…plus, we prefer something more chill and relaxed, more low key anyway. A friend of ours who went to Jakarta recently recommended us to go to Red and White Jazz Lounge at Kemang, South Jakarta. One week night when he was there, somehow Tohpati just showed up and played (what a delightful surprise!).
So on a Wednesday night, we went to Red and White Jazz Lounge, trying hard to navigate our way (our taxi driver was of no help) in Kemang, a relatively unknown Jakarta territory for us. After misguidedly driving through several dark and narrow alleys that made our taxi drive frowned (thanks Google Maps) and mistakenly arrived at Red and White wine and spirits store at Lippo Mall (seriously), we finally chose to go through Kemang Raya…and after several minutes, I spotted the sign!
At this point, we were 15 minutes late to the 9pm Mostly Jazz Benny & Barry Likumahuwa "Like Father Like Son" jam session. The 30-minute lead time was gone. I walked hurriedly to the lounge, located approximately 100 meters down the Red and White Lounge sign. It was almost hidden between a mini market and a restaurant on the 2nd floor of an adjacent building. It's a very unassuming place, a lovely departure from typical Jakarta spots that fully embrace glitz and blings. Thankfully, the jam session was not to begin in another 30 minutes.
Soon enough, we saw several musicians came and started to set up their instruments. Being rather blind to who these musicians are, we were simply scanning and observing the room as it slowly attracted a few more people.
On 9:50 pm, Benny Likumahuwa greeted the audience, noting that while there were only few people in the audience that night, these people were "quality people". We smiled and chuckled, and one guy responded, "Amin!" With an iPad on the music stand and Benny leading with his trombone (his weapon of choice for the night), the four-person ensemble began the night with "Old Devil Moon".
Before the second song began, Benny introduced the rest of the crew, which was suddenly busy fixing Barry's bass stand. Benny's son Barry is truly a talented bass player, it is no wonder he's well-known in Indonesian jazz lovers community. There's also veteran guitarist Oele Pattisselanno, as well as a super solid drummer whose name I didn't catch (please help me identify him, he's really really good). Damn you, Barry's bass stand!
The jam session continued with "People" in medium swing, followed closely with "Shang & Darin" (composed in Surabaya's Shangri La and Mandarin Oriental Hotels). Shang & Darin was my favorite of the night; it's romantic and nostalgic, yet it's cheeky and not soppy.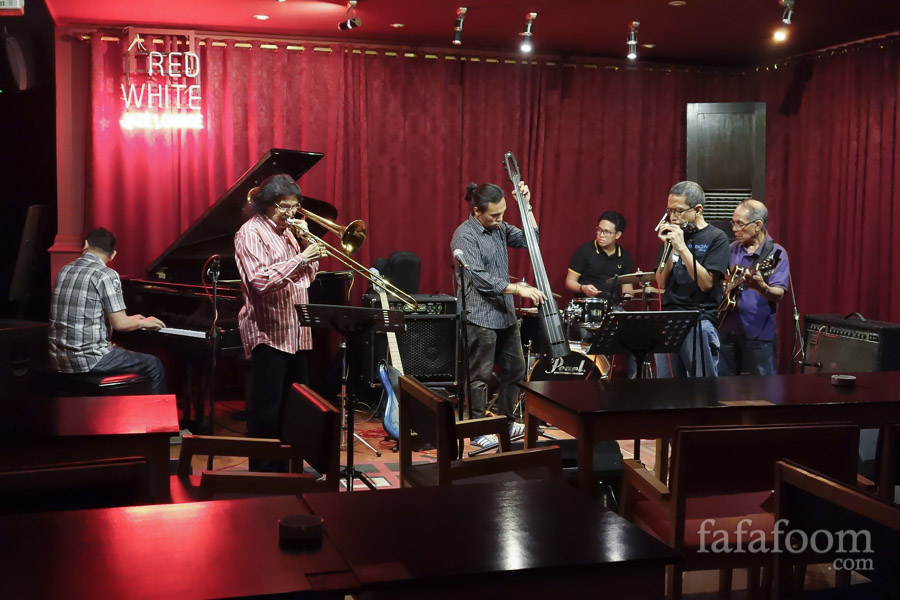 Apparently there were some fellow jazz musicians in the audience, so Benny invited them to play with the group. With Fanny Kuncoro at piano and Iman at harmonica, they launched to the next song. I was too much in awe by their skills and relax attitudes that I did not catch the song's name. I just found the collaboration awesome.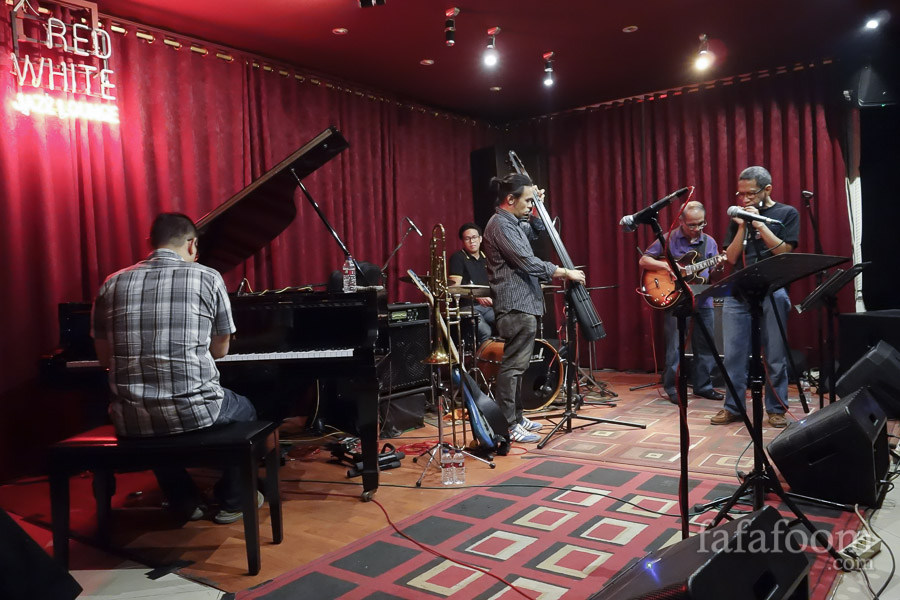 Several times in the middle of the song(s), Benny left the group momentarily to join the audience, re-entering the group when he's to play again. It was perhaps a minor moment, nevertheless it was cool seeing how "resting in the middle of the song" is masterfully done.
It was intermission at 11:15 pm, but unfortunately we had to leave. It was a long, busy day ahead for the day after. As we left the quality jazz spot Red and White Lounge, we were greeted by the booming bass sound from the adjacent building's 2nd floor restaurant. It was packed with rowdy crowd surrounding a live band playing one of those typical Top 40 songs…and I immediately thought that the super talented group behind me deserved at least thrice as much audience as this mediocre group. But then again, the jazz music audience that night was "quality people", so I really had nothing to complain about.
The taxi ride home only took 15 minutes.
Until next time,
Musank