A story of how I started using a sewing machine to do chores and ended up doing many sewing projects. It teaches me of not only fabric selections and sewing skills (which allows me to make and wear fashionable clothes without breaking my bank), but also mental exercises of discipline and motivation. Who knew that owning a sewing machine can be so rewarding?
The Beginning
When I got a Brother sewing machine in 2011, I intended to use it to fix some skirt hems (or pants), do simple refashioning projects, and maybe make a couple of simple purses. That's it. My mom taught me several hand stitches when I was small, but I never saw sewing as a fun activity. Fixing buttons or doing basting stitches were chores and nothing else.
The operations manual booklet was a great resource to get me started, but the large part of the challenge for starting a sewing project has more to do with the fabric researching, projects browsing, and books buying, among others. Before long, I got overwhelmed by the challenges and beginner mistakes. Shortly after I finished several Koko Yamase Couture Remake and Tomoko Nakamichi Pattern Magic projects, I left the sewing machine to collect dust for a while. It just felt a bit too menial and time-wasting. I also ended up with lots of fabrics I didn't know what to do with!
But then I started wearing what I made outside, as well as posting the finished DIY projects on my Pinterest board. Little by little, positive feedback started trickling. I started to use my sewing machine again, along with making simpler DIY projects that only requires glue. I spent most of 2012 making fabric flower hair pins and brooches, but I was slowly moving forward to create and refashion garments more in 2013 and beyond. I sincerely never thought I'd get "hooked" to do various sewing projects. With each finished DIY projects and/or fashion magazine flipping and Pinterest scrolling, my brain is flooding with endless DIY fashion ideas. It's fun, but my time is limited so I have to prioritize.
Why I get "hooked" on sewing
Still, why did I do a complete 180 from 2011 (when I first got my sewing machine) to 2013 onward (when I really enjoy making garments and accessories)? Sewing can be an exciting activity, but as I said previously, it can be really overwhelming for a beginner like me. Worse, I'm a complete beginner with a full-time job and not a lot of free time. But I set aside some time to do this time-consuming activity periodically.
After sluggishly doing 7+ sewing projects, I found out that it's a great mental exercise. It's a lot different from physical sports, in which you get to move your body and train your mind to achieve a set goal, such as going hiking or swimming. Physical exercise is about doing. On the other hand, sewing is about contemplating, designing, and creating. In a way, it provides me a more wholesome mental exercise.
In addition to learning about designing and making garments and accessories, sewing trains me to be more disciplined and understand what factors motivate me. I realized sewing activity is like exploring an open world; you can research, design, create, and finish a piece of garment or accessory. Within time and resources constraints, I have a lot of room to create anything I want. It's like an exciting "Create Your Own Story" game.
It's a discipline exercise because I am to have the mentality to finish what I started (no quitting half-way). It's also an exercise of motivation so I can do it all over again!
Cycle of Emotions
Perhaps you can understand my points of discipline and motivation better by seeing my "Cycle of Emotions" diagram below. I always go through them whenever I undertake a sewing project to make or refashion garments. I'd be interested to know if you undergo similar emotional experience while sewing.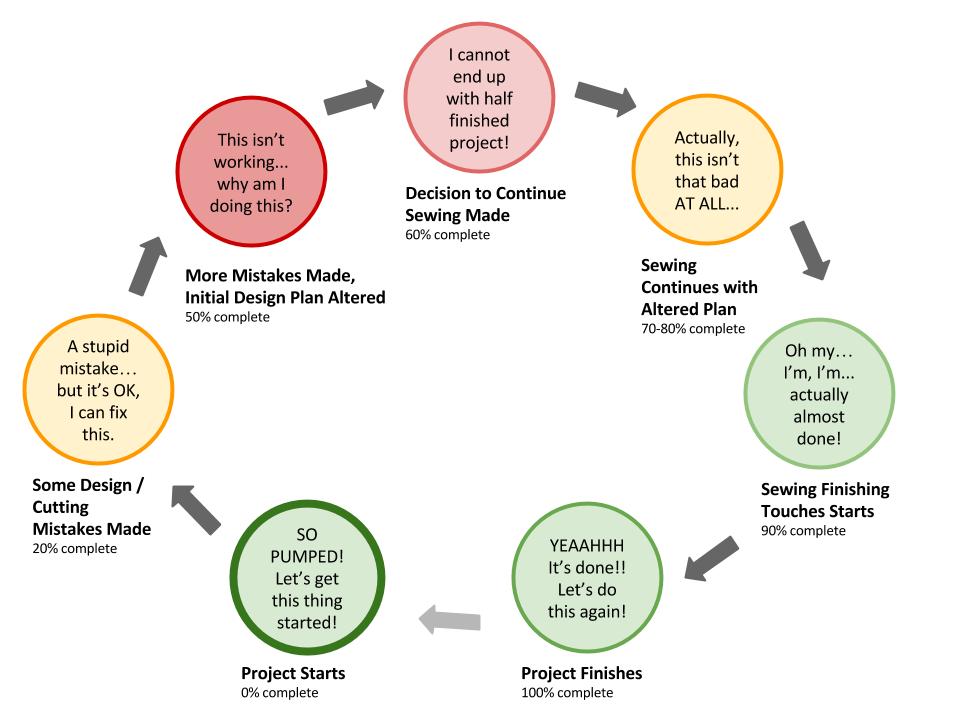 At the beginning of a project, I'm very excited. I find it super fun to research and choose my next sewing projects. Thanks to my Pinterest board DIY Fashion Ideas, photos from fashion weeks, and new posts from the wealthy ocean of DIY gurus on the internet, there's just so many projects to choose. Researching and selecting fabrics can be a bit tricky in the beginning. But it has gradually become a very fun process, especially when I get to score specialty fabrics with a discounted price from my favorite fabric outlet's fabric remnants area, or select beautiful fabrics from a fabric rescue organization.
The challenge typically happens when I started sewing, about 20% in-progress. I start to make mistakes due to miscalculations of measurements or underestimation of how a certain fabric would behave. And it usually goes downhill from there. The frustrations set in, and my sewing machine seems to be against me. Sometimes the needle breaks, the stitches skips, or fabrics get caught even though I was being really careful and slow.
By the time I get to 50%, that's when I start questioning myself of how I even started the sewing project. It's harder than I expected, the design plan is altered due to the miscalculations, the time to finish it apparently doubles or triples from what I initially estimated, and I don't think I like what I'm trying to make anymore.
But with a little bit of discipline, I force myself to continue a little bit more and to be open to unpredictability. After all, initial plans are estimations I made without knowing the complete picture. I get to know the complete picture by doing it. So what if the initial design plan has to be altered or scrapped? Isn't it exciting to still create something with my own hands?
Slowly but surely, I get to 60%, the point of no return. My frustrations start to subside, and at this point I'm getting determined to finish what I started. I tell myself that rather than end up with half-done fabric trash, I better finish an imperfect project. The ball starts rolling again once I discover the unpredictable factors actually end up being more fun than not. The finishing touches can be a bit tedious sometimes, but the finished details always look so good and expensive when done, so I try my best not to get lazy on them.
By the time the project's done, the finished result becomes my latest trophy of discipline AND my content source for a new blog post. I'm glad I did not give up finishing the scarf top with kimono sleeves. That popular blog post has been shared for over 1.1K times* so far.
But what about motivation?
OK, I wrote a great length about discipline in continuing my sewing progress. How about my motivation; what makes me want to finish and do it all over again? Well, having a new piece of garment is a great reward in itself. Subsequently, I found many more benefits that are so motivating:
I get to make and wear fashionable clothes with a personalized touch WITHOUT breaking my bank account.
I learn to deal better with fabric types as I make more garments, and I get complimented by friends and strangers alike when I wear garments I made or refashioned.
I get to find communities of sewing enthusiasts (both online and offline) to share feedback and inspirations with.
When I get to shop, I can focus on buying investment pieces once or twice a year instead of shopping every month or so.
I'm constantly getting better at examining constructions; noticing, appreciating details and souls the designer and dressmakers put into a garment.
I'm increasingly giving more respect to fashion designers and students who are to pursue career in fashion, and the work force that's supporting the apparel industry.
So yes, I'm hooked to do more sewing projects! I wouldn't say that sewing has become a habit for me, but it's definitely become an active loop of getting hooked. The DIY fashion inspirations from Pinterest or fashion magazines serve as the trigger, designing and sewing are my actions, the sometimes-unpredictable-but-fun result is my reward, and the community feedback, comments, and other benefits are my investment to continue sewing!
What sewing means to me
It took me a while to appreciate it, but now sewing is a great mental exercise I genuinely enjoy to do. It's an act of realizing, practicing, and honing high level of artistic freedom within some constrains. It's a glue to my myriad of serious hobbies and I'm really grateful because not only I get to be better at it, I learn a bit more about how discipline and motivation apply to my character.
How about you; what does sewing mean to you? Or if you don't sew, do you have a hobby that leads you to learn something bigger than the act of doing that hobby?
Thank you for reading, until next time,
Musank
*I lost my previous share counts ever since I'm changing my permalink structure and social media sharing plugin from ShareThis to AddThis. But it's OK :) I know that to date, that post is still one of my most popular fafafoom posts.