So now summer's over and flower hair accessories may seem too…uh, summer-y. You add layers to your outfit, the colors go deeper, and the thicker wool coats go out of the closet. As a navy-black-grey-white wardrobe owner, my daily fall outfits can be very drab, especially if I forget to bring a scarf. But the idea of putting feather hair accessories to complement my fall wardrobe always seems appealing; it's romantic and a bit sexy, but not overdone.
Subscribe to my newsletter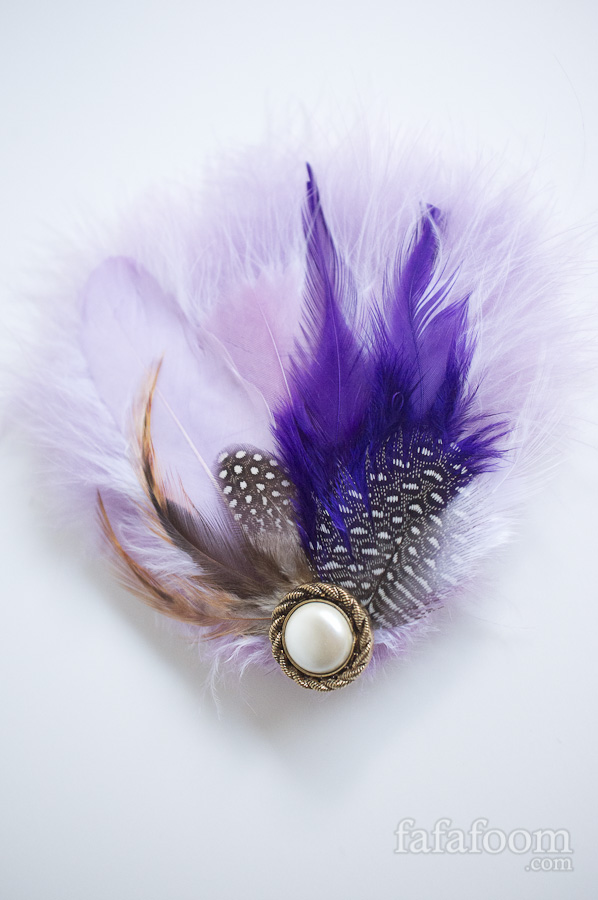 I also like versatility; that's why the feather hair accessory featured above also functions as a hat adornment or a brooch (you can also attach it to your belt, if you'd like). But more on that later. The progress I made on making feather hair accessories come in stages, and it started with watching this Threadbanger video.
It's pretty straight forward. Felt or paper for base, feathers, a hair clip, a fancy button for the pointed end, and glue. So that's exactly what I did for my first feather hair accessory:
From there, I started experimenting with hair combs. The hair comb below is cute to wear nesting on top of a simple updo (like this one, even though my hair is way shorter) at the back your head. This proved to be a bit tricky because you need to put the feathers in a little bit of an inward angle.
This is needed in order to make sure the feathers on top of the hair comb smoothly follows your head shape and not create an unsightly "gap" between your comb and your head when viewed from the side. But in terms of DIY project, it's a good experience and I like how it turned out at the end :)
Then I start going back to flower and feathers idea; the first is a very simple flower hair pin with small feathers on the side. The other has a little bit more drama with tulle fabric, plastic leaves and small silk flowers on top of white feathers bed. I also insert thin wire on the base so I can bend it to curve, following my head shape.
As feather hair accessories DIY projects continued, the zipper flower with feather accents accessory was born. First by watching this zipper flower tutorial, then draft the design on paper. The design changes a few times, but at the end I'm quite pleased with the end result.
By this time, I'm a little bit "done" with the idea of making another feather hair accessories….until my friend requested it. She loves purple, so I dyed several white goose feathers in violet (Rit Dye is awesome) as well as using two bright purple feathers for accent. The picture on the left below is what I made for my friend. The one on the right is a set I made for myself: a lace wrist corsage with two matching simple feather hair pins.
What do you think? Making feather hair accessories can be so much fun! I still have so many feather supplies left; I think I bought too many =D
Until next time,
Musank
Subscribe to my newsletter