Coming to Art Explosion San Francisco on its last day (Sunday 9/18) was the highlight of the otherwise lazy Sunday (which is quite rare for me). Thanks to our friends who frequently visit Art Explosion to view and buy works from emerging local artists – painters, sculptors, designers, we got to see a great deal of high-caliber art. What a great place San Francisco is; we get to see these artists living the art, producing high quality work after work with such passion and drive, it's all so humbling. If you enjoy art and/or missed Art Explosion, make sure to check out SF Open Studios Exhibition 2011 in October (get your guide), starting out with preview event ArtLaunch in September 29!
Of course, seeing so many artists at the two locations (744 Alabama St. being my favorite), there's bound to be favorites. I'd like to dedicate this post to say my word of love to my favorite SF artists :)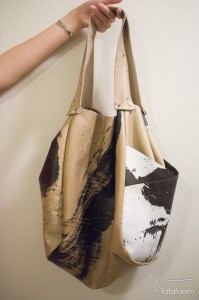 Aoi Yamaguchi – Japanese Calligrapher
For those of you who came to J-Pop Summit Festival (where I covered h. Naoto's fashion show and Baby The Stars Shine Bright dress competition), you might've seen her perform on Peace Pagoda stage, Saturday, August 27.
My boyfriend/photographer Chris was so taken in by her art, he purchased one of just-arrived-3-days-ago 1st edition leather bags that has Yamaguchi's calligraphy design stroked onto it (pictured, left). She also took a picture of him with the bag (so cute!).
A charming, kawaii girl with tremendous talent and calligrapher parents, she's been doing calligraphy since she's 6. Even though her family stays in Japan, I have no doubt that she's going to make it big here. Ganbatte-ne, Yamaguchi-san!
Tuan Tran – Artist
When I caught a glimpse of Tuan Tran inside his studio, making a one-of-a-kind purse from recycled telephone wires, I immediately knew that he's the guest that caught everyone's attention dressing model Kellina Brown with wire dress during Melange Fashion Show.
Chris and I got the chance to talk to him about his work, and it's really nice seeing him naturally comfortable in his studio, surrounded by telephone wires and molded dresses, lanterns, purses, and all kinds of his under-construction pieces. A great guy to chat with, he's clearly passionate about his work and eager to see what's coming his way. I'm actually surprised to know that it takes mere 6 days for him to construct a dress (what!). And I asked the same question about making a wire purse. The answer's comparable (what!). That's….just mind-boggling to me.
Anyway, if you encountered him in one of your fashionable outings or ventures, you definitely want to check out his premier fashion show in November 26. He's doing a casting call this Sunday, and I'll blog about this casting call later :)
Congratulations again Tuan, and so excited of what's coming next from him.
Lucky Kelly Anna Rapp – Artist
The sole stand-out from the 2425 17th St. location, Lucky's art is both eye-catching and humorous. In her hands, art is never taken too seriously and allows room for that "casual" appreciation that's sometimes missing in more intense, fine art works.
When we visited her space, she's busy installing and organizing her works, getting ready for the SF Open Studios 2011 and looking from the tall white walls, her exhibition is going to be very exciting.
I love her business card too, it's a super thick card encased in envelope-shaped transparent medium-weight paper. One side only prints the necessary word in hand-written font: "artist". Indeed.
Honorable mentions: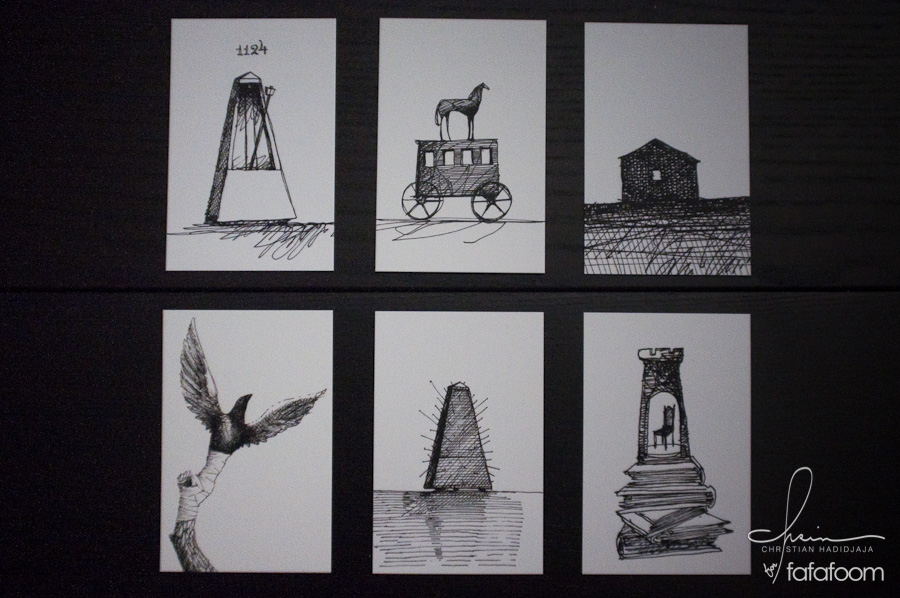 sacredbeast – Tim Svenonius
We didn't get to see him, but his business card designs alone were enough to captivate me (pictured above). I just had to have them all :)
Howie Katz
Michiko Fujii Fowler
Jayd Almquist – Creative Specialist
Heike Seefeldt
Melisa Phillips 
So that's the list of my favorites, and so I will definitely plan my way around SF Open Studios Exhibition.
Thank you Lucky Rapp for the free guide book!
Enjoy your week,
Musank