This Friday, September 28, San Francisco Fashion Week will feature five emerging designers in the first runway show this weekend at Astro Studios, 348 6th Street, San Francisco. One of those talents is Brandon Murphy, a California native who currently resides in Atlanta, GA attending Morehouse College. He has designed and created five collections by the age of 21, and his work can be seen at his Brandon Murphy Collection website.
Prior to his hectic Friday schedule (going around the city to document his journey prior to the runway show), he spent some time doing a quick Q&A session with me via email correspondance. Get to know him a little bit more and read about some insights from this bold young talent.
Fafafoom (F): Please tell us a little bit about yourself; when did you start designing and what motivated you to start?
Brandon Murphy (BM): I'm just a boy who fell in love with art and beauty in its purest form. I'm on a journey to have the world indulge their lonely hearts with fashion and forever seek importance and inspiration through my line, Brandon Murphy Collection. I think I was always a designer even when I was really young making clothes out of socks for my G.I. Joe dolls. When I was 18, I went to the fashion capital, New York City and I was exposed to a lifestyle I never experienced. The life of high fashion. I wanted it, I needed it. So I made it my life.
F: You mentioned on previous interviews that there is a gap between the time you got inspired during your shopping trip to Bergdorf Goodman and when you started making your first collection. Looking back, why does the gap exist?
BM: I believe life is about timing, I didn't necessarily have the resources to make my first collection. At the time of my trip to NY, I was about to enter college as a fashion major in a month and a half. When I started school I didn't have any fashion classes yet so from time to time I would go to the departments sewing lab to sit in on classes and teach myself how to sew. That's where I made my first collection, marking the beginning of BMC.
F: We're in the middle of Spring/Summer 2013 Fashion Week period. What are your favorite designer looks for Spring/Summer 2013 and why do they draw you in?
BM: I haven't really kept up with the fashion week media other than what my friends post and email me when they go to the shows and from what I've seen from Marc Jacobs really inspired me. He's such a creative man.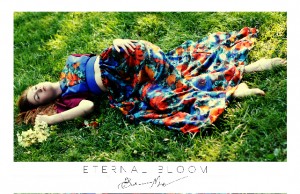 F: Tell us a little bit about the collection that you are going to showcase on SF Fashion Week 2012, Emerging Designers on September 28.
BM: This collection is full of passion focusing on the elegance of a women's shape while providing visual drama with the flow of the fabrics and architecture of the garment as a whole.
F: What does your journey as a fashion designer mean to you so far?
BM: EVERYTHING.
F: Where would you like to do right after you graduate from Morehouse College, Atlanta GA? Are you working on a new collection for 2013?
BM: I want to see the world and experience other cultures. I want to know how the rain feels in Paris. Yes I have a beautiful collection in the works right now.
F: Where would you be 5 years from now? 10 years from now?
BM: Only God knows the answer to that. I'm praying 5-10 years from now I'll be creative directing under a fashion house while running BMC as a global brand.
F: What is your ultimate goal as a fashion designer?
BM: My ultimate goal is to build the self confidence in women when they wear my garments.
F: Just for fun: What do you think are the 5 key pieces every woman should have in their wardrobe?
BM: A cocktail dress by Brandon Murphy, great heels, something cashmere, something lace, something silk.
Thank you Brandon Murphy for spending some time to answer my emails! I wish you the best in presenting your collection this weekend and beyond! Once again, you can get your tickets here for the San Francisco Fashion Week 2012 this weekend.
Until next time,
Musank