When I first saw Dark Garden corsets at Fashion On The Square (FOTS) fashion show, I was in love. Where all of the other designers showcased their garments with boom-boom-boom music, Dark Garden segment was shown within the melodies of a string quartet and models that projected as much charisma and personality as the beautiful, sexy creations they were wearing. I was blown away, and short conversation with one of the models after the show convinced me that these corsets are as comfortable as they are sexy. No wonder the female models look so…womanly irresistible.
So when one of the Dark Garden models from FOTS show, Laura Hidrobo let me know that she's organizing a Dark Garden photoshoot on Saturday, November 3, of course I wanted to stop by and see!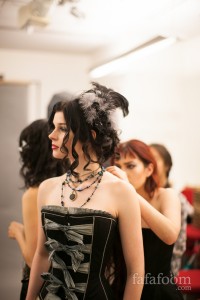 Held at Pigment Cosmetics San Francisco (1 Market St. #140), the preparation for the indoor portion of the shoot was still in full swing when we arrived around 1pm. Dealing with intricate garments, accessories, as well as hair styles and makeup took a great deal of time of preparation. Only one model, Rey, had her turn. The other six were in various states of hair, make-up, and outfit preparations.
Hailey (pictured right), Anuka, and Rita had final touch-ups of corset tightening and accessorizing, Anastasia was having her hair done, Victoria just got her make-up started, and Laura greeted me with a HUGE smile while she had her hair done.
When asked what the shoot was for, Laura said the goal was to portray that anyone of any diversity, height, and size can wear sophisticated and elegant clothes in every-day lives.
"But also, I'm just really happy I get to work with amazing people for this amazing photoshoot," she beamed.
It's clear to see that she loved working with the entire photoshoot crew, that is listed below: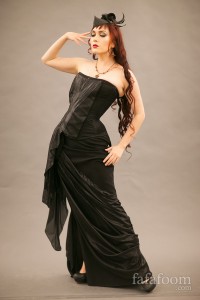 DESIGNER:
Autumn Adamme of Dark Garden Boutique
Autumn was not present that day, but her creations speak volumes of her passion and skills. She started Dark Garden in 1989 and is a self-taught corsetiere (imagine that). To this day, her passion and continuous learning gather like-minded artists – including Victoria Dagger (pictured left) – who aim to make comfortable modern corsets (as opposed to 19th century corsets) for all women. Corsets to help women bring out women's natural beauty and personality during not only for their weddings and special days, but any day "they choose to make special".
Speaking of wearing corsets to be beautiful on a special day of your choosing, currently Dark Garden has an active Kickstarter project "Corset Boudoir Photography Booth 2012" to fund The Great Dickens Christmas Fair. Please support Dark Garden (and perhaps get yourself a sensual photoshoot experience!). It's wrapping up soon, so please get your support heard!
Autumn's Dark Garden Boutique at Hayes Valley (321 Linden St.) is "the only corset and wedding gown makers in North America where a person can walk into the retail shop and be measured and fitted for a custom corset or custom gown by the very people that will be creating the garment." Frankly, I'm not surprised that celebrities like Christina Aguilera, Kelly Osbourne, Pamela Anderson, Marilyn Manson and the incomparable Dita Von Teese.
PHOTOSHOOT COORDINATOR:
Laura Hidrobo
MODELS (and their origin):
Laura Hidrobo (Colombia and Ecuador)
Hailey Johnson (Los Angeles, CA)
Rita Wilson ( Ivory Coast)
Anuka Mendbayar (Mongolia)
Anastasia Gorbunova (Russia)
Rey Estrada (El Salvador)
Victoria Dagger (Mexico and Carmel, CA)
STYLISTS and DRESSERS:
1) Autumn Adamme
2) Marianne Faulkner
3) Johanna Walden
4) Nicole Bonifacio
MAKEUP and HAIR:
1) James Torrez (Hair Stylist)
2) Kat Sarabia (MUA)
3) Johanna Walden (MUA)
4) Erica Brown (Hair Stylist)
PHOTOGRAPHERS:
Herm Pugay
Kathryn Demarest
"Photoshoots like this, at least 60% is the preparation," the photographer Herm Pugay said, smiling and patiently waiting.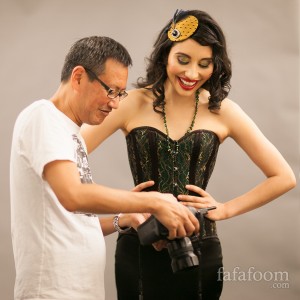 Fortunately he did not have to wait too long as Rita started to make her way in front of the backdrop. After that, Anuka followed, and slowly but surely, all of them took turns in front of the camera. That's Laura with Herm pictured on the left.
Close to 4pm, they made their way out near the Ferry building to commence the outdoor portion of the photoshoot, this time Kathryn taking charge. It did not last that long as they had to wrap up by 5pm.
Not that it changed their cheerful mood whatsoever; everybody was really having a good time relaxing and relishing their time together that day, even if they had been committing their time since 8:30am. An amazing photoshoot with amazing people, indeed.
You can see what Chris took for the Behind the Scenes of this Dark Garden photoshoot by clicking the image below once to see the whole album. 
Thank you once again to Laura for inviting us, and good luck Autumn Adamme for her Dark Garden Kickstarter project. I'm looking forward to stop by her Hayes Valley boutique soon!
Until next time,
Musank