Over the years I've been living in San Francisco Bay Area, I have heard about the marvelous, whimsical, beautiful extravaganza that is Edwardian Ball. It is "an elegant and whimsical extravaganza of costumery, carnival, music, acrobatics, ballroom dancing and fashion; an outrageous celebration of an unforgettable era while honoring Edward Gorey, the prolific master of ominous storytelling." Well, after missing the this fascinating commotion for many years, it seems 2014 will be the year I get a taste of what it is all about.
I'm really looking forward to this event. It seems that this newbie guide to Edwardian Ball will come in handy for me, especially since I'm most likely going to be underdressed for this event =D But we're sure to be taking pictures of the beautiful creatures walking around and about. And how can I not be excited when I read this on Edwardian Ball 2014's Press Release?

Step into a uniquely immersive world, where turn-of-the-century meets world-to-be in a fantastic blend of performance and audience, of sights, sounds, and magic. One can expect an irreverently elegant blend of theatre, circus, live music, DJs, ballroom dancing, parlour games, steam machinery, aerial performances, obscure props, period technology, games, fashion shows and a Vendor Bazaar & Piano Saloon. All in attendance are invited to return to a time of well-dressed gentility by creating characters and costumes for the occasion – instilling a madhouse slapdashery of costumery by nearly every single attendee.

Paradox Media and Vau de Vire presents the 14th Annual Edwardian Ball & World's Faire. It will be held at San Francisco's Regency Ballroom on Friday & Saturday on January 17th – 18th, 2014 (door and show open at 8pm). Living in LA instead? How lucky! The Edwardian Ball will also be held in Los Angeles in February.
Edwardian Ball & World's Faire 2014 San Francisco Events:
What: The 14th Annual Edwardian Ball & World's Faire
When: Friday & Saturday, January 17 & 18, 2014 – Doors and Show at 8:00pm – All Ages Welcome
Where: The Regency Ballroom – 1300 Van Ness, San Francisco, CA 94109; Phone (415) 673-5716.
Get Your Tickets: Click here for Friday tickets* – $40 GA, $80 VIP
Click here for Saturday tickets* – $50 GA, $95 VIP
*All prices increase $5 at the door
Purchase 2-day discount GA for $80, advance only here.
Check the Edwardian Ball website for Ticket Outlets.
Purchase Vendor Bazaar tickets – $5 Saturday, January 19th from noon to 5pm. Free both nights with admission.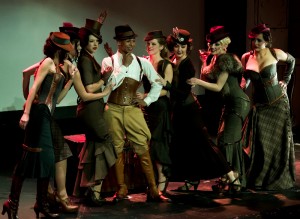 This year, Edwardian Ball founders Rosin Coven and co-hosts Vau de Vire Society features an Edward Gorey story The Curious Sofa, which the co-producer Justin Katz describes it as "the ultimate in pornographic joy, combining naughtiness to the limit of the imagination and laughter to the point of breathlessness." It's where literary fans are as welcome as Goth clubgoers and where the high-flying trapeze and steam-powered machines create the backdrop for elegantly dressed ballgoers waltzing their way from absinthe to the dance floor.
I will be going to the Friday night event, The Edwardian World's Faire. It's promised to be a little more rambunctious than the Saturday night Ball; the Faire presents an authentic tea parlor and an interactive night of Barbary-themed Midway Games, bicycle-powered carnival rides by Cyclecide, an exposition of steam-powered machinery by Kinetic Steam Works, circus sideshows, burlesque, and longtime Edwardian disc jockey Delachaux and Vau de Vire Society.
San Francisco and Los Angeles on Saturday night is The Edwardian Ball. Friday's rides and games are cleared away, making way for Ballroom Dancing followed by performances by Dark Garden Corsetry, "Belle of the Ball" Jill Tracy, DJs Miz Margo and Delachaux. You can capture a moment of history in the antique portrait studio, sip an absinthe cocktail, and dance the night away. Later in the night, Rosin Coven and Vau de Vire Society will perform the 'not-to-miss' theatrical interpretation of an Edward Gorey story.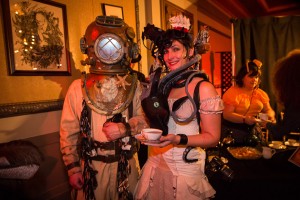 Both nights in San Francisco attendees can visit the widely acclaimed "Museum of Wonders – an Edwardian Odditorium" located in the opulent Regency Lodge (see a panoramic view at http://bit.ly/360lodge). Be transported in a nostalgic turn-of-the-century elevator with costumed operator and enter an entire floor dedicated to natural wonders, unusual and peculiar artifacts, a living human statue garden, fortune tellers and sideshows, along with haunted mysteries and curiosities. These are all to be discovered through self-guided tours from 8-11pm, while being serenaded by a haunting soundtrack from an authentic 1900's pipe organ. Guests can also enjoy a special cocktail concoction from the St. George Spirits Absinth Bar.
In San Francisco at the extensive Vendor Bazaar located on the lower level each night ($5 on Saturday from noon to 5 p.m.), attendees can browse and/or purchase authentic fashion, costumes, accessories, jewelry and plenty of relevant, rare oddities. The Vendor Bazaar will also feature fashion shows, strolling performers and a hosted Edwardian Gaming Parlour.
Edwardian Ball 2014's Los Angeles Event: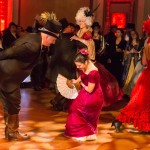 It's returning to Hollywood's beautiful Fonda Theatre for a night of music, dance, theatrics, circus arts, ballroom dancing, midway gaming, mischief, and, of course, the art and stories of Edward Gorey! Also featuring Dark Garden Corsetry, DJs Delachaux and Xian (LADEAD), an absinthe bar, portrait booth, rooftop garden and dancing, the Vendor Bazaar and much more!
What: The Edwardian Ball presents Edward Gorey's "The Curious Sofa"
When: Saturday, February 8, 2014 – Doors and Show at 8:00pm – All Ages Welcome
Where: The Fonda Theatre – 6126 Hollywood Boulevard, Los Angeles, CA 90028
(323) 464-0808
Get Your Tickets: http://www.ticketfly.com/purchase/event/372385
GA Tickets: $45 – Includes main floor and rooftop Carnival, limited seating on a first-come, first-served basis.
VIP Tickets: $75 – Includes all GA access plus admission to seated balcony with cocktail service and prime view of stage.
VIP Private Booth: $380 for 4 people, $575 for 6 people on Balcony or Main Floor – Includes private booth with table service, great visibility of stage and dance floor. One ticket is good for entire booth – best seats in the house!
[hr]
So, are you coming? If you're still unsure, go enjoy Edwardian Ball & Word's Faire 2013 video by Mark Day below. Hopefully it will help you make up your mind ;)
Hope to see you there! Until next time,
Musank
All photos are courtesy of Edwardian Ball.