Finally, the wait is over. The first ever United States branch of h. Naoto store opens in San Francisco's New People building (2nd floor), Japantown! On October 8, h. Naoto fans are treated to personal styling session by Naoto Hirooka himself, as well as a having their picture taken with the designer when they purchase h. Naoto merchandise at the new store.
Seeing Naoto-san on the sales floor, explaining and selling his garments to the prospect buyers and fans alike was such an incredible moment for me. If you look at the picture on the right, you'll see that h. Naoto is there at the far left side, selling. It's amazing.
I've been a h. Naoto fan since the first time I saw his fashion show back in August, but seeing him very actively involved in his first US branch store opening in San Francisco reminds me why I became a fan in the first place. I could not help but admire this very talented yet humble designer.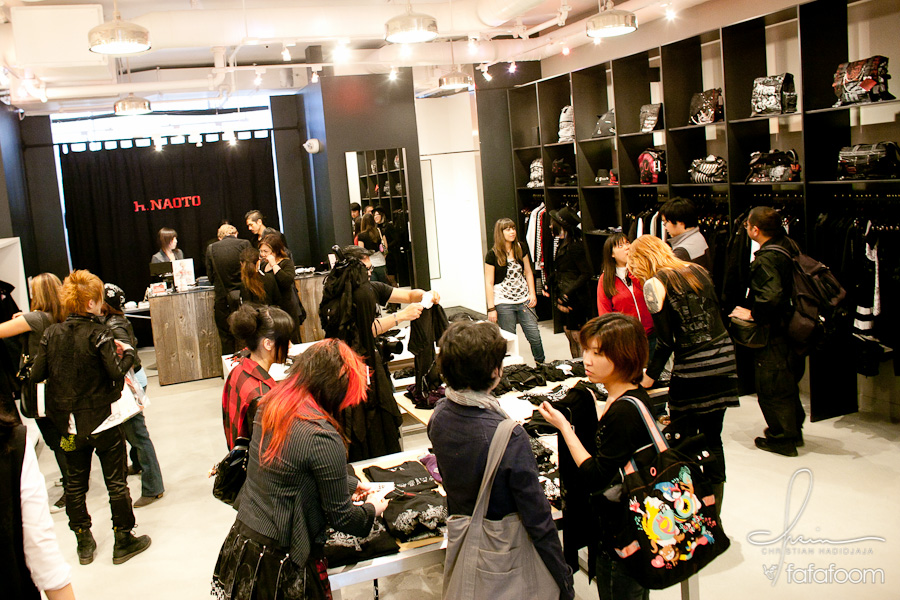 The store was filled with h. Naoto fans who (obviously) look forward to get their hands on h. Naoto merchandise (plus, who turns down the opportunity to meet and take picture with Naoto-san himself? Hell-o!), and the selection, while limited, are quite remarkable and appealing. The T-shirts are easy picks, but Mai (the store manager) proves to be quite a charming sales person as she cheerfully model one of the cutest (and totally easy to pair with anything, in my opinion) skirts I've ever seen in a while. Cynthia from StyleWylde.com (whom I delightfully bumped into) and I basically wanted that skirt :) See pictures below.
Not to be outdone, Naoto-san also appeared very happy and passionate (albeit a bit tired) about people who came to his store. Helping customers pick garments for a complete outfit, choose T-shirts, or give opinion when people try on h. Naoto pieces, nothing is off the limit for Naoto-san. And that smile of his didn't hurt sales, of course :)

If one chose to go upstairs to New People's 3rd floor during the store hours, they would be greeted with an exhibition of garments that resulted from h. Naoto collaborations with Japan's biggest artists such as Gackt, Hangry & Angry (based on h. Naoto's cats), and also Amy Lee from Evanescence. The catalogs, fabric sketches, and marketing materials were also a marvel to look at. See pictures below for the glimpse of the gallery:
By 6 PM, the store is closed, but the celebration continued as fans and guests were treated with VIP party at the 3rd floor gallery. Food and drinks were served, and the store's staff (including Naoto-san, of course), Kincs USA's CEO Takeshi Kunitomo (pictured below) and Vice President Masahito Suzuki (thank you for inviting me to this wonderful event!) were all present to celebrate.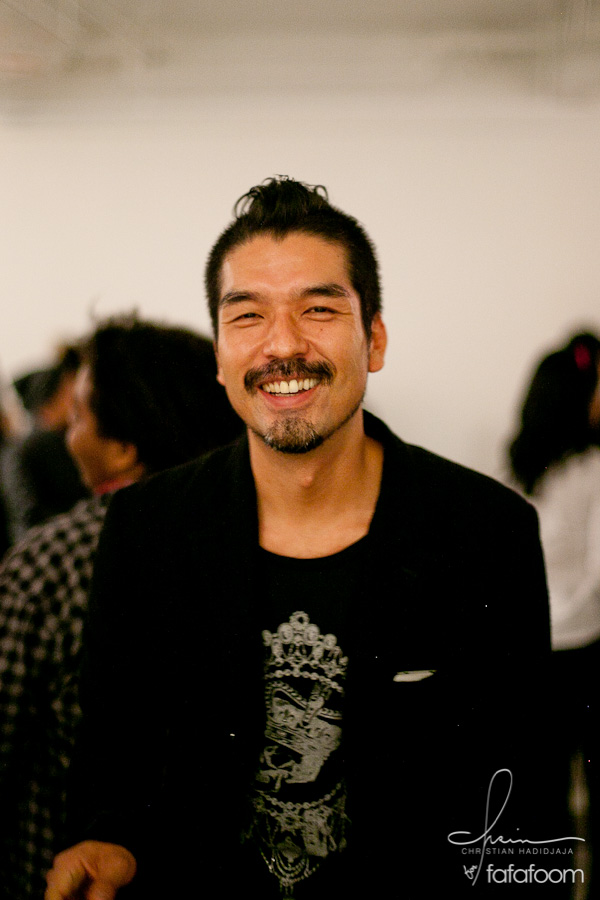 It was during this time that I managed to have a little casual interview with Naoto-san. From our brief conversation, he really expressed his happiness in seeing the fans' reaction to his first US store opening. "It was beyond anything I expected," he said. When asked about further store expansion plan and where he sees h. Naoto brand 10 years from now, he said that he wants to open stores in Los Angeles, New York, as well as Brazil and Germany; within 10 years he sees the brand growing into many more stores around the world, surrounded by supportive, warm fans that treasure the brand as they are now.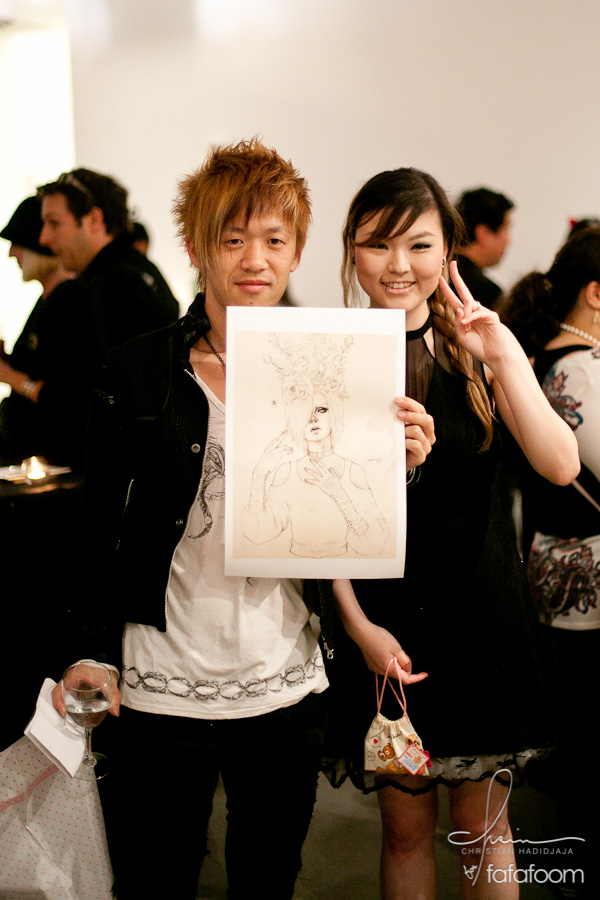 He expressed his happiness, once again, during his speech that night. It was a blessing to have a 10-year anniversary for h. Naoto that meets Japanese culture and fashion. "It was a dream come true," he said. Now that he has a branch store in San Francisco, he's looking forward to know his fans more every day, grow h. Naoto brand and its creative process together with his fans.
As a closing thought, I'm looking forward to see how h. Naoto brand grow into the next decade. Currently, the brand relies on word-of-mouth, social media, and magazines to spread the word. It will be interesting to see how punk/goth/lolita brands such as h. Naoto can influence the US mainstream fashion, little by little. As a starter, I know I'll be returning to h. Naoto store soon to get some badass skirt or top and wear it to my daily office life. Just you watch :)
Congratulations again for Naoto Hirooka! Kanpai!
Musank