There's going to be a "Cyberpop Overload!" waiting to happen this weekend at Japantown, which is going to celebrate the 4th Annual Weekend-Long Event Celebrating Japanese Fashion, Film, Music, Anime, Technology and Pop Culture. That's right, the J-Pop Summit Festival 2012 is here!
Organized by NEW PEOPLE in association with the Japantown Merchant Association, there are a great deal of (mostly) free events to enjoy this weekend. The complete schedule of events are available at J-Pop.com, but I will highlight the can't-miss attractions below :) And did I mention over-21 crowd can also enjoy "Takara Can Chu-Hi JPOP", a new Tokyo-Style sparkling sho-chu cocktail from Takara Sake USA (available in white peach and grapefruit)? On with the J-Pop Summit Festival 2012 highlights!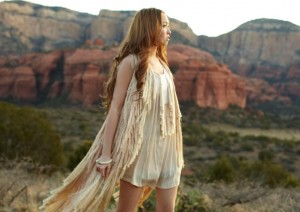 For J-Pop music lovers, there are tremendous array of rock and pop sets that will also take place on the main stage of Japantown's spacious Peace Plaza with live sets from Kylee (pictured left; she will perform on Sunday), The Akabane Vulgars, All Ages, Capital, and the Bay Area Girls. Moreover, the "Cyberpop Overload" theme will feature a dynamic array of video game-inspired artists and DJs producing danceable sets from Random Encounters, The Glowing Stars, SpacEKrafT, DJ Amaya, DJ REViSE and Vex Mode.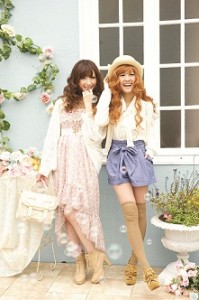 As great as the music offerings are, I'm very psyched about the J-Pop fashion events this year. First, there will be a new Japanese fashion brand in town, and it's Liz Lisa. Already popular in Tokyo shopping district of Shibuya, this is Liz Lisa' first-ever appearance in the US.
Liz Lisa brand is about "a fashion fusion of retro-meets-trendy, infused with a touch of feminine luxury and sensuality to accentuate the wearer's charm and allure", so I anticipate visiting its pop-up boutique inside the NEW PEOPLE retail store. Shoppers that spend at least $50 at the boutique will enjoy free Liz Lisa eyelash makeup on-site by the brand's official girls team that flying all the way from Tokyo to join in the festival.
Moreover, Liz Lisa will also host a rose flower-inspired "Shibuya Girls Fashion Contest," scheduled to take place on Saturday, August 25th at 1:00pm on the Main Pagoda Stage at Peace Plaza. Attendees that feel they that are the best example of a Shibuya Fashionista are invited to participate in the contest and show their style at the J-POP Summit Festival! Go to J-Pop.com for entry information; prizes will include gorgeous Liz Lisa items.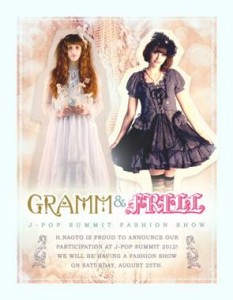 Last year's US newcomer h. Naoto brand will also showcase its latest Autumn and Winter collections from the new FRILL and GRAMM clothing lines. The fashion show will take place on Saturday, August 25th at 3:00pm on the Main Pagoda Stage in Japantown's Peace Plaza. FRILL is the brand's new Lolita-inspired line, while GRAMM is h. Naoto's romantic and more organic, "mori" (meaning forest) girl-inspired brand. I'm really looking forward to this one :)
The world-renowned Lolita fashion brand Baby, The Stars Shine Bright is also a San Francisco J-Pop Summit Festival sweetheart since its first appearance in 2009. The brand invites fans to attend and participate in an Alice In Wonderland-themed fashion contest and show scheduled for Sunday, August 26th at 2:30pm on the Main Pagoda Stage at Peace Plaza (go to J-Pop.com for entry information). Based on 2011's Baby, The Stars Shine Bright competition, make sure you have what it takes to be the champion ;)
If you're not the type to compete but still want to strut your style and get your pictures taken, then make sure to stop by UNIQLO's photo shooting booth UNIQLOOKS, located in the heart of Japantown Peace Plaza. UNIQLOOKS is a fun social and global fashion community to share fashion style featuring UNIQLO clothing worn by individuals around the world; go ahead and show up in your best J-Pop outfit and UNIQLOOK's professional styling team will take a great picture in coordination with UNICLO clothing on site.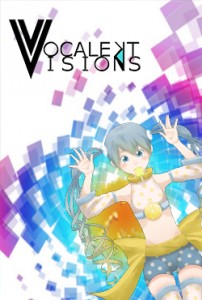 After fashion, there's Vocalekt Visions' holographic concert and Evangelion movie night. These events will be held at the NEW PEOPLE Cinema, and tickets are required. On Saturday, Vocalekt Visions will present a special Vocaloid holographic live event, featuring virtual pop star Hatsune Miku. Vocalekt Visions is a unique concert troupe, which composes music using Vocaloid software and presents it as a "concert" using a unique HD projection system and special screen to give a smooth, life-like holographic appearance to Vocaloid singers, as they would normally appear on stage. Also complementing the Vocalekt Visions concert with a live on-stage performance will be distinguished Vocaloid dancers from the Bay Area. Two shows will be held, inside the NEW PEOPLE Cinema on Saturday, August 25th, at 7:30pm and at 9:00pm; tickets are $15.00. Advance tickets and more information are available here.
Last but not least, anime fans will undoubtedly recognize Evangelion. The J-Pop Summit Festival 2012 is proud to present the U.S. premiere of the EVANGELION POP-UP MUSEUM, a very special, time-limited exhibit, to be staged inside New People's 3rd Floor SUPERFROG Gallery for the duration of the Festival. General admission to The EVANGELION POP-UP MUSEUM is $5 with re-entry stamp. The EVANGELION POP-UP MUSEUM will offer an extensive collection of original concept and production art, character drawings and other key artifacts from the famed Evangelion:1.0 You Are (Not) Alone. and Evangelion:2.0 You Can (Not) Advance. film series. Both of these feature films will be also screened in the NEW PEOPLE Cinema on Sunday, August 25th. Evangelion: 1.11 will play at 5:15pm; Evangelion: 2.22 will screen at 7:30pm. There's also "Real Escape Game x Evangelion: Escape from an Angel" game sessions throughout the weekend.
Free EvaNavi SF App Download!

If you can't live without Evangelion and want to explore San Francisco with an audio guide powered by the voice of Mari Makinami Illustrious (voiced in English by actress Trina Nishimura) of the famed "Evangelion:2.0: You Can (Not) Advance" anime movie, then you have to download this
FREE EvaNavi SF app
.
Overloaded with information already? I am as well, but I can hardly wait for J-Pop Summit Festival this weekend. It's going to be so amazing and jam-packed with actions; I'm looking forward to write another J-Pop Summit Festival reflection piece. However, in case you're overwhelmed, check out what other events are happening this weekend:
Too much?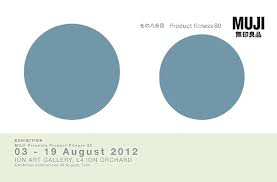 So you love Japanese culture but thinks J-Pop Summit Festival is too much to handle. Then how about MUJI's Product Fitness 80 Exhibition? It's happening at SOMArt, 934 Brannan St. from Saturday, August 24 to Thursday, August 30. Much more low-key than the festival, humble, and thoughtful.
This Saturday, there will be special presentations from Kate Stohr and Fumiko Docker at 2pm (free admission); the rest of the MUJI exhibition events are detailed here. There's also going to be a Talk Show & Live Concert on Thursday, August 30.
Not enough?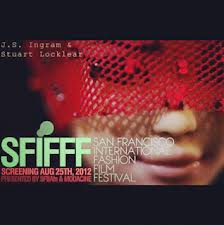 Enjoying J-Pop Summit Festival's fashionable offerings, but want to keep celebrating San Francisco fashion? Well, you're in luck because there's a happening nearby! On Saturday, August 24, SFBAfn and Modacine presents San Francisco International Fashion Film Festival (SFIFFF) at West Bay Conference Center, 1290 Fillmore St. The site's program details the SFIFFF event, including a special presentation from Gail Shrive and Joseph Domingo. You can purchase your SFIFFF ticket(s) here.
If you're coming to J-Pop Summit Festival this weekend, I hope you enjoy your time (I know I will; I already have my outfits figured out — a rare feat for Tuesday night). Regardless, whatever you choose to do this weekend, I hope you have fun.
Thanks for reading and take care,
Musank