Words cannot explain how happy I am that MUJI San Francisco is finally here. The store, that is located just across the Nordstrom Rack / Trader Joe's shopping block had a store opening party on a rainy Friday morning, November 30, 2012.
The first MUJI store on the West Coast (others are located in New York) offers approximately 1,700 household items and 300 apparel items in roughly 7,250 square feet of retail floor space. The 1st floor's front-of-store area are filled with womenswear and menswear that gradually gives way to accessories and stationeries at the back. The 2nd floor has kitchen, bedding, and furniture items. I was immediately smitten with the 2nd floor layout when I first arrived; preferring to admire the tastefully done minimal design of an open space with a bed, low benches, plastic room dividers that consist of shelves, box shelves, and bedding items.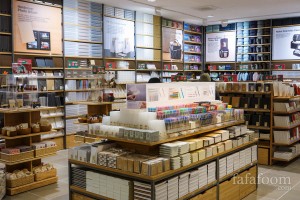 Despite repeated attempts of explaining what MUJI is (heck, the wall behind the register on the 1st floor provides the "What is MUJI?" the-more-you-know display text), there is bound to be people who don't get it. Afterall, MUJI is more than good design with cheap price (IKEA for furniture, fellow-Japan-brand Uniqlo for apparel), yet it's not really about luxury either. The streamlined mentality of "This will do." modest living system (instead of "This is what I want.") can be counterintuitive for some people. Not everyone will go for minimalist design that is seemingly devoid of personalization or brand identity most people can immediately relate themselves to.
But for those who'd like to understand more about MUJI and its philosophy, this 2005 article from The Observer by Fiona Rattray will help. For a deeper reading, the president Hiroyoshi Azami personally recommended this 2001 article from William Gibson (also on The Observer) when he did a short speech during the opening day. You'll see that even collaboration with the best people in design and fashion are done in such low-key manner. MUJI believes that people will know and appreciate good design, brand names notwithstanding. In the world where brands fight for attention, it's really refreshing to have MUJI around. Inside the store, I can focus merely on the products and how easily I can find MUJI items for my home.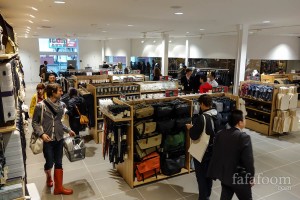 So far, the early standouts for the customers are stationery, storage units (the acrylic drawers are amazing), trash bins, and umbrellas. The apparel items are moving albeit in slower pace, so it remains to be seen whether MUJI San Francisco will adjust its apparel display and stock as it gets older.
Me? Since November 30, I had been in the store twice and spent quite a lot. But unlike some of my previous purchases, I have actively been using 90% of the things I bought from MUJI. That's money well spent, in my opinion.
Below are some pictures I took during the MUJI San Francisco store opening. Click the image below once to bring up the whole album. I hope you enjoy the pictures and can glimpse more to what MUJI is about.
I know I'll be going back soon, I have to finish my holiday shopping :)
Do you MUJI?
Until next time,
Musank