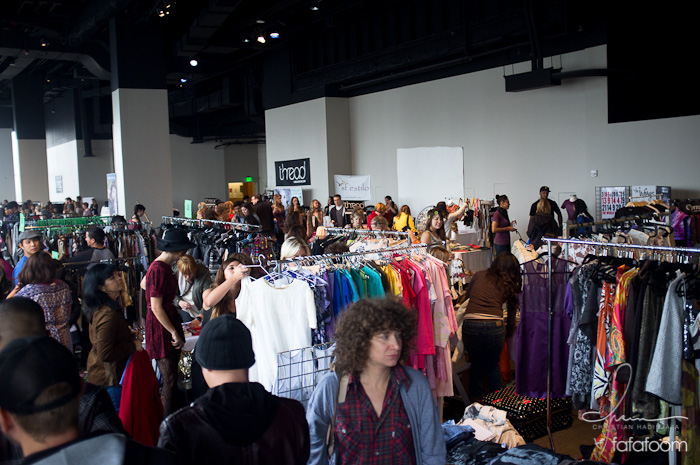 After a year of wanting-but-failing to go to San Francisco Thread Show at Metreon, Downtown SF, finally I found one Sunday where my time was open. It's quite a coincidence because a good friend of mine was reminding me about it about a week before and wanting to know whether I'd accompany her into this shopping event :) But thanks to her, I finally got to experience this one of the most well-organized, professionally done, and great shopping experiences that San Francisco has to offer. Local and emerging designers, craftsmen, hair and makeup stylists, food vendors, DJ, an others gathered in the 4th floor of Metreon Shopping Center to show what they got and helped shoppers to find what they need.
Everybody I stopped by to chat with were very nice and welcoming. The merchandises were great, but what warmed me the most was the laid-back, friendly way each vendor was interacting with the shoppers. It just completed the whole experience, no matter if you went out with one shopping bag, several ones, or none. It's just great to be there.
That being said, I have several favorites that I'd like to get a shout-out to: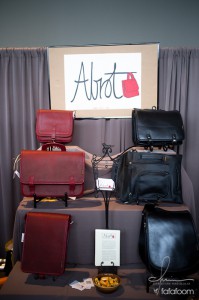 1. Abrot
My photographer Christian always has an eye for great bags (women's and men's alike). So when he suddenly disappeared from my side and was quickly found at Abrot's booth, I immediately looked over at their bags and boy, they didn't disappoint.
We were immediately drawn to the black leather messenger bag (pictured left, top right corner) that has the utilitarian appeal as a cute mini briefcase. It falls to the right place on your hip (thank you Anna Kisielinska to model that bag for us!), as well as the bright fresh-leaf-in-the-spring green bag that's as practical as it is stylish (pictured below).
These bags were obviously popular among shoppers, as I saw shoppers and buyers flocked to this booth. Below are some of the handbags that we adore from Abrot :)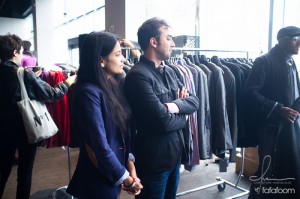 2. MENK
I was delighted to see Mansha Khithani of MENK, just across Abrot's booth. We first saw MENK on Define: Beauty 2011 fashion show, and so it's really nice to see the garments up close, see how shoppers try the jackets on, like them, and buy them.
The jackets have that rustic, artisan feel paired with good construction. On the hangers, they look bulky on the top half, but that's why clothes are meant to be on a person's body. When someone put it on, the jacket molds beautifully to the person's body and the silhouette is very clean. Lovely. I mean, you should get it too!
3. TurosuM San Francisco (Find her on Facebook!)
Pauline Roselada started TurosuM as a mean to help pay for her education, but I think she should consider continuing it even after she's done with her Master's Degree :) Her concept of owning a piece of necklace for which you can wear in 2 – 4 different ways (or maybe more if you just have fun with it). Her pieces range from statement-making to casual elegance, and you can easily dress it up or down based on your personal taste. She also does customization work based on your preferred specifications, and her friendly, bright personality just makes it much more fun to get a TurosuM!
It's a visual feast to see De La Luna's dazzling handmade, one-of-a-kind designs that are applied to purses, handbags, suitcases, wallets, and many others. Vibrant, soulful, and earthy, it takes a certain niche of people who would rock De La Luna Designs. It's too bad that the shoes were not presented that day, but the whole presentation is so powerful that it's nearly impossible to ignore this powerful presence.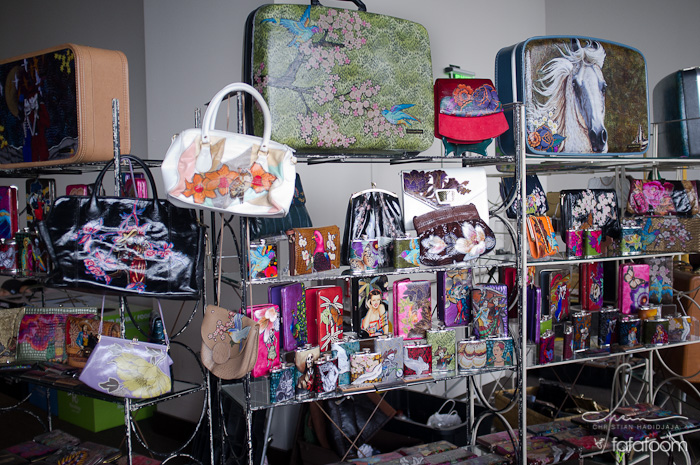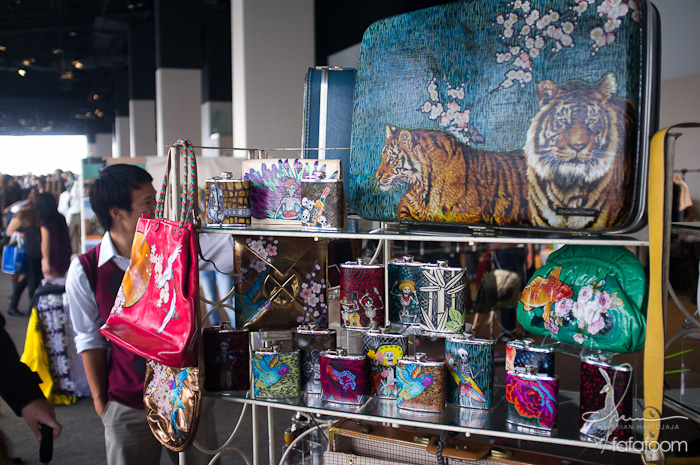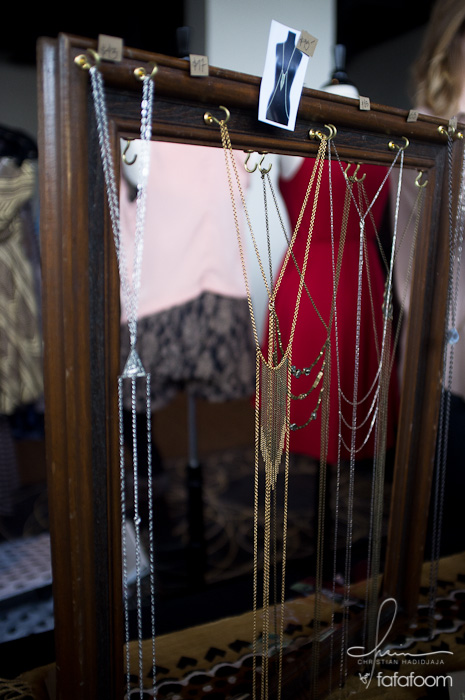 And here are some more honorable mentions from that day:
Banna Leigh – fascinators and mini hats
Linquist Jewelry (some of the pieces are pictured left)
Lola Paige – clothing / apparel
I really enjoyed being in Thread Show that Sunday, despite the gloomy rain going on outside. It's such a fun shopping experience, so if you missed this one, make sure you come to the next one (RSVP beforehand to ensure discounted entry fee). And bring your friends too! I'm sure you will enjoy your time there :)
Thank you for all the amazing vendors, such a pleasure meeting all of you.
Have a great Thanksgiving weekend,
Musank