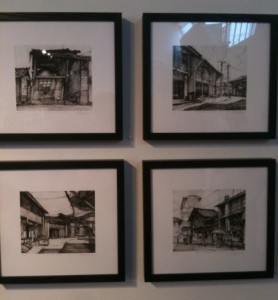 San Francisco art scene is very rich and engaging, and that's why I was very excited when I found out about SF Open Studios from Art Explosion. On the first weekend, it's all about art in Mission, Noe Valley, Bernal Heights, Castro, and Excelsior. I didn't get to visit all of them, but I did wander around Mission and this post is about highlights of my favorites throughout the weekend.
A.Muse Gallery, 614 Alabama St. was my favorite, hands-down. A small but focused gallery featuring works by Ron Henmi (one of his works is pictured above), Sandra Kelch, Barbara Holmes, Donald Fortescue, Carlo Abruzzese, and Gabriel Russo (see his video below). The artists' work were very cohesive and they complement each other in that one focused rectangular space.
My other favorites are:
Carrie Leeb – her 12″x12″ artworks are just very serene and calming. I really enjoy seeing all of her works on the wall. Very zen.
Miranda Caroligne –  Amazing to see her textile salvage reconstruction works in person. Visitors came in to her space, fell in love with her works, tried them on, and bought them on the spot. She's that good. I wish I'm as good as her in my own DIY Projects :)
Kristine Mays – "Breathing life into wire". That's exactly what she does. It's quite remarkable to see in person.
Michael Kerbow – his art makes you think and reflect, and for me that's really important.
Other honorable mentions:
Peggy Gyulai
dk haas
Lila Rosa Studios
Catherine Mackey
Stay artsy, San Francisco,
Musank