This was Unveiled Event's 3rd year holding Unveiled San Francisco (and the first they did it as an afternoon event) and it was my first time coming to such bridal event in the city. On Thursday, May 30 on 5 – 9:30pm, The City View at Metreon was tastefully packed with featured vendors from all aspects of wedding planning; outfits, invitations, catering, reception venue, entertainment, among others. The headline of Unveiled San Francisco 2013 was Vera Wang Spring 2014 Bridal Collection runway show, but the guests were also treated with free advice from Laurie Arons about the 9 wedding planning myths debunked, cake and wine tasting, and gift bags containing goodies from the featured vendors. Pretty exciting, huh?
Weaving around the Unveiled vendor booths, I was reminded once again how big wedding industry is. All kinds of wedding resources were available to brides-to-be to make their day perfect…I could only imagine the mix of beauty, extravagance, intimacy, drama (optional) in weddings of all sizes.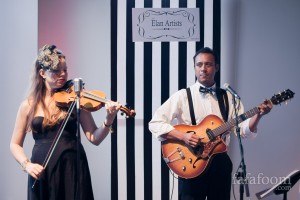 I have to give a special shout-out to the musical duo from Elan Artists (pictured right). They sounded really great and their calming vibes kept the atmosphere and energy classy yet energetic. They also provided soothing prelude to guests who poured over the special section at the back of City View, where the Vera Wang Spring 2014 Collection runway show was held. More on the runway show in a bit.
One of my favorite invitations company Wedding Paper Divas was there, the cute fascinators-wearing babes from The Barber Lounge were there, custom-made men's suit from Astor & Black, great showcase from To Amaze Wedding Photography, venue (and macarons) promotion of The Rotunda at Neiman Marcus, and the very alluring display from Bloomingdales wedding registry.
Since Unveiled San Francisco 2013 event was happening in the middle of Happy Hours period, it's no wonder many people were hungry. As expected, Michi Japanese Restaurant & Catering had a long queue line. The Men's Wearhouse's free HUGE tote bag was also a big hit, as well as Magnolia Photo Booth, which judging from the number of flash lights inside, didn't seem to have much downtime.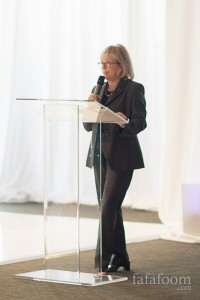 Shortly before the runway show began, Laurie Arons (pictured right) took the stand to go through 9 Wedding Planning Myths debunked. The one I liked the most was the bride and groom should stick with the menu that they love instead of having their guests choose which meat (or vegetarian option) they'd like to have and expect them to remember their choice months later. Laurie Arons have planned over 600 events and have been featured in W, Vogue, and C Weddings, among others.
Then the moment of Vera Wang Spring 2014 Bridal Collection runway show arrived. Once again, I had Chris taking the shots below (thank you Chris!!). The collection is of course very feminine, as expected of Vera Wang. However, they have simple modern flavor with the black and white, laces, and different textures. Bridal fashion at its best! I love all 14 looks….naturally many women in attendance were taking pictures with their phones.
Thank you Unveiled for inviting us to Unveiled San Francisco 2013. Let the summer wedding session begin! If you're a bride-to-be, good luck for all your wedding planning :)
Until next time,
Musank