The concept of "the first interactive bag you can scan with an NFC smartphone to access exclusive services" (taken from Cherry on the bag's Kickstarter page) is intriguing, and I am sure some people will appreciate the unique features this bag has to offer.
The first Cherry on the bag line from this Belgian start-up team offers high-functionality travel and business accessories  with minimal design, made from 100% full-grain calfskin leather. The team partners with Belgian platform SELINKO who specializes in giving objects an identity. Moreover, the line features the following exclusive services (accessible via the NFC chip on each bags):
Bag Identity: you can view authenticity, model, description, owner, production place and date, name of the craftsman, among others.
One-Scan Buy: very convenient if you want to re-order products.
Cherry Club: you can access limited editions and special deals.
Anti-Theft: if the bag is stolen, you can have the bag's certificate to be deactivated. A good samaritan that scans the bag can see a lost bag's information and how to get it back to the owner.
The first three points make a lot of sense to me, but no. 4 seems a little bit off-the-mark. I don't view "deactivating a bag's certificate" to be the in the family of definition for "anti-theft". Let's say I lost my cherry bag and I report it as such on my Cherry app. If the bag's zipper suddenly locks out automatically (i.e.: nobody can open the bag, at least not by opening the zipper), then it can be considered an "anti-theft" tactic. But relying on a good samaritan to find my lost bag and return it to me? I call it more of a "goodwill" feature. Or is this a European v. the United States culture disconnection?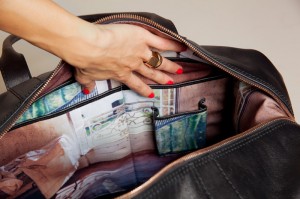 Nevertheless, I think the bags are attractive; it looks sleek and cool, and the fact that you can choose the printed linings from gorgeous photos is an added bonus in my book. Pictured right is an example of printed lining for the women's weekender bag. I love details like that.
On the Cherry on the bag Kickstarter page, you can see the different arrays of bags and wallets for men and women from Cherry on the bag. Will they be distinct enough for you to want crowd fund this project? It's up to you.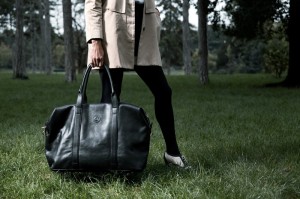 But it's quite alarming that with $70,000 goal to reach, this project has accumulated slightly above $6,000 and 17 days to go. I hope this can project can get the funding the team needs, especially since the overall concept is very intriguing. But I wonder if it's still not getting traction because of the "Anti-theft" feature. Or because Apple iPhone is not in the NFC phones list :)
What do you think? Will you crowd fund this project? And if not, why not?
I hope to hear from some of you. Very curious about how this Kickstarter project will turn out.
Until next time,
Musank