Photos courtesy of ILJA and Ready to Fish via THV PR.
In a very saturated world of fashion, one of the biggest challenge is to be memorable. I think the fashion weeks happening right now can silently speak volumes to that.
About one and a half month ago, I received ILJA lookbooks from THV PR, which just announced that Ms. Visser joined the roster. So when I remember AND raving about most (if not all) of looks from a Dutch designer Ijla Visser's ILJA Couture and absolutely loving the shoes worn on all the looks of Ready to Fish RTW collection, Ms. Visser's works are truly memorable for me.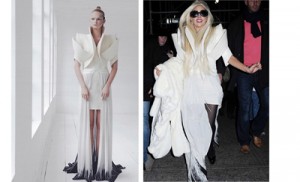 Let's start with ILJA, the couture line, whose Fall/Winter 2013 lookbook I absolutely love. How can I not? The tailoring, pointed shoulders, draping, sculpting, and architectural treatments look feminine, strong, edgy, and do not look heavy-handed at all.
And most importantly, the looks are very "modern art" without going too far that it takes away from the emphasis of the female body. No wonder Lady Gaga (pictured right) is a fan; here she is shown wearing an IJLA Couture white dress from the Fall/Winter 2013 collection.
You can see the stunning ILJA Couture Fall/Winter 2013 lookbook below. Even though the pieces are limited, the craftmanship and tailoring are something to marvel for me :)
Photos courtesy of ILJA via THV PR.
Photos courtesy of ILJA via THV PR.
Ready to Fish is the brand's ready to wear line, which is still very feminine and edgy. I find it interesting that there are not only chic asymmetrical silhouettes, prints, and delicious accents in casual pieces, the line also includes a small selection of furniture and music.
You can see the totally-wearable-I-want-them-now Ready to Fish Spring/Summer 2013 below. Did I mention I LOVE the shoes worn on all the shots? Oh yes, I do.
Photos courtesy of Ready to Fish via THV PR.
Photos courtesy of Ready to Fish via THV PR.
Thank you again to THV PR for scoring such a talented designer. I hope I can see IJLA pieces up close and personal one of these days. I'm so in love.
Until next time,
Musank