Let me just quickly share how versatile a piece of sleeveless blazer can be. I certainly did not expect it, but now I have three long sleeveless blazers that work in heavy-duty rotation every so often since late August.
Of course, this item's hike to popularity has been in public's eye since late spring / early summer this year, but I personally tend to skip the wear-it-as-a-dress route and personalize it more towards late summer / early fall, this awkward in-between season we currently live in :)
I wear variations of all three looks since late August.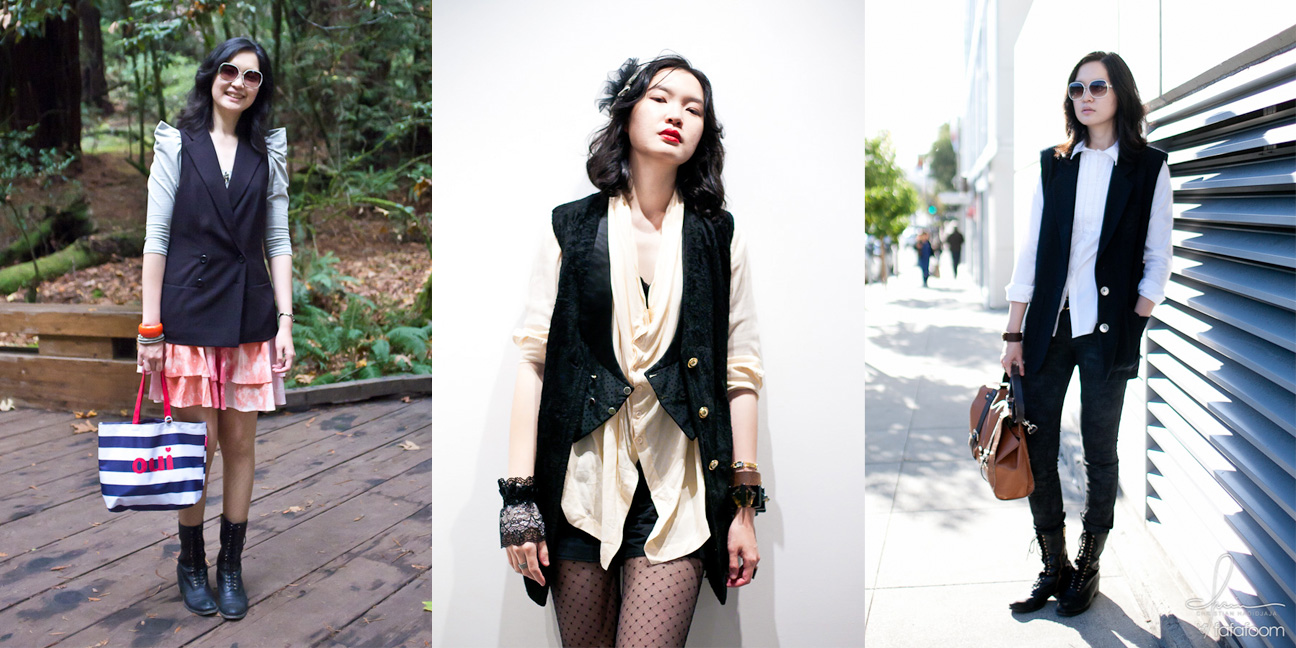 The first one on the left is from ISDA and Co.. A double-breasted item with a fastener at the back for optional adjustment, this was the first sleeveless blazer that I welcomed into my wardrobe. I stumbled into ISDA and Co.'s unassuming store at South Park on accident; but I am so glad I did. Lovely, straight-forward pieces that are comfortable and stylish, it's very easy to find garment pieces that will definitely complete your outfit ideas. For this one, I like wearing it with colorful skirts to give that drop-waist effect. On that occasion, I wore a Urban Outfitter top, Target skirt, and Dolce Vita for Target shoes. The cute bag is a giveaway from one of Japanese fashion magazines I bought at Japantown's Kinokuniya.
When I want to be a bit more "edgy" :), this vintage piece from Moon Zoom came out (pictured center). The black furry texture and gold buttons project that "partying fashionista" feeling, and since I'm a fan of gothic style, it's pretty easy to go there with this sleeveless blazer. Perhaps this is my interpretation of casual avant-garde. ASOS top, a cropped men's vest (also from Moon Zoom), H&M shorts, and ASOS tights.
I love the third one (pictured right) so much because it's just so masculine and straight up-and-down, no fuss. Even when I first took this Made-in-Japan men's blazer out from its rack companions in Seconds To Go (Fillmore St.), I knew this was it. So after paying $16 for this beautiful thing, I started taking apart the sleeves, rearranging the shoulder pads, and sew them shut on the same day.
Thank you ClosetFiend for inspiring me to go to a thrift store, find a great blazer, and then turning it into one of my favorite go-to pieces in this late summer / early fall weather. I'm really thankful for her step-by-step DIY instructions, too. The rest of my outfit is an ASOS white dress shirt, black jeans bought at Berkeley's Jeremy's, and the faithful Dolce Vita for Target boots :)
I guess it goes without further saying that I love all of my long sleeveless blazers. I certainly didn't expect their versatility, but given their low cost (none of them cost more than $25 when I purchased them) and high reward, consider me smitten.
I hope you also have a piece in your wardrobe you can always count on,
Musank