Ever since we first learnt about Sou Sou during J-Pop Summit Festival 2011's Sou Sou presentation by Takeshi Wakabayashi, both Chris and I have fallen in love with the brand. We adore the simple design aesthetics wrapped around the colorful jikatabi shoes, the scarves, and clothes. We're really lucky that Sou Sou's only US retail store is located in San Francisco's Japantown, at 2nd floor of NEW PEOPLE, 1746 Post St. San Francisco, CA 94115. Even when we visited Japan last year, we made sure to stop by Sou Sou Kyoto stores. So yeah, we're pretty big fans :)
A week before the Cherry Blossom Festival at San Francisco Japantown, Sou Sou SF Manager Chinatsu Komori was really kind to set aside some of her busy time to chat with us. We had great insights about the almost 11-year-old brand, how Chinatsu-san became the SF store manager, the brand's reception in the US, the Spring/Summer products, as well as its upcoming promotion for Cherry Blossom Festival!
How Chinatsu-san became Sou Sou San Francisco store manager
Chinatsu-san found out about Sou Sou when she was traveling to Kyoto back in 2009. She likes the brand due to its offering of modern kimono design. The brand stands out even when there are other Japanese brands that attempt to resurrect kimono culture. Its differentiation factors are obvious: the pop, modern textile design, minimal cut on the garment, the feel of Scandinavian design, and the non-typical Japanese motifs.
So when NEW PEOPLE first opened, Chinatsu-san became the assistant manager for Sou Sou SF pop-up store. It was supposed to exist for 3 months. However, since the NEW PEOPLE CEO Seiji Horibuchi is a HUGE fan of Sou Sou (he's frequently seen wearing head-to-toe Sou Sou outfits), the pop-up store became a permanent fixture. While Sou Sou perhaps won't become an explosive brand in the US, there's a clear potential of receiving frequent customers. Now, Chinatsu-san is the San Francisco Store Manager!
Reception of Sou Sou San Francisco Store
Chinatsu-san shared that the Sou Sou SF store struggled during its first two years of store opening. The first two months brought customers who are curious about jikatabi shoes; the black "ninja" shoes became really popular. Alas, these were one-time customers.
In the beginning, the store only sell shoes and socks; clothing was deemed too avant-garde for US taste. The target audience was not clear and several collaborations with a hip-hop dancer and a graffiti artist for Sou Sou design collaboration didn't work as well as expected.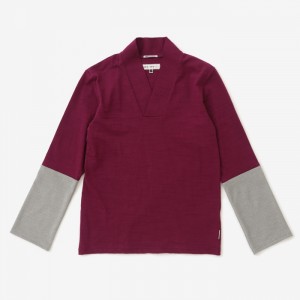 It started to change when the store started to sell clothing, out of curiosity. One of the first clothing style was the unisex V-neck long sleeve shirt with contrasting sleeves (pictured right). The sales started to pick up.
After tops, the scarves and bags followed suit as product offerings. In turn, Sou Sou customers also began to understand the whole Sou Sou lifestyle brand. Shoes alone don't explain the whole brand; the different product types are needed to explain what Sou Sou brand is all about.
Today's Sou Sou San Francisco customers are mostly women age 30 and above; there are not that many male customers. There are die-hard loyal male customers, but most men still sees Sou Sou clothing as special occasion outfits or costumes. Most of the store's sales come from clothing, however it's worth noting that the best-selling shoes are still the black split-toe jikatabi shoes (equally popular among men and women).
Interestingly enough, customers usually find out about the San Francisco store from social media (Facebook page, Sou Sou US online store, Pinterest, Instagram). People don't usually go up to 2nd floor of NEW PEOPLE and stumble upon the physical store by itself. So make sure to check out Sou Sou on the 2nd floor whenever you're in NEW PEOPLE, will you?
Sou Sou Products Available in NEW PEOPLE and What's Coming Soon for Spring/Summer 2014
Nowadays, women's and men's clothing (tops, bottoms, dresses), shoes, slippers, socks, scarves, bags, and ise cotton handkerchiefs are available at Sou Sou San Francisco store. Sou Sou notebooks and postcards are also among new items available.
The number of Sou Sou items produced depend on how many items are reserved for each Sou Sou stores (to avoid overproduction of any given items). However, items handmade by Tabata Kazuki, the shibori tie dye artist in Kyoto, are only available in VERY limited quantity. Typically, she only made 5 for each designs. When it's gone, it's gone!
In Japan, new Sou Sou products come every week, so there are new items to be found in Sou Sou stores almost every day. This is great for the Japan stores, but perhaps not so great for Sou Sou San Francisco store. Because there are lots of limited quantity, sometimes it makes it hard for Chinatsu-san to reserved things from Japan before they already run out! Nevertheless, new items come every 2 weeks on average in the San Francisco Japantown store.
For Spring and Summer 2014, exciting items like the kisaragi linen tie-dye ponchos from Tabata Kazuki are readily available, as are the wide hironari monpe pants and the kimono sleeve tops in light wool and cotton. More are coming next month, such as the kimono sleeve dresses, new shoes and straw sandals, as well as new designs for men's V-neck long sleeve shirt and shorts.
Sou Sou Promotion for the upcoming Cherry Blossom Festival (April 12-13, 19-20) at Japantown
If you happen to be at Japantown on April 11 – 15, don't forget to stop by at Sou Sou store at the 2nd floor of NEW PEOPLE. You will get a set of postcards for Sou Sou purchases over $50.
These postcard designs are very special. Katsuji Wakisaka, who does all textile design for Sou Sou, has a ritual every day that includes drawing a postcard that he later mails to his wife. Yes, every day…amazing, right? From these postcards, Wakabayashi-san (Sou Sou producer who came to San Francisco during J-Pop Summit Festival 2011) later picks the ones that will be transformed to Sou Sou patterns. So I get really excited about these postcards when I think that the 70-year old Katsuji Wakisaka, who used to work for Marimekko back in the 60s are making these postcards every day, and that I get to own a postcard set replica of his design. Wow.
Closing Remarks
There's a long-term growth opportunity for Sou Sou in the United States. Chinatsu-san said that Sou Sou is here to stay and hopefully it will have its own US flagship store someday, even though that plan is still very far away down the road. I hope the flagship store is going to be in San Francisco (fingers crossed) when it happens.
I asked Chinatsu-san what she wants to see from Sou Sou brand. She responded that she already saw what she wanted to see for Sou Sou. Kimono is hard to wear in Japan. It's high-end and very expensive. The younger generation only wears kimono for formal occasions twice a year. Sou Sou is able to reintroduce kimono culture in much more casual way.
And if I may add, it's great that the kimono culture reintroduction have found fans outside of Japan as well! That's why following the interview, Chris and I went shopping =D
Thank you again Chinatsu-san for her time. We love Sou Sou and hope it will stay in San Francisco for a long, long time!
Thank you for reading, until next time,
Musank