It's a commonly shared hobby among Bay Area residents to come down to San Francisco during the weekend. And yes, strolling down San Francisco almost every weekend always brings out another layer of the city's richness; something that I will never get bored on.
So very quickly, this weekend we went past the usual tourist stops of Market and Powell and revisit Maiden Lane. Three things stood out: Harputs OWN store (Gus is a man with serious skills; he's clearly passionate in showing the 3-4-5 different ways of wearing his garment, and his dogs are just too cute!), Downtown (sister store to Archive, it really feels like you're in a really cool gallery of fashion. The 30+ designers whose collections fill up the huge store space are clearly marked, long with short descriptions for each collection — by the way, check out their blog too!), and artist Arlene Diehl (who made her gorgeously simple charcoal-on-paper drawing of human bodies in 5 – 20 minutes for each sketch — do check her out during 2011 SF Open Studios, October 8 & 9 at 470 Frederick Street near Stanyan, will you? ).
And yes, that's me (pictured below) strolling down Maiden Lane with my new finds from Uniqlo (striped shirt), United Colors of Benetton (coat), Target jeggings, A.P.C. shoes, and ASOS messenger bag. A true model, don't you think? (Yeah, right :))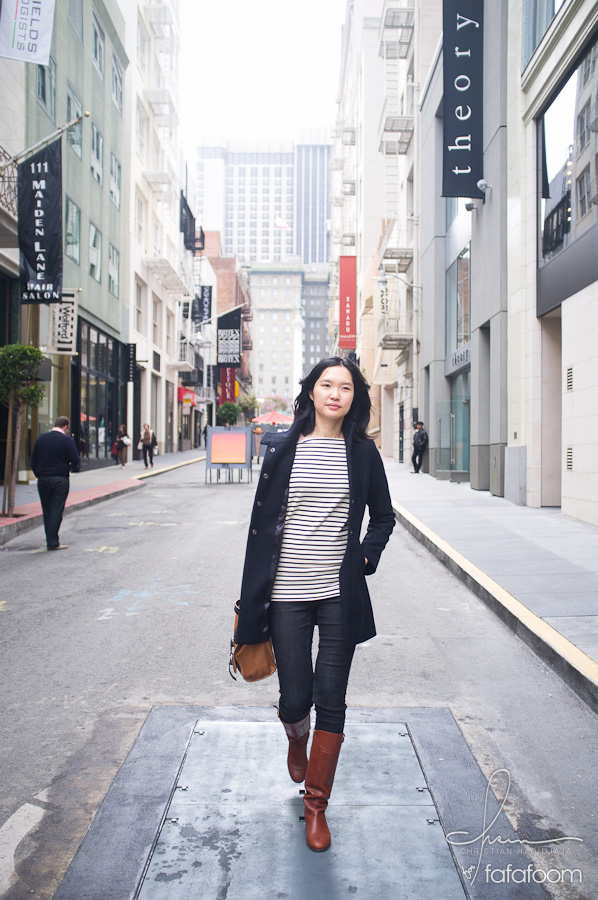 And on Sunday, we also covered Tuan Tran's casting call for his premiere fashion show on November 26. So that's coming up soon!
Have a great fresh week,
Musank