This post isn't the usual fashion show review or highlights. Instead, I want to share my thoughts regarding my 9/11 weekend trip almost two weeks ago. A trip that started out as an impulsive, extended LES Runway fashion show took sometimes sudden, darker turns as NYC braced for Fashion's Night Out (on 9/8), the start of Fashion Week (also on 9/8), and 9/11 10th Anniversary Memorial, among others.
We humans are so ironic, sometimes. I struggled remembering what happened almost two weeks ago (it seems so far away!) when freaking out at the same time that 2011 is almost over (what, 3 more months?) and 2012 is just around the corner. I also still want to do a reflection piece about J-Pop Summit Festival that happened back in August. Wow. At least I have my notes to go back to for that one, so I think I'll be OK :)
But back to my NYC trip. This was my first trip to NYC after almost 6 years. Back then, The Ground Zero was bare and void of any construction effort. So I had mixed feeling seeing the under-construction 1 World Trade Center (pictured above) showing itself when my boyfriend, Chris and I got out from the subway on Friday morning. And as we walked closer in that hot, humid, relentless-before-the-storm NYC weather towards the building and St. Paul's Chapel, the atmosphere grew tense. The tourists were probably clueless, but this area is just too sensitive (and probably sacred) for the locals.
St. Paul's Chapel came to our view almost immediately and we saw all these white ribbons, tied up around the church's fences, flying in the wind. There were free concerts playing inside, visitors making their way through the exhibitions commemorating the church's role in 9/11 tragedy, people sobbing and crying, people writing messages on the white ribbons (including me), reporters and camera crew. I couldn't help but commenting on the "city on edge" atmosphere that's going on when I was interviewed by a Canadian broadcasting crew.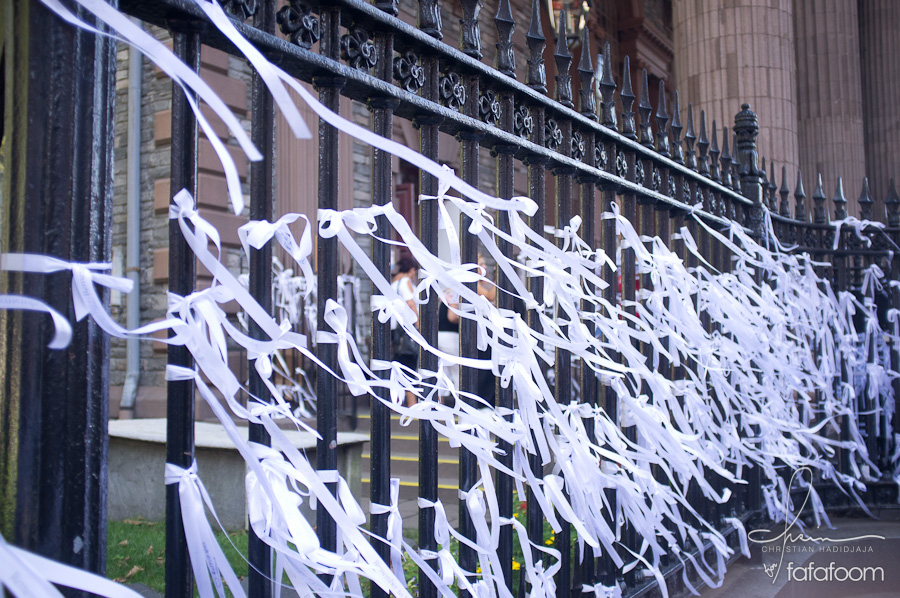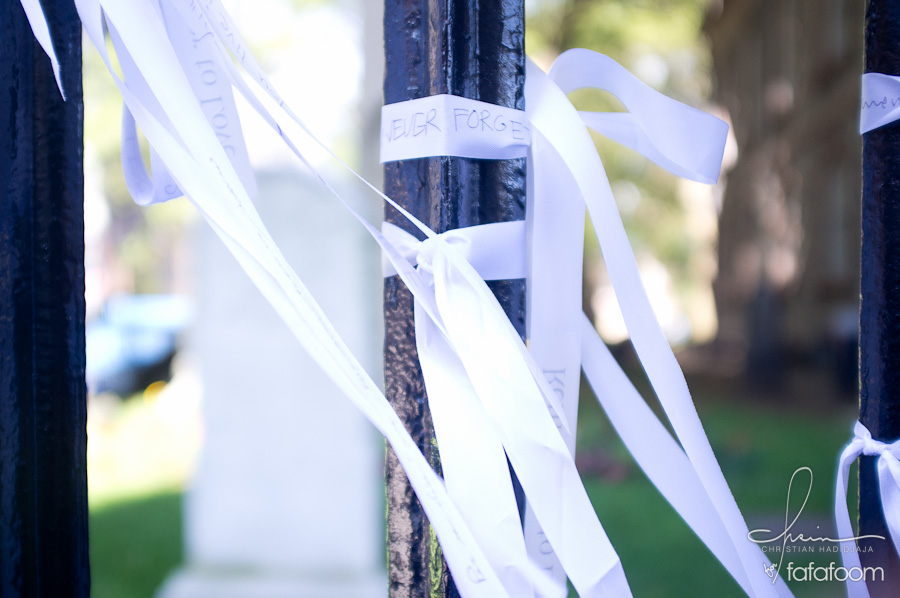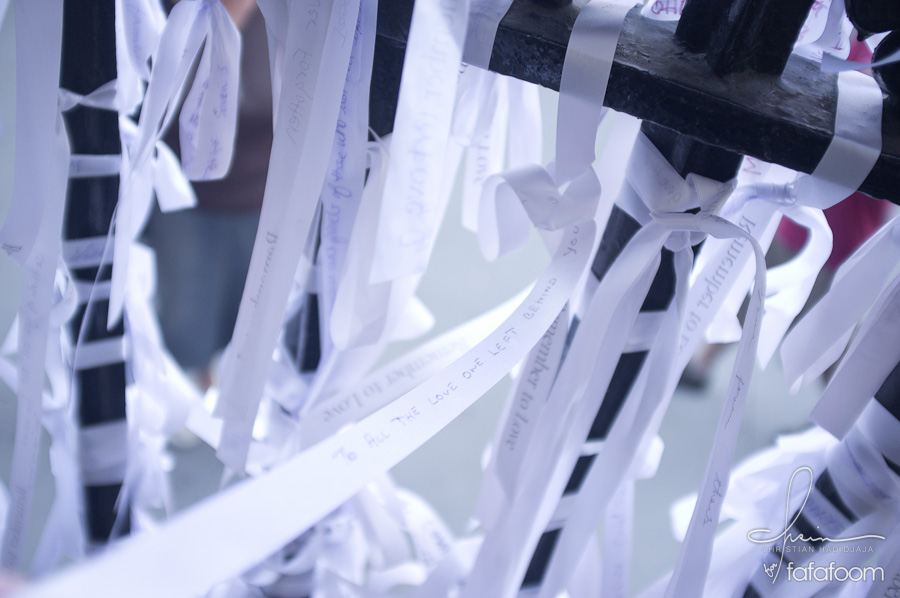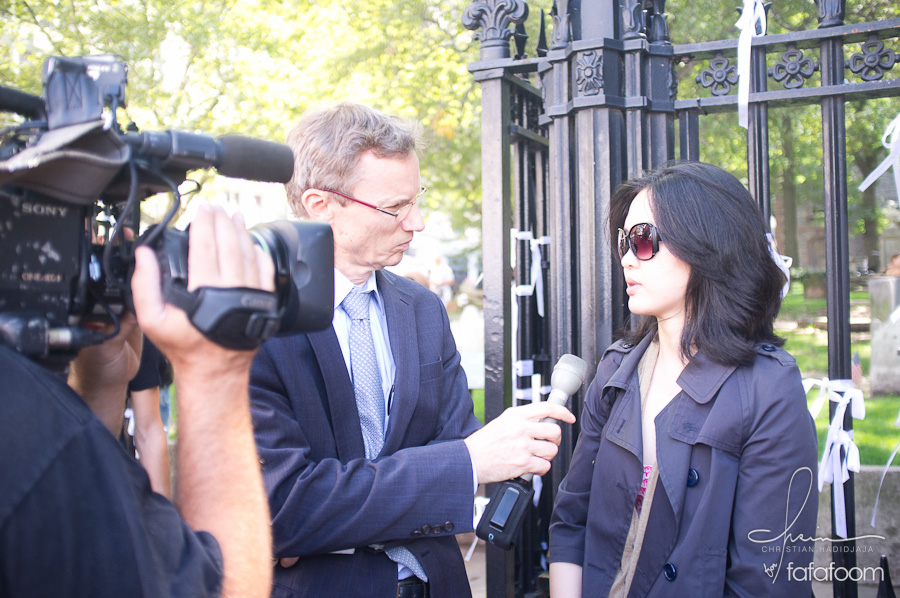 Throughout the day, the unforgiving hot weather (that became like hell whenever we went downstairs to subway stations) and tense atmosphere only intensified. I don't know how people managed to be upbeat, but by the time we arrived at Lincoln Center to just hang out and catch glimpses of attendees, fashionistas, models, and the like, we're rather exhausted. Good thing I was "quite OK" when interviewed by WinkBall :) A "stylish" passerby near Lincoln Center was even getting rid of her top altogether and let them all hang out (But if you see her face, she has a blond afro and a mustache…yup, pretty much everybody stopped, stared, and immediately talked amongst each other about what they think they just saw. Too bad Chris refused to take pictures of her/him.)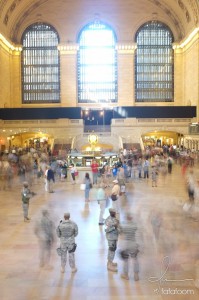 By evening, the rumored threat against NYC has became credible, pretty much subway trains were "equipped" with at least one police officer. Grand Central Station (pictured left) was no exception. Security was tight, and the atmosphere was tense. The travelers, tourists and locals alike, shared worried glances one way or another.
Even when a shopper whose box's bottom fell apart and caused its content to dropped to the floor and caused moderate noise, everyone just snapped to that one point on the floor. For that sliver of a second, perhaps we were expecting the worst…
Nevertheless, that night when we went to Time Square, the buoyant atmosphere still felt a bit fake. And the hot weather was becoming unbearable to me.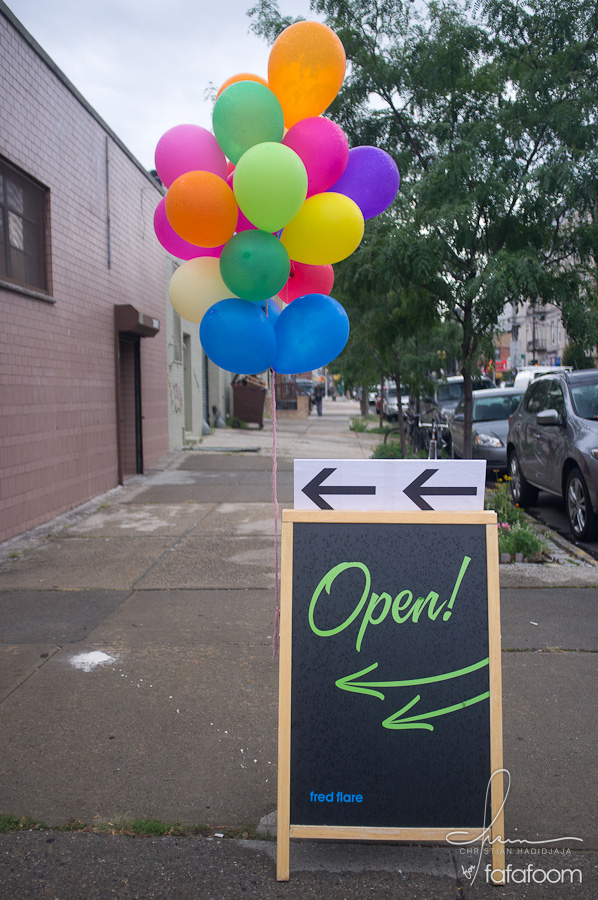 Saturday greeted us with a bit of a drizzle. Going to Fred Flare's sample sale in Brooklyn (sign, pictured above) reminded me of some neighborhood back in SF, so the walk down there after getting off the subway at Nassau St. was quite nice. After a few steals of accessories (thanks to Chris who untangled a very cool vintage-like  and black transparent top, we made our way back to Manhattan. Police officers had set up random check points at subway stations to check people's belongings.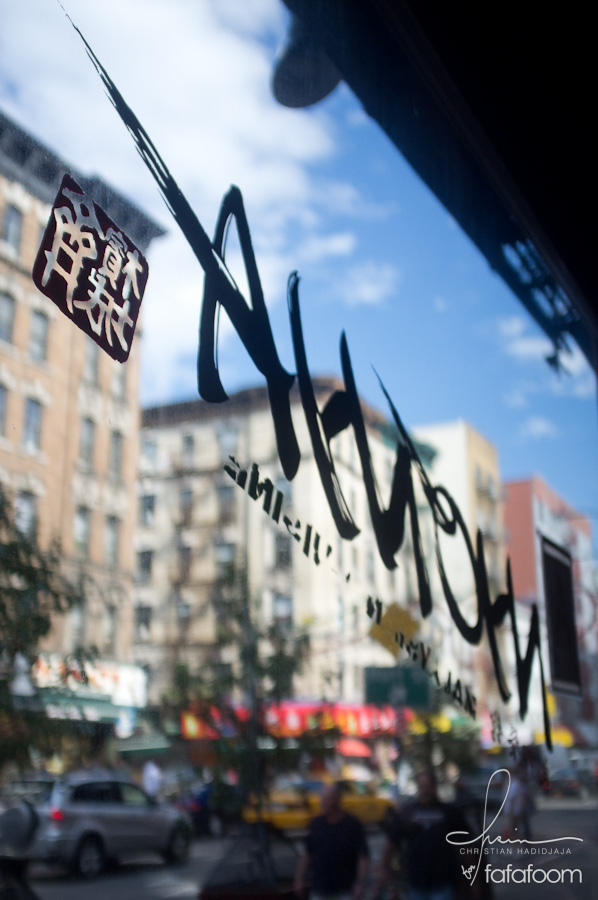 It's easy keeping our food budget under control here in NYC, thanks to Nyonya (view from inside-out at window table, pictured above). We ate here three days in a row and never felt bored. Food and customer service were great, every single time. I missed Nyonya.
You know what's hard to keep under control? Yes, shopping budget. And Uniqlo is definitely my vice. Hey, it's not my fault that NYC is the only city in the US that Uniqlo currently has. (And TWO new NYC-based Uniqlo Global Flagship stores are going to open in October. Not fair.)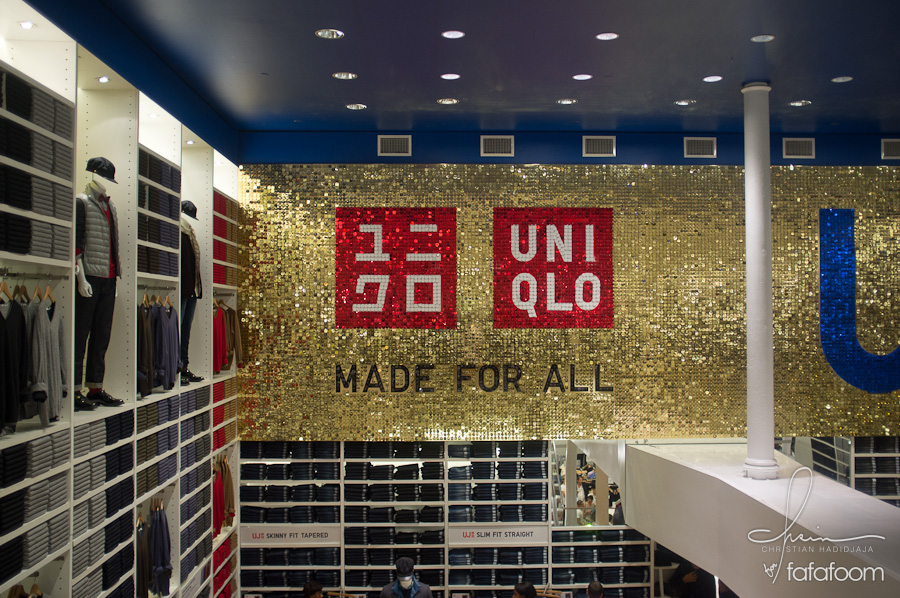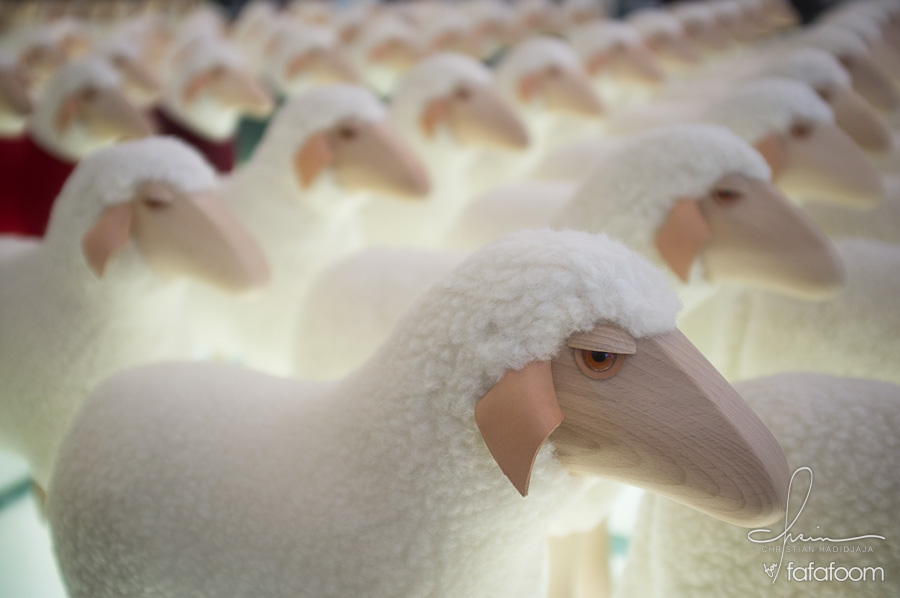 And needless to say, I really enjoyed LES Runway's Rachel Rose and Lumete Eyewear show (and Maryam Nassir Zadeh boutique that we passed along the way). The simplicity is very down-to-earth, but the fashion is fierce as always.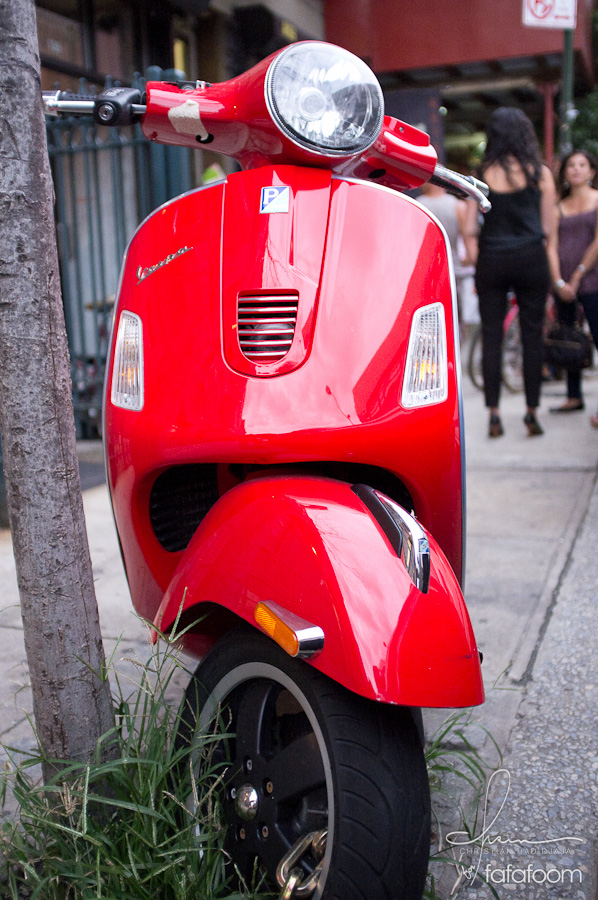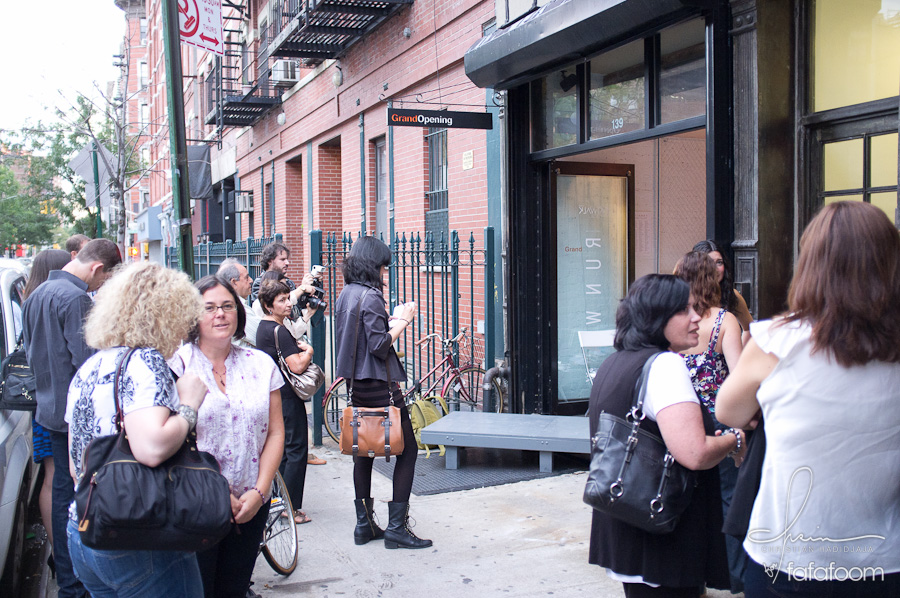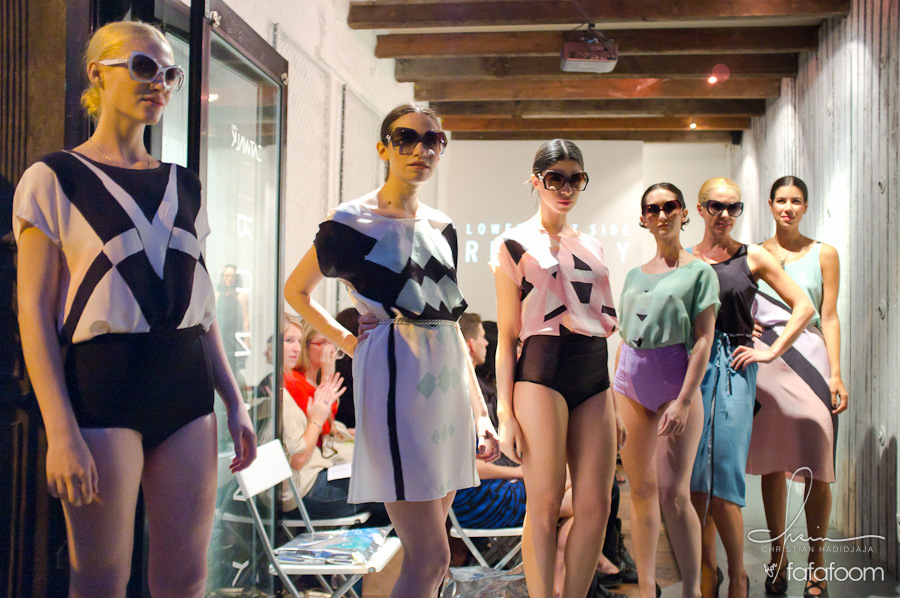 Sunday was bittersweet because we finally got to relax (we observed the moments of silence by watching TV in our hotel room) a bit; the threat remained a potential but not realized. Even then, the Staten Island ferry boat was escorted by NYPD all along (pictured below). The ferry station was also full with dog squad and state troopers (at least that's who I think they are).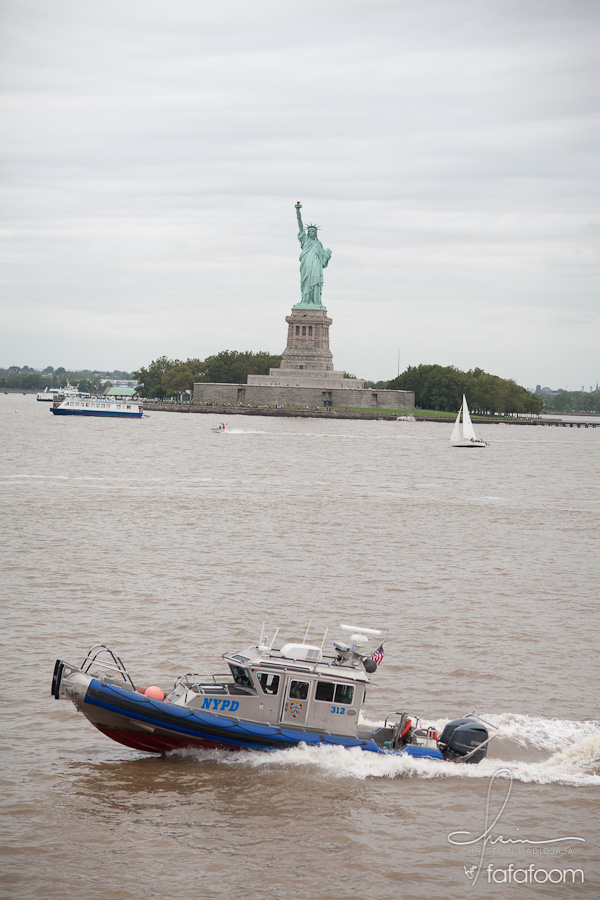 And having some time to spare, why not hang out at the famous stairs at Metropolitan Museum of Art? (Can you spot me in this picture?) A rare moment of relaxation was had when sitting on those stairs. It was amazing.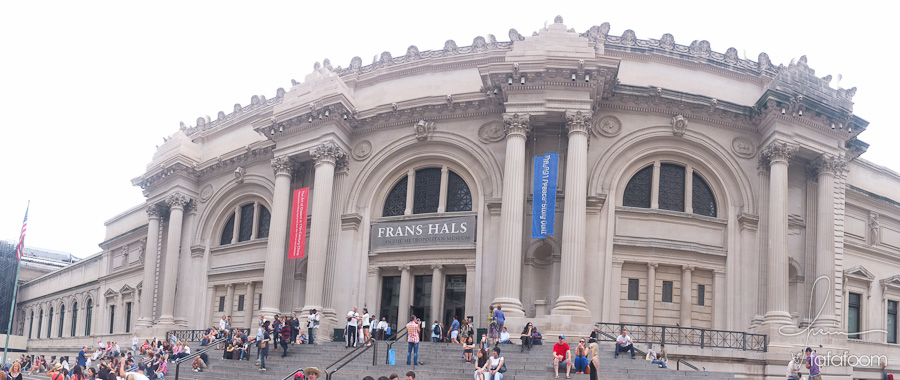 All in all, not a very relaxing trip to NYC this time. Lots of thoughts, sometimes worrisome. I couldn't help thinking about fierce NYC styles and whether there's going to be some horrible thing happening at the same time. Nevertheless, when I could set aside the questions about our own mortality and our helplessness to predict what's next accurately in NYC, during this observed fragile time, NYC is definitely, an admirable, fiercely unmoving special one. "A concrete jungle where dreams are made of" (yes, Alicia Keys. Yes!). And for that sense, no matter what, it serves as an important destination for us to visit from time to time.
Thanks so much for reading this long,
Musank