This year's Thanksgiving will be no turkey for me. One more trip to make before 2013 is drawing to a close (gosh, already?). In just hours, I will begin my one-week-plus adventure to Peru along with great company of friends. This trip's highlight will be hiking to Machu Piccu, therefore my Peru travel packing list is heavier on the hiking gear and casual side. Layering is also key, since Peru is currently beginning its rainy season. Temperature-wise, it's going to be upper 60s to lower 70s Fahrenheit, but it can go as low as upper 40s in the mountain.
You know I limit my outwear, tops, bottoms, and dresses to 18 pieces or less when traveling. This time is no exception, I actually packed 14 pieces in my small suitcase. Being compact is really important because we'll be going from one place to another pretty much everyday on planes or train (yay!!).
So here's the gist of the things I packed, plus the shoes and bag (excluding my hiking backpack). These are not the exact items I own…they're similar enough:
Outerwear:
I will be relying heavily on my Ice Breaker fleece jacket and OR windbreaker rain coat to keep me warm, especially during the long hike. However, we will be doing city trips as well, so I also bring my white ISDA and Co. light hoodie for light layering.
Tops:
A couple of Smart Merino tees (I usually wear them as the base layer for snowboarding) will be very handy, but I also pack one Uniqlo cotton T-shirt and one Uniqlo flannel shirt. I love flannel shirts because they are cool on warmer days, yet keep you warm on cooler days. Of course, throw in 2-3 tank tops as under layers. I personally like Uniqlo Heattech camisoles, but then again I ALWAYS love Uniqlo, so I'm very subjective :)
Bottoms:
So no dress on this trip, but I bring one each of quick-drying hiking pants and shorts. I also bring a Y-3 (slightly) dropped crotch pants just to infuse a bit of casual cool for non-hiking trips in addition to one boot-cut jeans.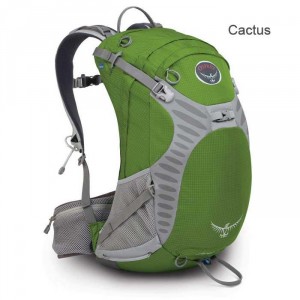 Bags and Shoes:
Carrying a good backpack for a 5-hour hiking trip is a must. I will be carrying an Osprey backpack (mine is similar to the one pictured right) to keep my bearing light and efficient, while having my hydration pack handy.
In addition, I will be carrying my shopping tote for….uh, shopping. And just in case it's suddenly raining when we're roaming around, I applied the outside of my fabric tote with one of those Anti-Stain & Water Repellant coating spray for shoes. I don't know how effective it will be, but I hope it will make a bit of a difference (fingers crossed). Of course, I also bring a small umbrella.
As for shoes, I packed a good ol' pair of hiking boots obviously, but also a pair of flats for walking. And a pair of basic flip-flops just in case a pair of flats is too warm to wear.
Other Accessories:
I'm a woman of scarves, so naturally a couple of scarves won't be forgotten. Plus a beanie and wool socks. No rings or bracelets; I tend to lose them too easily (bye bye, my spider ring).
So that's it! If I'm not too enthralled with the beauty of Peru, I will be in Instagram. Thank you Her Packing List for the complete list; I certainly took notes from her. I hope I don't forget my sunscreen or just-in-case medicines / vitamins. OMG, Peru with friends! I am soooooo excited.
Happy early Thanksgiving everybody, have fun,
Musank