At the beginning of the Academy of Art University 2014 Graduation Fashion Show and Award Ceremony on Thursday, May 8, 2014, Gladys Perint Palmer set the tone for the rest of the evening by saying it's going to be an "ode to joy". And she was right; there were no troubles to be found that night. The annual Academy of Art University (AAU) fashion shows are always a much-anticipated soiree, and this year was no different. The seats flanking both sides of the runway at 2225 Jerrold Avenue building were fully packed. Three generations of Missoni women Rosita, Angela, and Margherita Missoni were honored, with Angela and Margherita receiving honorary doctorate degree from Dr. Elisa Stephens. They are so inspiring, and I suggest reading more about the Missoni family's visit in San Francisco on this SFGate article.
Suzy Menkes (who recently left New York Times for Vogue as the International Vogue Editor) announced the awards and internships for the AAU students. She complimented AAU students' works and called them an exquisite expression of "imaginative realism". I love that phrase! Compared to the extremely hard-to-hear announcements during last year's chaotic end of graduation fashion show, this was a very welcomed change. While I'm at it, I really have to compliment the whole production crew for holding such a professional, very well-organized, and thoughtful graduation fashion show. WELL DONE!! Now back to the awards and internships. It's really fun to hear screams from different sections of the audience whenever a winning student's name was called out. The big winner for that night was Yuko Okudaira (you can see her works below), who won an exchange program to Paris, a BCBG Max Azria internship (BCBG Max Azria was honored during 2013 Academy of Art Graduation Fashion Show), and the best of all, a Missoni internship award that was announced at the end of the evening.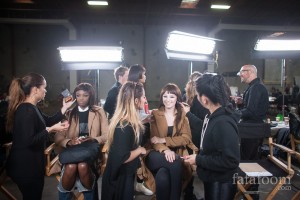 Alright, time to showcase the AAU student designers. This time, I'd like to make it easier for you readers to see each student designers' mini collections. There are 105 photos below! I created a list and anchor links below, so you can easily pick and choose which student designer's work you'd like to see and go back up to the list (using the "Back to List of AAU 2014 Student Designers" link at the end of each student designer's feature). Of course, you can also scroll down and enjoy the many wonderful works of these super talented group (but be a bit patient for the image loading, yeah?).
For more in-depth information for each student designers, AAU's fashion blog is your best source. This year, the models sported dramatic Cleopatra eye makeup styled by Victor Cembellin and his M.A.C. Cosmetics team, and and hair styled by Spoke & Weal Salon's Jon Reyman.
All photos by Christian Hadidjaja
Marcia Amandary
Amandary's graduation collection, which was inspired by tessellation and realized through clever presentation of geometric seams successfully formed the illusion of 3D perspective. The angular silhouettes looked both sporty and luxurious in the variety of wool fabrics. Btw, those wide gaucho pants are on my wish list.

Back to List of AAU 2014 Student Designers
Kika Knaup
The soft knitwear pieces were really exquisite; my favorites were the 1st look's sweater and 3rd look's long cardigan. Knaup used silk, cashmere, rayon, wool, and angora for her collection, and she was inspired by traditional Bavarian clothing and formation of glaciers.

Back to List of AAU 2014 Student Designers
Bowen Quan & Yucen Wavy Tang
Fashion Design and Jewelry & Metal Arts Collaboration
Quan was inspired by the ocean for her graduation collection, and she used blue woven suiting and jersey to emulate movement of water. To complete her looks, she collaborated with MFA Jewelry and Metal Art Design student Yucen Wavy Tang. I like that Tang's accessories enrich Bowen's garments by making them more "grounded". Seeing the accessories with the garments reminds me of rocks whose tops are visible on a river.

Back to List of AAU 2014 Student Designers
Karen Chuhua Yao
Yao's combination of grey suiting fabrics with vibrant cobalt blue lining and irregular dot splatters was more visually arresting thanks to the garments' silhouette and sometimes-missing left sleeves. My favorites are the 3rd and 5th looks.

Back to List of AAU 2014 Student Designers
Iris Jin
The spiral patterns and curved shapes of seashells were Iris Jin's inspiration. The draping of her collection was elegant and lady-like. I'm really impressed with the spiraling cutout of the sleeves of the 4th look (sorry you couldn't see it that well in the picture below)…I remembered saying "WOW!" when the model walked down the runway.

Back to List of AAU 2014 Student Designers
Zonic Kwong & José Dojaquez
Fashion Design and Knitwear Design Collaboration
Kwong was inspired by how nomadic and tribal villagers layer their clothing. For this collection, Kwong collaborated with Dojaquez, who was inspired by a mix of "street basketball and Tibetan monks." The results? Straightforward silhouettes with casual sportswear feel made with luxurious and popping fabrics (medium grey heather wool, nylon, hand dyed neon yellow merino wool, neon yellow polyester, and emperor blue rayon).

Back to List of AAU 2014 Student Designers
Jordan Rae Epstein & Sheni Moshabesha
Fashion Design and Textile Design Collaboration
Epstein titled her unisex childrenswear Alex, which she described as "…a critical view concerning the social impact of the stereotypically gendered market of children's fashion." Her inspirations came from artists such as Carlos Cruz Diaz, Briget Riley and Stephan Prina. She collaborated BFA Textile Design student Sheni Moshabesha to create colorful, eye-popping prints with textures and silhouettes so energizing that it was no wonder the audience went bananas when the child models came out. Their focus! Attitude! Cuteness! And the outfits! The crowd was so fascinated and suddenly energized, the "oohs" and "aahs" were everywhere when all eyes were on those kids.

Back to List of AAU 2014 Student Designers
Leo Lee
Lee's collection was very structured and classy; I really appreciated the precise placements of round rivets on the garments, which were made of organza, chiffon, cow skin leather, and wool. His inspirations were Danh Vo's metal-patched artwork, the confluence of sky and land, and conflicting spaces.

Back to List of AAU 2014 Student Designers
Annie Abbey
Abbey collaborated with knitwear designers Xingyu Hu and Ghazaleh Khalifeh for her eco-responsible graduation collection. The garments were made of 100 percent recycled materials including garments, curtains, tablecloths, and remnant fabrics. She drew inspiration from nomads and their eclectic lifestyles. What I love most from her collection are the over-the-knee socks or leggings. LOVE, I tell you!

Back to List of AAU 2014 Student Designers
Morgan Truong
Truong's rich blue collection was born from the her idea to "transform tradition by modernizing the shapes of both the interior and exterior of retro style cars." She collaborated with Industrial Design student Han Huynh, who created the 3D-printed accessories that were inspired by car engines (clutches, vest, and belt). I really like the bags, but overall, I feel the looks were a bit too gimmicky instead of high fashion.

Back to List of AAU 2014 Student Designers
Tony Wloch
AAU's graduation fashion shows are usually filled with uber high fashion collections made with luxurious fabrics, so it's refreshing to see Wloch's decidedly different take of luxury. His use of cotton and linen chambray fabrics, as well as patchwork made from recycled jeans and shirts. They're fresh, young, and yet high-end thanks to the beautiful execution.

Back to List of AAU 2014 Student Designers
Nicole Bell & Holly Hapka
Fashion Design and Textile Design Collaboration
Despite the extravagant, girly flowers blooming in Bell's collection, her idea was perhaps a complete opposite of its realization. From fashionschooldaily.com, she explained that her initial design and concept "was based from badass biker chicks that travel through the Yosemite." She collaborated with BFA Textiles Design student, Holly Hapka to create this gorgeous collection filled with flower blooms and prints on structured jackets and mermaid gowns made of a myriad of materials: white organza, cotton organdie, gazar, eyelet, furnishing satin, canvas, satin silk, feola cotton, coutil cotton/viscose, and leather.

Back to List of AAU 2014 Student Designers
Esther Shim
Shim's collection was created with painted twill and cotton fabrics, loose weave wool, wool crepe suiting, wool suiting, 2 ply jersey and cotton shirting fabric. Her use of hand painting and dyeing to create a naturally aged, watercolor looks were very successful as they create a very cool, vintaged-like masculine pieces.

Back to List of AAU 2014 Student Designers
Jaide Folger, Lisa Voong, and Zoe Cope
Fashion Design, Textile Design, and Jewelry & Arts Collaboration
Folder collaborated with BFA Textile Design student Lisa Voong and BFA Jewelry Design student Zoe Cope to create this collection that's inspired by desert mirages, clothing worn in a post-apocalyptic world, and the film "Holy Mountain." I love the prints of the sheer fabrics and how each pieces work together in this flowing collection. The kimono-like robes are especially stunning visually.

Back to List of AAU 2014 Student Designers
Taylor Carr
For a collection that was inspired by hypnagogia (a world between reality and dreams), Carr's collection somehow reminds me of Oscar de la Renta. It's very sophisticated and elegant. The pastel colored brocade fabrics were gorgeous, and the Swarovski crystals that were all hand placed onto them make the collection even more exquisite.

Back to List of AAU 2014 Student Designers
Vivian Mazuki & Dale Beevers
Fashion Design and Jewelry & Arts Collaboration
Mazuki was inspired by Christopher Payne's photographs of an asylum: "It surprised me that while I thought I would feel disturbed by the images, I felt a moment of calmness and tranquility instead. I then focused on the bittersweet aspect of the asylum." I love how parts of her garments can be constructed in a way that's restricting on one part but loose on the other parts. BFA Jewelry Design student Dale Beevers provided the jewelry for Mazuki's collection, using a variety of materials including wood, horn, bone, brass, cement, coral and pyrite.

Back to List of AAU 2014 Student Designers
Aile Hua
The ruffles and rose quartz applications (sewn by hand one by one onto the garments; some randomly, others placed according to constellations) gave off the feel of futuristic elegance. It's no surprise, knowing that Hua was inspired by the space age and astral influences for this collection.

Back to List of AAU 2014 Student Designers
Yuko Okudaira
The big winner of the night; each of Okudaira's looks from her graduation collection got the audience clapping. The graffiti-inspired pieces were vibrant, flowing, and well made. No wonder Missoni wanted her. Just look at the movement of those long fringe!

Back to List of AAU 2014 Student Designers
Seth C. Olson
Apparently Olson's first expedition to Antartica was very memorable that he used it as an inspiration for this collection: "I loved the stark contrast that I found between the soft white powdery snow and the hard, sharp cracks in the ice." I liked the cracked textile fabric he developed and printed, even though they looked rather stiff on the runway.

Back to List of AAU 2014 Student Designers
Jenny Hien Hoang
The collection to close the evening's celebration was focused on denim. Hoang "…created my own textile for my denim fabric by bleaching techniques. There is a transaction from light gray to black throughout the collection." It's amazing that her designs were inspired by Megatron from the Transformers movies! If only my interpretation of Megatron can look remotely as fabulous as hers.

Back to List of AAU 2014 Student Designers
Congrats for all the Academy of Art University 2014 Graduation Fashion Show student designers, as well as the stellar production team. Thank you Ian Mackintosh for always remembering us year after year for the always highly-anticipated Academy of Art University fashion shows!
Thank you for reading, aren't they really talented?
Musank
All photos by Christian Hadidjaja