Modern Ethnic outfit is my interpretation of kebaya dressing (Indonesia's national modest dressing code of a long blouse with fitted bodice and flared waist). They are made using vintage ikat textile and inspired by several free minimal-waste patterns.
I'm Chinese Indonesian. Growing up, cotton batik fabrics are well-known to be the go-to material to create formal wear and special occasion outfits. For women, usually they are made into kebaya – Indonesia's national modest dressing code of a long blouse with fitted bodice and flared waist, usually worn on top of a sarong skirt.
However, up until recently, I didn't use batik fabrics or other textiles from Indonesia much. The image of creating super formal outfits with Indonesian textiles feels intimidating, despite knowing that many casual outfits are commonly made with those materials.
As I get more confident in my sewing skills, I gradually start to overcome that intimidation and realize the preciousness of my roots. Being an Indonesian in the United States, wouldn't it be great if more people can be aware of Indonesia's rich textile history? Simple conversations can also lead to more geeky textile talks such as how countries influence each other in textile motifs.
The possibilities of having these kinds of discussions spur me into making this ensemble. The design, brainstorming, material research and acquisition took about one month. Fabric preparations (cleaning, cutting) and the making process took about one week.
Two hours after they were finished, I wore them to a San Francisco fundraiser in July 2022. This event is called MODEFA (Modern Ethnic Fashion Show and Mixer), and that's how I named this outfit Modern Ethnic.
The Modern Ethnic outfit marks a turning point in my journey of garment making. Now more than ever, I'm looking forward to making and wearing good quality garments made with Indonesian fabrics!
Subscribe to my newsletter
Modern Ethnic Ensemble Materials
Since I know I'm going to wear the Modern Ethnic outfit for MODEFA, selecting the right material is the key for everything. I got a vintage roll of Indonesian ikat fabric from a retired antique collector. Here's the complete list of materials I use for making Modern Ethnic outfit:
4 yards of 39" wide ikat fabric for dress
2 yards of 39" wide ikat fabric for pants
4 yards of 45" wide magenta-colored quilting cotton for dress lining
All cleaned by gentle laundering before ironing and cutting
Additional materials: 4 yards of 2" wide horsehair braid for dress hem, ¼" elastics for gathering pants
Modern Ethnic Design Concept
I wanted to create my own interpretation of kebaya dressing, Indonesia's national modest dressing code of a long blouse with fitted bodice and flared waist. Focusing on modesty and elegance instead of the usual form, I opted for making an overdress over a pair of pants.
Obra Gris pattern by Oscar Ruiz Schmidt provides the perfect base for the overdress pattern. The gathered sleeve ties makes elegant curving lines, and the detail can be easily repeated. Another attractive point is the absence of closure hardwares (buttons, zippers, etc.) to worry about. The bottom part of the overdress mimics the handkerchief hem detail I chose for making the Handkerchief Dress.
As for the pair of pants, the base pattern is Mood's Piper Shorts. I lengthened the inseam and made pattern adjustments so it can be a minimal waste pattern just like Mylène L'Orguilloux's high waisted trousers.
Because the ikat textile is only 39" long, there are seam lines on the hips to connect the top portion with the bottom portion. Here's a diagram of the patterns based on the materials I have:
Making Process
After constructing a prototype outfit out of muslin fabric, I started cutting the actual fabrics. Here's an overview of my making process. Everything is based on my pattern measurements shared above.
1. Creating the Ties
Make ties for the sleeves, side gathers, and waist ties. See diagram above; hip ties are only possible to make because of lining cutoffs.
2. Creating the Overdress
Stitch the dress lining on shoulder seams and side seams. Make sure not to stitch the open seams on the sleeves as stated in the Obra Gris pattern.
Next, stitch the dress fashion fabric just like the lining. Attach the waist ties.
Connect the fashion and lining fabrics on the neckline and stitch. Understitch afterwards.
Connect open seams of fashion and lining fabrics, hand stitch in the ditch to match seams. After that's done, create tie casings for the sleeves and hip gathers.
Attach horsehair braid to hemline. Then, blind hem the top of horsehair braid to fashion fabric by hand stitching. Slip stitch the lining to fashion fabric's hemline to make the horsehair braid invisible.
Finish rest of the handkerchief hemline, making sure there's enough opening to insert sleeve and hip ties. The last thing to do to finish the overdress is to insert sleeve and hip ties into the casings.
3. Creating the Pants
Note: the top 8" of the pants are two rectangles from the dress' middle cutouts (see diagram above).
The first step of was not an intended step. The ikat fabric is a little too sheer for my liking, so I decided to make a pair of shorts as lining using cutoffs from both ikat and quilted cotton fabrics.
The rest of the pants making process is typical of sewing a pair of pants with inseam pockets:
Stitch pant legs and gather the top edges to fit the width of top rectangles (i.e. top pant portions).
Connect pant legs with top pant portions.
Attach inseam pockets.
Attach lining.
Temporary stitch top of pockets to the waist fold.
Stitch the waistline fold and waist tie casing.
Instead of using elastics for waist closure, create 0.5" wide waist tie with ikat cutoffs. Last but not least, insert the waist tie into the casing to finish the pants construction.
Here's what the finished overdress and pants look like side-by-side:
Out of all the materials gathered for this project, here's what's left after all sewing works are done.
Results
Here's what Modern Ethnic ensemble looks like on a dress form:
Wearing Modern Ethnic Ensemble
Shortly after the last tie was inserted, I took the outfit off of the dress form and wore them to MODEFA, a fundraiser by African Arts Academy benefitting San Francisco youth. In the historic War Memorials building, I moderated a panel discussion featuring inspiring community leaders Commissioner Courtney Ellington and CEO Dana Cheatum. What a great way to finish off the first chapter of this Modern Ethnic outfit's journey!
Thank you Ed Jay for these photos.
Virtual Reality Showcase
The next chapter for this outfit began when I created their 3D model form using photogrammetry. As part of my showcase for Climate Gallery's inaugural Virtual Reality exhibition, I chose Modern Ethnic ensemble to be one of the 8 outfits shown in 3D form in my virtual Textile Arts gallery of Textile Arts. Reserve your spot to attend the virtual exhibition starting on November 2022!
Here's a video showing a glimpse of this outfit's journey from a physical construct to a 3D model:
What's next for Modern Ethnic?
I have gathered some ideas to further this Modern Ethnic concept. Quite a long roll of the vintage ikat textile is available, and I have gotten enthusiastic feedback from MODEFA attendees who saw the outfit in person. I'm currently entertaining the idea of making a mini-collection of four outfits.
Instead of creating physical samples, however, I would like to create them as 3D samples. This will be a time-saving, minimal waste approach in creating custom garments on-demand. If I can modify the avatars to have the same measurements as the end customer, this custom 3D pattern-making approach is a no-brainer. We'll see!
Thanks for reading; until next time,
Musank
Disclaimer: I may earn a small commission for my endorsement, recommendation, testimonial, and/or link to any products or services from this website. Thank you for your support!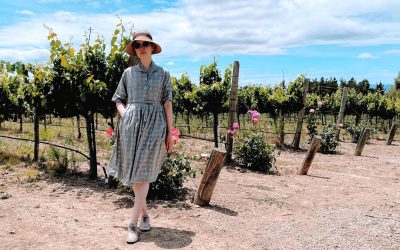 Restoring and repairing a beautiful 1950s Dress for my summer 2022 wardrobe. Smart alterations include lining and inseam pockets. Only on fafafoom.com.